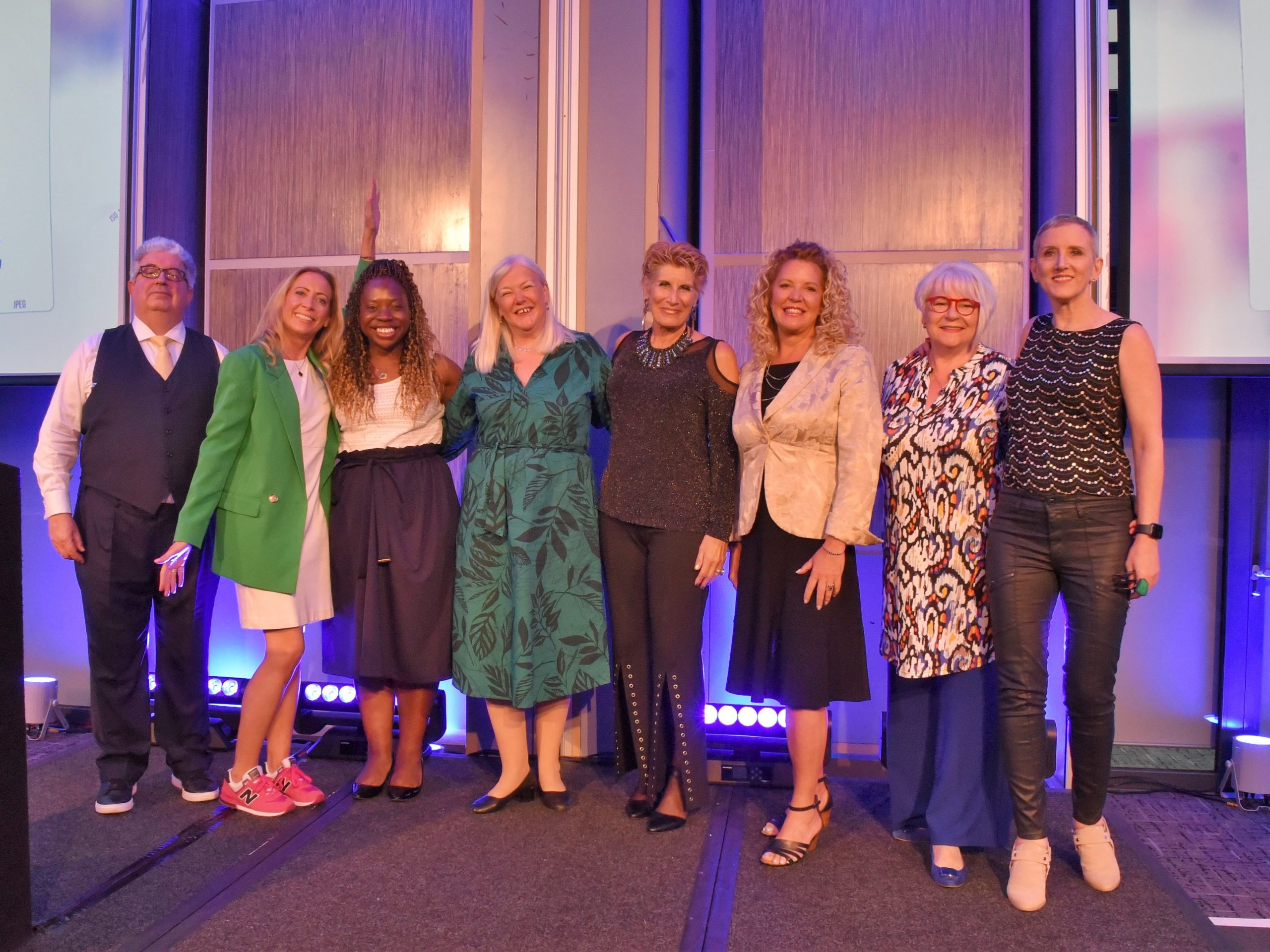 Katherine Scott shares her experience of attending ES LIVE London for the first time and provides a guide for other first-time attendees
In-person events and conferences are back! ES LIVE returned to London after a 3-year hiatus due to the COVID-19 pandemic. If, like me, you find yourself nervous or apprehensive about attending a large-scale in-person event, either with a group or on your own, welcome to the club! It is a daunting experience for most people in the aftermath of the pandemic and multiple lockdowns. It was even more daunting for someone such as me, emerging into the workplace for the first time, with no experience in networking, administrative work, or conferences. I'm here to tell you if I can do it, you can too!
Since the pandemic, attending any in-person event comes with a host of anxieties and worries: How many people will there be? What is the dress code? How do I socialise and make conversation with new people? Are there COVID-19 procedures in place such as mask-wearing and hand sanitizer? I am here to put all your anxieties to rest and provide a comprehensive guide to attending ES LIVE post-COVID, and how you can gain the most out of this experience.
Why Attend ES LIVE?
ES LIVE offers Assistants and administrative professionals training in tech, time management, leadership and so much more throughout the two days' worth of sessions with top speakers from around the world.
For context, I am part of the younger demographic that has been recently introduced to this amazing community of EAs, PAs, and administrative staff from across the globe. I quickly learnt the truth behind the administrative profession, and that there is this push to alter the public perception of the outdated stereotypes that still come with being an administrative professional in the 21st century. ES LIVE is part of that push. The conference aims to empower, support, and train administrative professionals whilst allowing them to learn from their peers. We discussed increasing productivity and effectiveness within the role, how to receive recognition, and how to work with a variety of executives.
Attending a conference is more than just learning; it is about meeting like-minded people.
I had the pleasure of meeting a plethora of amazing men and women within the field, but specifically other younger women with little administrative experience, like me. We discussed the pipeline of EAs and what direction this community and its events, such as ES LIVE, are heading, emphasising that these events must be preserved for the future generations of administrative professionals yet to come.
Despite the vast range in ages and experience of the attendees – which ranged from one month's experience to 50 years' – everyone had something to learn from one another. This conference showed me that, despite how many or how few years' experience you have, everybody stands to learn and gain just as much as the next person. I believe everyone needs to attend ES LIVE and encourage their company executive to support and fund their staff to train through conferences.
Two Days of Professional Training and Learning
You may be wondering what happens at ES LIVE to invoke such rave reviews of its training and atmosphere, particularly coming from a first-time attendee! I want to summarise what took place over the two days and the various speaker sessions that made up the conference.
Day One
After an enthusiastic opening message from Lucy Brazier OBE, Vickie Sokol Evans took to the stage for the first of two half-day workshops to share some of her top tips for using Microsoft Office, wowing the audience with her time-saving tools. Rhonda Scharf followed with her engaging and interactive workshop on project management. Rounding off the day was the Soapbox Challenge, where the event sponsors faced off against one another, attempting to receive the most praise from the audience by summarising their company and products in 60 seconds.
Day Two
Lucy Brazier and Helen Monument held a breakfast meeting for attendees prior to the official opening of Day Two. They discussed the Global Skills Matrix, setting a positive and illuminating tone for the final day of the conference. After Lucy's opening words of appreciation and gratitude, Peggy Vasquez delivered an inspirational session on self-management and confidence, followed by more tech-centred training with Lizebeth Koloko-Green. Lizebeth mesmerised the audience with her informative guide to using Microsoft OneNote. The afternoon was a deluge of enlightening sessions: Abigail Barnes' teachings on her 888 Formula for enhancing your time and productivity, a conversation between Lucy Brazier and Bonnie Low-Kramen which answered the audience's most pressing questions, and a heartfelt remote session with John Shaw. Finally, to end the conference was keynote speaker Patrick Jephson LVO, who captured the hearts of the audience through recounting his time as private secretary to Diana, Princess of Wales, and what it means to serve an executive who employs heart-centred leadership.
ES LIVE concluded with a gala dinner and silent auction in aid of Isipho Admin, a charity founded by Assistants in South Africa which aims to provide entry to the profession to those in need of an opportunity. It was a fun and enjoyable evening to celebrate the end of a successful conference, as well as being able to come together at an event after so many years of being inside!
How to Get the Most Out of ES LIVE
Although it might be easier to simply sit and listen to the sessions and speakers, to get the most out of a conference, you must be brave. Remember that when you attend ES LIVE, you already know that everybody there is part of this supportive and amazing community of EAs around the globe. Everyone wants to learn, to teach, to meet new people – just like you! If you are COVID cautious, you will be pleased to know that hand sanitizer and masks were readily available, and ventilation of the venue was prioritized, given the large group of people in an enclosed space.
Now it's time to turn on the charm and charisma, as ES LIVE is all about first impressions and socialising with people. Be friendly and welcoming, and make sure to discuss not only your work and career, but your personal life and your characteristics, and if in doubt, ask people about themselves! Remember that, although this is a conference for administrative professionals, you are also there to meet and connect with new people, broadening your horizons and boosting your confidence. There is nothing to fear socially; everyone wants to help one another in their future goals and career.
Personally, since being in this role, my confidence and trust in my abilities has skyrocketed. When I attended ES LIVE, this helped to further my self-esteem and belief in my capabilities. I am sure this sentiment was shared by many others who attended.
Networking! Networking! Networking!
There is no doubt in my mind that if you are in this profession and are attending a conference, you are a diligent, curious, and intelligent individual with a passion for self-improvement and success. It is no secret that among a group of like-minded people, this is how you are perceived. You must embrace this opportunity by networking and connecting with others, as this can open doors and lead to your improvement and success.
Never underestimate the power of networking for the future of your own personal journey and career, the future of your company, and the future of the administrative profession.
Conclusion
ES LIVE London showcased speakers at the top of their respective fields and offered training in a multitude of areas, all essential and beneficial for those in the administrative profession. Attending ES LIVE and other administrative conferences is crucial to ensure that this profession remains globally recognised and a valid career choice for future generations.
The future of this profession is incredibly important, and the community of administrative professionals needs to be preserved to further encourage and empower young individuals and those emerging into the workforce. This can only be achieved through the continued success of conferences such as this one. Networking, and continued communication and outreach, particularly between those with varying experiences and those with opportunities and advice to offer, ensures the legacy of administrative professionals, their knowledge and hard work, is upheld.
I can confidently say that my future will never be the same after attending ES LIVE. The lessons and skills I've learnt, and the people I've met, will prove to be invaluable for my future. I cannot stress enough the importance and enjoyment of attending administrative conferences, so I urge you, if you are well, safe, and able to, take the opportunity to attend a conference. Although the conference may only take two days, the wealth of knowledge you gain and the connections you make will last a lifetime.