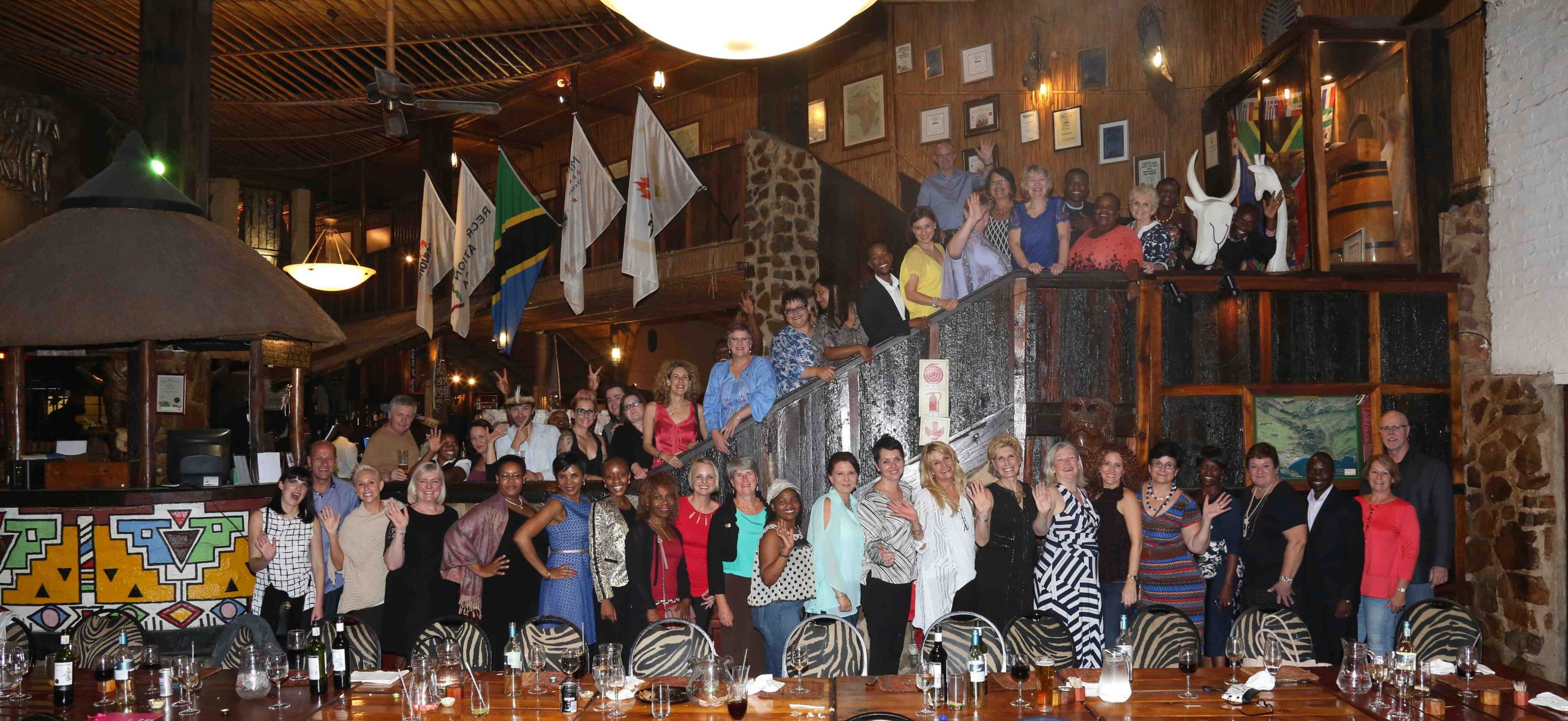 Joanie Nel explains why attending a conference can be a minefield of golden 'nuggets' ready and waiting for you to snatch them up
Have you ever woken up from a deep sleep thinking "Where am I?" or for that matter "Who am I"? That is how I felt attending the Executive Support LIVE Johannesburg event. Not in the physical sense but more in the emotional thought processes. This event is the first of its kind in South Africa (and lucky to say not the last as they will be back next February 2017). For two days I was surrounded by like-minded incredible executives striving for the same thing – learning, growing and developing oneself. Because, why else would one attend training?
I remember when I looked at the line-up of the speakers I was blown away by their titles. Lucy Brazier OBE, Host, CEO and Publisher of Executive Support Magazine; Vickie Sokol Evans, Simply the world's number one Microsoft Office Master instructor; Bonnie Low-Kramen, One of the most respected voices in the profession, Laura Schwartz, Former White House Director of Events; Heather Baker, World class trainer, best-selling author & creator of BakerWrite; Anel Martin, South Africa's own internationally renowned rock star trainer; Eth Lloyd, Globally recognised authority on the role of the Assistant; Victoria Darragh, Internal PA networking champion and award-winning EA and Florence Katono, Pitman PA of the Year. (Note that this is written in no particular order of preference. They each brought their unique incredible teaching to the venue and wowed every attendee.)
What people have accomplished impresses me, and yes, the "title" they now carry. But how important is a title? Surely the title does not give you more or less importance? It is the person behind the title that defines who they are. But, no wait… that is a topic for another time. For now let me just say these speakers were phenomenal and I quote the words of Laura Schwartz "Dreams are born in the most unusual places."
Time and Significance
The importance of Networking and Mentoring and Personal Brand amongst others were highlighted. But what was most astonishing and really made an impact was not always what was said but what individuals did. Ever heard of Bonnie Low-Kramen? Do yourself a favour and visit her website, LinkedIn, Twitter or better yet attend training where she is involved. I watched her as she gave each delegate something invaluable! She made them feel significant.
Everyone I saw her talking to, had an opportunity to share their thoughts and dreams with this remarkable lady who gave of herself. She gave TIME. Her time and undivided attention. And that made all the difference. You are inspirational Bonnie and thank you for the gift. Whenever I walk into a room again, I will remember this lesson and make it my goal – share the gift of time and let everyone I speak to know that they are significant.
Edification
There was another group – a truly remarkable "Local is Lekker" South African group of dynamic mentors and teachers. Each remarkable in their own right. But watch out when they get together as they cause an explosion of energy and knowledge and enthusiasm. You will hear them, you will see them and you will learn from them. They will inspire you. Cathy Harris, Anel Martin, Michele Thwaits, Susan Engelbrecht and Teri Wells – each with different skills, personalities and behaviours working together to uplift our profession. Each understanding the significance of leveraging from each other's skills and knowledge.
To date I had only had the privilege of seeing and experiencing Cathy Harris and Anel Martin present and this I can say with absolute certainty: When you see their names on a brochure to present their topic of expertise – grab it and attend it. These ladies know what they are talking about. They are, with every secretary, assistant, executive PA and all the other titles given to our professionals, in the trenches, doing what we do on a daily basis and doing it well.
They've been there, they've done it and they are performing with excellence. They are developing their strengths and surrounding themselves with like-minded people. And when you ask them what they think of each other they understand the power of edification. You will hear only praise and enrichment for and from them for each other and for the profession. Remember when you next stand in front of an elevator – to go up you need to first push up.
Shut the Duck Up
When I attend a conference that has so much value, the little voice in my head can be frustrating by telling me that I will never remember half of everything that was on offer. The little voice is like a little duck *(tribute paid to the late Susie Barron-Stubley of Castalia by Eth Lloyd) quacking in your thoughts. Well, quack-quack ducky I have now learnt about you and your continued quack about insecurities and impossibilities!
Although my quackery duck may be right, that it is impossible to remember everything I hear, I did hear a valuable sentence at this conference that will silence my duck – "be selfish, teach others what you have learned and you will remember more". What a revelation this is.
A day after the conference I read to my six-year old the story "Oh the Places you'll go" by Dr Seuss. I am not sure if it is because I am a philosopher by nature but it resonated with everything that I heard and saw and experienced at the conference. If you have not read this do yourself a favour and read it. I quote from the book –
And will you succeed?
Yes! You will, indeed!
(98 and 3/4 percent guaranteed.)
Kid, You'll Move Mountains!
So next time your quackery duck wants to raise his voice, believe in yourself, stand up and quack back "Oh Yes, I can move mountains".
It is impossible to write everything I have learned and observed in one article. Inspirational people not yet mentioned in this article whom I spoke to, learned from and continue to learn from. They make it look easy. Easy to network, easy to speak, easy to present, easy to establish a PA forum, easy to share and easy to exude excellence. It is years of experience walking the walk, talking the talk and passing their wisdom forward to those that raise their hands and step from their comfort zones.
The question remains, will you step up, raise your hand and take your future serious? Will you have the courage to go where it's not comfortable yet? Will you get little "nuggets" from conferences and teach them to others so that you can learn in the process? Will you take your career and your future into your hands and say "I will move mountains". You are not alone, fill your inner circle with the right amount of mentors, inspirational individuals and teachers. Be brave, the world deserves to hear your story.
I'll watch out for you at the next conference.
Executive Support LIVE conferences take place throughout the year and around the world. For further details and to book, click here.