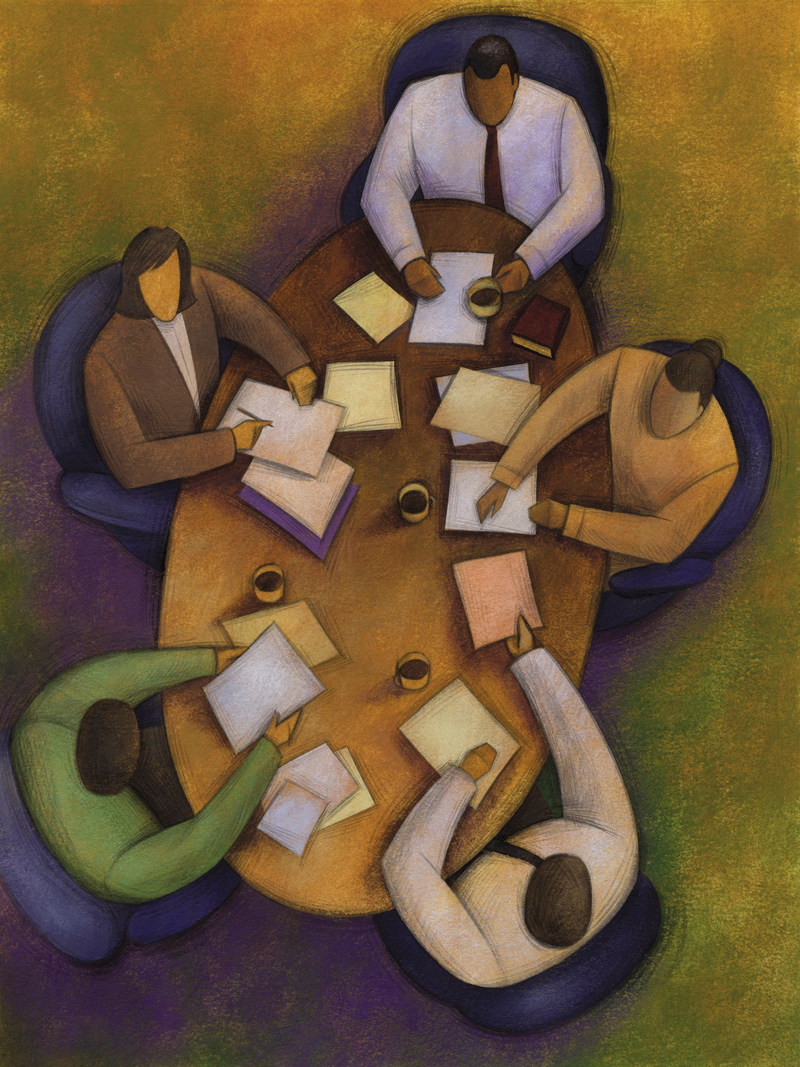 Every year, I challenge myself to read a couple of career-minded books. I enjoy the learning process and am always looking for ways to step outside of my comfort zone, to expand myself personally and professionally. This year's book of choice was Lean In by Sheryl Sandberg, chief operating officer of Facebook. She is ranked on Fortune's list of the 50 Most Powerful Women in Business and as one of Time's 100 Most Influential People in the World. Although her book is geared specifically for women in the business world, nearly everything she has written can be applied to both genders.
Sheryl Sandberg encourages us to "sit at the table", seek challenges, take risks and pursue our goals with gusto. But what does that really mean? I think back to all the meetings I've taken minutes for in my career. I had a choice in each meeting to sit in a back corner, away
from everyone, tapping away on my computer and writing notes or to sit with the meeting participants at their table. I was perfectly happy shying away from being a part of the group and fading away in the background.
Then one day, one of my supervisors encouraged me to sit next to her during the meeting to
take minutes. I was so uncomfortable and was convinced everyone was looking at me, questioning what right I had to sit with them. I could not wait for the meeting to be over so I could get out of there. However, something surprising happened after that meeting. People came up to me for the first time ever, told me how much they appreciated my being a part of the minutes I was taking. With every meeting that followed, I began sitting at the table. I found that I paid more attention to the details being discussed and received encouragement from leaders to get more involved. Recognition of my work increased, as did my confidence level.
Sitting at the table means you are now in a position to assert yourself. The definition of "assert" is "to state with assurance, confidence or force; state strongly or positively; affirm; maintain or defend; affirm or postulate." This can be a daunting task for an administrative professional.
Perhaps you feel inadequate to speak up because you do not possess the title of CEO. But that is certainly not true! You are there to assist in the meeting, but if your supervisor looks at you for your input, clarification on a topic or to reference prior meeting minutes, do so with confidence.
The question remains – how do you take that initial assertive step? I would encourage you to first be clear about the standards and roles identified at the meeting you are attending. Do the executives raise their hands, do they blurt out a response, or do they lean in and make eye contact with the leader of the meeting indicating they have something to say? Follow the example as dictated in the culture of your group. Personally, I am uncomfortable with raising my hand or blurting out. Therefore, I choose to make eye contact with the leader and wait until I'm acknowledged, or simply say "excuse me" or "pardon me" to bring the attention to what I want to say.
After the meeting has concluded, it is wise to follow up with the meeting leader to find out if they felt your comments were appropriate, helpful and wanted. This will give you a good indication as to the level of involvement the leader expects from you. The leader may choose to have you be a silent participant, or perhaps they may appreciate what you've done and want you to take more of a lead on future projects.
Every day we face the choice of sitting at the table or sitting in a corner. Speaking up can be a frightening experience, yet it may also be very empowering. You may find that you have more confidence and abilities than you ever gave yourself credit for. During your next meeting, ask yourself if you are ready to take a risk, seek out that challenge and "sit at the table"."