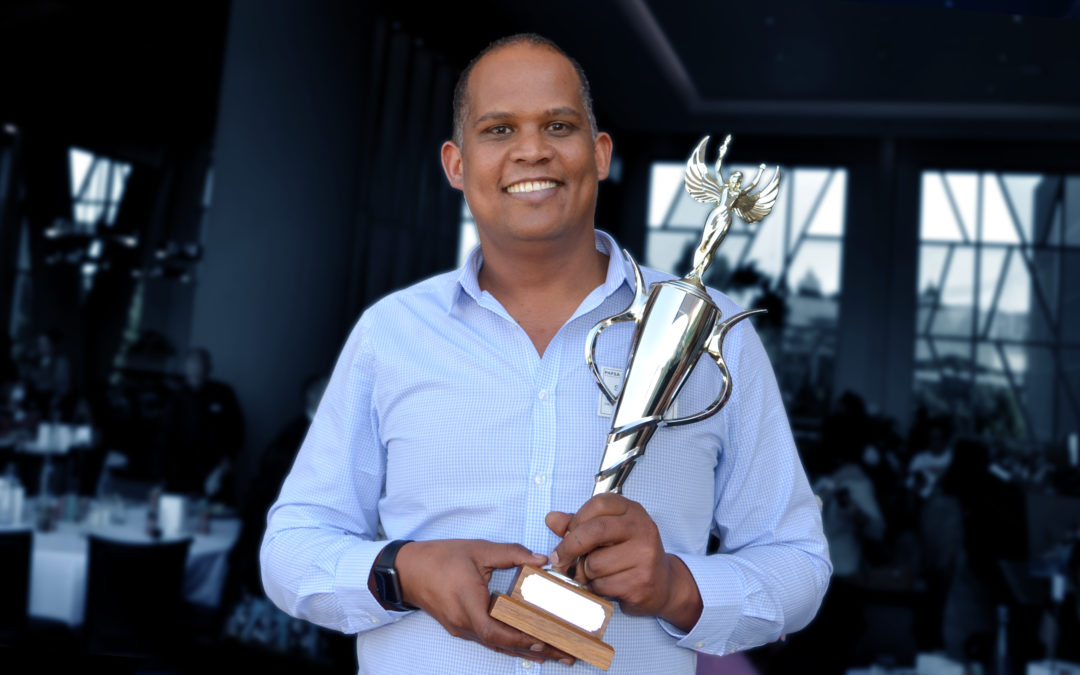 Shirwyn Weber is the South Africa PA of the Year 2019 and a mentor for the Isipho Admin charity
Can we start with a little background information? Where are you from and what is your current role?
I was born in the southernmost tip of Africa, and still reside there, based in Cape Town, South Africa, one of the most beautiful places, if not the most beautiful place, on the planet. I am lucky to call this home, the beach, mountains, winelands all within a 20 minute drive of each other.
Growing up, we were a family of six, including three sisters, my mom and dad. Sadly my mom passed away a few years back, she was my rock and I still look to her as the catalyst to my role today, she always said that if you wanted to do something, go and do it, put in the time and work and you will succeed. She always pushed us to be the best we could be in whatever we did.
I have the most amazing wife, and two incredible children whom I adore and a crazy dog, that only listens when she wants to. I am one extremely lucky guy!
My current role is being the Executive Assistant to Caroline Naylor-Renn (Chief Operating Officer – Group Investment Platform). An amazing leader and visionary in her own right…
What is your background? How and why did you become an administrative professional?
I did not quite know what I wanted to be, I went to university to study Sport Science, but did not complete that degree. I was a national team swimmer, and travelled some of the world swimming at various events. Once I finished my swimming career, I had no direction, so my mom told me to get a job. I worked as a lifeguard, later moving to do administration work in the offseason. This was my "official" start in our beloved profession.
I moved around working at various companies as an administrator, and started my career off being an assistant by filling in for someone who had left at short notice. At first, I thought that I would not enjoy it, that it was female role, that there was no place for males. And then the "bug bit", I started enjoying the variety of the role and the impact that I made daily. The rest as they say is history, and that was some 14 years ago.
I enjoy every day and every task (except minutes – I am yet to find a coach that would make me enjoy taking minutes). I believe that if you love you job, enjoy every day then it will always be precious to you and you will succeed.
Congratulations on winning the South Africa PA of the Year 2019. Has winning this award changed your perception of your career or your colleagues' perceptions of you?
Thank you so much for the congratulations, it has been a long time in the making, It was never just a job for me, I had always had in the back of my mind that I wanted to be one of the best assistants in South Africa. I wanted to dispel the myth that it was just a girl's job. I had been a finalist or semi-finalist on two other occasions and all those times was the only male present.
Winning the award was a huge scalp for male assistants all over the world, showing the profession that it does not matter that you are male or female, what matters is what you put in and how well you do the role.
Post winning the award, not much has changed, I think we still have a long way in showing the world that males do this just as well as females. I consider myself a champion of the profession, spreading the word that assistants provide so much more to a business than tea and typing.
How has the COVID-19 pandemic changed your role?
Luckily for me, not much has changed. I am lucky enough to work for a company that embraces the digital age and culture, it was one of the pillars for the business that we would be a truly digital outfit. Yes, COVID has brought with it its fair set of challenges. I am a people person, I love being around other and consider myself a catalyst to an amazing office vibe. Not being able to interact with colleagues on a daily basis has its downs but we have made it mandatory that we communicate with each other at least once a week to talk, joke and interact, this interaction has nothing to do with work and is seen as a release, with G&T in hand we chat, laugh and discuss whatever's on our minds.
Some days I do feel sidelined because I am not in every discussion, I don't get to know what's going on in real-time, but in my catch ups with my boss, I find out as much as I can and she always keeps me informed of what's happening and where our focus is. I am lucky in that the exec I work with sees my value and together we achieve great things!
You are also a mentor for the Isipho Admin charity.  Tell us about that.
In 2019, Isipho Admin approached me to join them as a mentor to their first male candidate, it was a great honour, one that I am extremely proud of. It showed me that they saw my value as an assistant and a male assistant at that. I will go to the ends of the earth for Isipho because I believe in what they are trying to do. I get to help others who previously would not have had the opportunity to further their education and in the field that I am passionate about.
If I had unlimited funds, this would be the project that I would sink them into as it brings me great joy. Anel, Teri, Susan, Cathy, Li-Ann, Lucy and I make a great team and those ladies inspire me every day to be a better version of myself, something that Isipho stands for, we help others become a better version of themselves. I would also like to thank those who have given to the project in various ways, it's because of you that we are able to change lives one person at a time.
How do you manage your time between your day job and your role as a mentor?
The balance seems to sort itself out, I am unfortunately not based in Johannesburg where the majority of the students reside, but through digital tools and my travels for work, I manage to see the students whenever I can. I am always available via email or on the phone, and the students know that they can contact me for anything.
What inspires and motivates you?
I have a loving family, an incredible wife who amazes me every day who forms the base for my motivation. I look to my two little girls and they motivate me to be the best I can be for them. On a professional level, I have so many role models, so many assistants around the world that I am lucky enough to call my friends.
I have an amazing mentor in Melissa Esquibel, who is always in my corner and always pushes me to be better; the amazing Lucy Brazier who always makes me think and be better; Matthew Want, someone I can always go to for advice; Anel Martin, my professional admin trainer / international speaker ninja friend and mentor; Susan Engelbrecht and Cathy Harris, who always have my back and support and encourage me to be a better assistant.
My current boss (Caroline Naylor-Renn) is a great source of inspiration and motivation, she always finds ways to get me out of my comfort zone and encourages me to think. She has an amazing style of leadership, one that you don't often see, one of inclusion and motivation. Caroline always pushes me to be better and for that I am truly grateful.
What advice would you give someone just starting out as an Assistant?
I would say, do not rush it, do not want to be the best straight away, just be the best you can be at that moment in time. Being a great assistant takes hard work, perseverance, time and loads of training.
Never stop learning!
In my view, you learn the most by doing the job and the tasks associated, once you master those tasks, share your knowledge and what you have learnt and then move on to the next thing. Baby steps and one day you will look back with amazement at all that you have achieved. This is a lifelong career, not a job for a moment in time or until you find something else, this career will give back all that you have put in.
So, what's next for Shirwyn Weber? Where do you want to be in five years' time?
I have recently started training other assistants, sharing my knowledge on various platforms and this is something that I would like to keep doing. I am also keen on expanding my knowledge base, doing an MBA, PM accreditation and more. Caroline is a pleasure to work with, so long may that last. I am also toying with the idea of starting a consultancy firm specialising in the placement of high performing assistants.
For more information on the Isipho Admin charity, or to make a donation, please visit http://www.isiphoadmin.org.za/