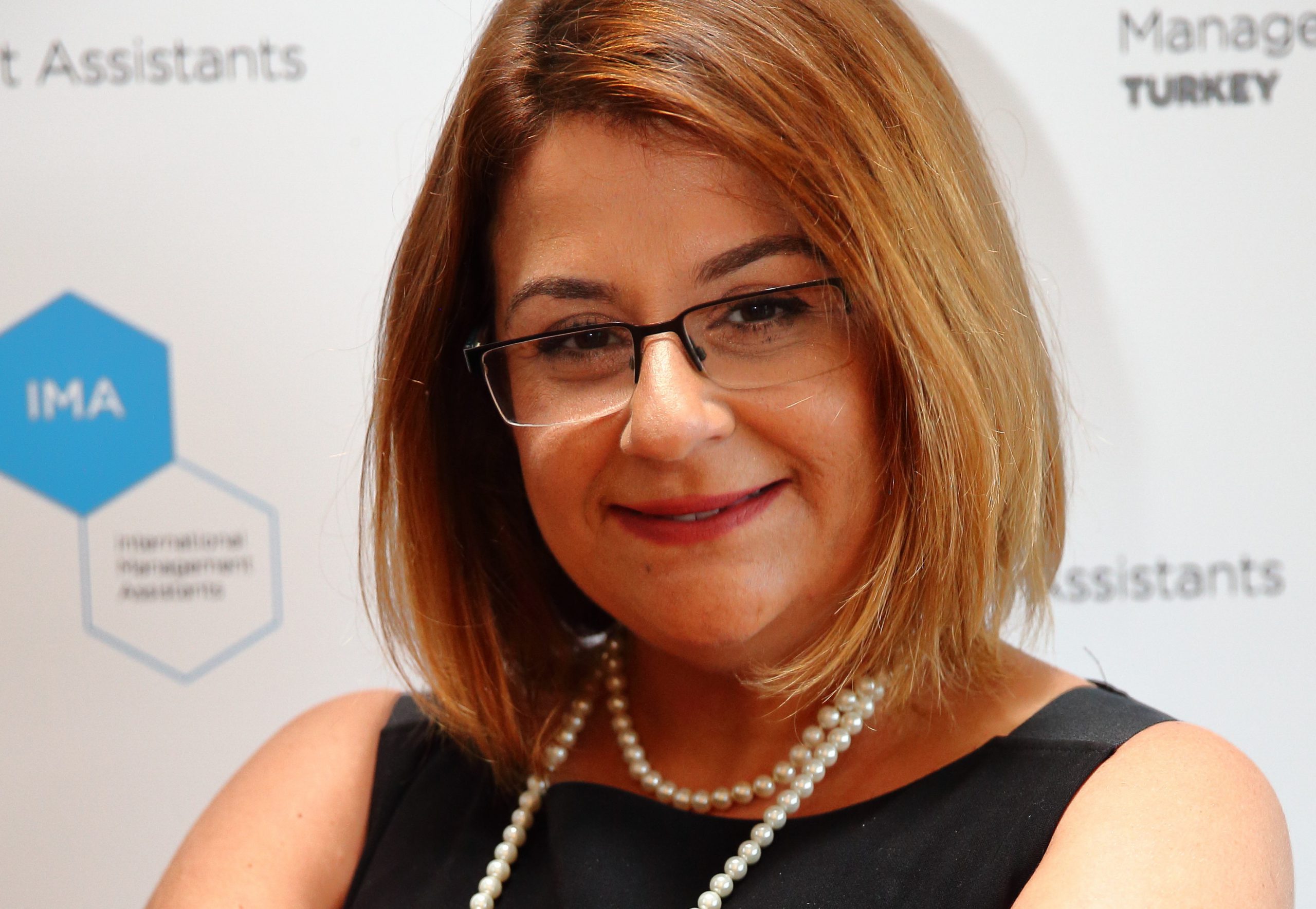 Menekşe Ahbab is the National Chairman of International Management Assistants (IMA) Turkey, which launches in Istanbul in December
 Can we start with a little background information? Where are you from and what is your current role?
My name is Menekşe Ahbab. I was born in Balıkesir, a beautiful city on the Aegean coast of Turkey. Due to my father's occupation, I had the privilege of spending my early life in many different cities in Turkey.
I have been an executive assistant for 20 years and currently work at Hewlett Packard Enterprise. I am married and have two princesses aged 10 and 8. I currently live in Istanbul.
By the way, I am 44 but feel like 24. I think being in love with a great man, having two girls full of energy, doing something I love, surrounded by great colleagues and friends has a Benjamin Button effect on me. I feel that every year I am getting younger, but a lot wiser! J
What is your background? How did you become an Assistant?
I graduated from Istanbul University Latin Literature in 1994. I enjoyed diving into the ancient Greek and Latin cultures as well as learning an old language. Then I went to England and lived in London for over a year.
While living and experiencing the culture in London, I met a Turkish lady who was in the education business. It didn't take me long to respect her business acumen, knowledge, and professionalism. I accepted her offer to be her PA in the Istanbul office and worked there for ten years. I consider that time, and the whole experience, as my second university education and master's degree.
I then started working at Adidas as an assistant to the General Manager. I truly enjoyed being in the corporate world. After Adidas, I continued to work as  a senior executive assistant at Deloitte, and now I am an executive assistant at Hewlett Packard Enterprise.
Tell us about the launch of International Management Assistants (IMA) Turkey and your role as National Chairman.
IMA Turkey is a true success story of a group of strong, intelligent, passionate and dedicated assistants who believe in the future of the profession. In August 2016, IMA Turkey's journey began with our dream to establish a strong association. Believe me when I say, it wasn't as easy as it sounds. We only had a couple of months to work on a whole country plan to present at the IMA Annual General Meeting in Copenhagen. When IMA Turkey was ratified in October 2016, we already had 11 members, a solid strategy, and a great deal of passion for driving the country plan. One year on and we have already received two prestigious IMA awards. In April 2017, we received the "IMA Gamification Award" in Antwerp and in September 2017 with a 418% growth rate we received the "IMA Star Award" in The Hague. We now have 60 members. So, I am proud, and it is a privilege to be the IMA Turkey National Chairman. My role is to run and lead the association together with the IMA Turkey management team. We are IMA Turkey, and Passion Led Us Here!
We are working towards our Launch Event and First National Conference, which will take place in The Ritz Carlton Istanbul Hotel on the 2nd of December. The theme of the conference is "Achieving Excellence in the Digital World". We are happy to have Chantal Sneijkers, Lucy Brazier, and Diana Brandl as our keynote speakers. When we talk about excellence in our profession, we cannot ignore the contribution of the managers to our success. Therefore, the CEO Forum will be moderated by an assistant and the Assistant Forum moderated by a CEO. These will be the "wow" factors of the conference. I am looking forward to hearing their view on our profession and what the main challenges are in the digital world. We have other surprises too, so stay tuned!
What are the main changes you have seen in the time you have been an Assistant?
There are so many, I could talk about them for hours! The most important change I see is that today's assistant is more visible by positioning his/her role right at the heart of the organization. Assistants are no longer a support factor behind managers, they are leaders working side by side with the management team. Our profession is evolving. To embrace the changes, we need to continue investing in our development by attending training and network with our colleagues.
What inspires and motivates you?
I have a success driven personality. IMA Turkey's accomplishments motivate me a lot. It's just inspiring to have so many assistants around who are constantly contributing to IMA Turkey's success.
Elevating the profession through tangible results and inspiring other colleagues is my inspiration.
What advice would you give someone just starting out as an Assistant?
We initiated a game-changing project called IMA Campus Turkey and visited Universities to meet future assistants. My advice to them was to learn at every single opportunity, develop your skills, network with your colleagues and always shine through your positive personality.
So, what's next for Menekşe Ahbab? Where do you want to be in five years' time?
Without any hesitation I'll still be in the profession and the IMA. I would also love to continue to elaborate on future projects for the association.