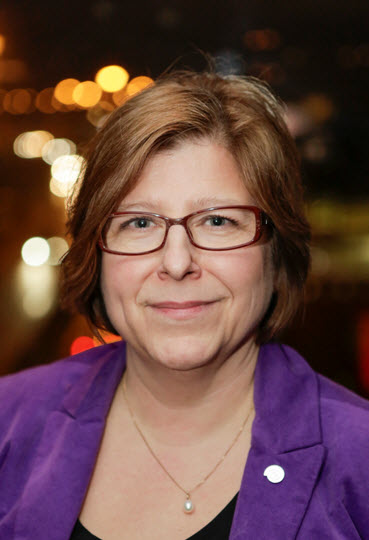 Else-Britt is the Chairman of EUMA, Europe
Can we start with a little background information? Where are you from? What is your background?
I was born in Stockholm the capital of Sweden. I am the oldest of three siblings. For 25 years I have lived in Solna which is a town close to Stockholm. I am married and have two grown-up children.
How and why did you become an administrative professional?
In high school I was going to be a decorator but I started out as a medical secretary in the beginning of the 80s and took a one-year course in medical secretary school as I found the administration area very interesting. In 1986 I entered the pharmaceutical business as a department secretary in Research and Development and today I am the Executive Assistant Northern Europe and Office Manager Sweden at Eli Lilly & Company and have been with the company for 14 years now. I like the unpredictable work days – if you don't like ad hoc duties you should choose another profession.
You are currently Chairman of EUMA, the Association for Assistants from 25 countries across Europe. Tell us a bit about EUMA?
EUMA is a unique international network for management support professionals which focuses on their personal development and on the future for the profession. EUMA is represented in 25 countries and has 19 country groups which gives you an international as well as a national network. In today's international business environment EUMA give you a fantastic flavor of different business cultures across countries.
EUMA has just celebrated its 40th Anniversary in Paris. Give us a taste of how you celebrated and marked the occasion?
It was a great celebration with around 300 participants – those who have been EUMA members for many years and members who joined for the first EUMA international event.
We started out with dinner in two boats on the river Seine. To see Paris from this angle was lovely. We were happy to have our founder Sonia Vanular and three former EUMA European Chairmen Helen Monument, Heli Puputti and Maria Lazarou together with us. After dinner our founder Sonia blew out the birthday cake's candles and cut the first piece of the cake. The evening ended up with a full dance floor!
We understand that Sonia Vanular, the 93-year-old founder of EUMA, attended the event. Tell us a bit about her and how she came to set up EUMA?
Sonia Vanular is a real role model and she is still very engaged in EUMA and the development of the profession.
"In 1970 Management Centre Europe, a subsidiary of the American Management Association asked Sonia Vanular to co-chair with Zoe Ouwehand, their personnel officer, the first Executive Secretary seminar they were running in Europe, a seminar they had run for several years in the United States. She chaired this seminar alone for several years after this. It was during this period she came into contact with secretaries from all over Europe who suffered from the bad press image of the secretary. At this time the image of the secretary was not the symbol of pride it is nowadays. In the public mind, "secretary" simply meant "woman" with few intellectual capacities but able to make coffee for her manager and be the maid of all work for everyone in the office. We are talking about the seventies when the existing technologies were not sufficient to help most secretaries develop themselves and to hone their skills further." The EUMA History book 2014, page 13
"Sonia's aspiration came into fruition when EAPS (European Association for Professional Secretaries) was created in 1974, a professional network where joint learning, sharing and empowerment were the key words. She wanted this association to be a self-development association. She always felt that secretaries have to create their own job and speak up for themselves." The EUMA History book 2014, page 14
 In 1998, EAPS was transformed in to EUMA (European Management Assistants) as a result of new business requirements of technical competencies.
What is your vision as Chairman of EUMA?
First is to encourage our members to be proud of their profession. If you want to be respected you have to first respect yourself. My vision is to make EUMA and our profession visible – if we are not visible we don't exist. This is very crucial today when companies have to have control of their costs and it is important that every employee is contributing to the business.
Networking – in our profession we are often the only one in the company, so who do you have as a reference? Our business environment is changing fast and with new technical tools – it is impossible to have full control over what is happening around you. To meet generation Y/Z – means that we have to be online but, with this said, EUMA will still be a unique network to provide face-to-face meetings, international as well as national.
Monitor trends – this is why I became a member in 1995 of EUMA to keep up with the changes and what new competencies are required for the profession.
What inspires and motivates you?
Other colleagues who have the courage to find new ways to solve problems and are open to new ideas. Also other leaders in my workplace from external top management, for example Sheryl Sandberg from Facebook. I read a lot of articles on leadership, communication and IT to keep me up to date as much as possible.
What has been the highlight of your career so far and why?
In work life it has been my time at Eli Lilly & Company who support me in my development, and my role today is very broad. One of my development areas is leadership and this is in line with my assignments within EUMA – first as the National Chairman 2008-2012 and now as the European Chairman 2013.
What are the main challenges facing the profession at the moment?
Visibility – to show off what competence you have and how you add value to the business – which means to be clear with your goals and make them measurable. This shows why we are needed as management support professionals.
Also to keep up with new technology tools so you are the one who adapts new ways of doing administrative tasks.
What advice would you give someone just starting in the role?
Get a mentor – this is an underestimated way to learn and develop. I was mentee in my early stages of being Executive Assistant to the managing director in early 2000 which helped me a lot. Then I was mentor twice and that also helps to share your experience but also to gain new knowledge from the mentee. Join a network – you find colleagues in an informal world of like-minded experiences, thoughts and feelings
So what's next for Else-Britt Lundgren? Where do you want to be in five years' time?
I have a great task to take EUMA forward into 2020 and to work out what it means for us to be management support professionals in 2020. A profile to define the role is my top priority right now.
In five years' time I want to focus on coaching colleagues to develop and to be confident in their profession.