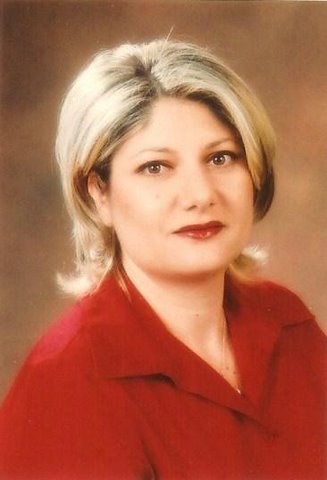 Maria Lazarou is the European Chairman for EUMA
Can we start with a little background information? Where are you from? What is your background?
 I live and work in Nicosia, Cyprus. I had always dreamed of visiting the Big Apple, so studying in the US and particularly the New York area was my first choice. At first I wanted to study Criminal Justice, but, after the first month I realized that I couldn't bear to be next to a dead body!
It was then when I had to make up my mind and choose another field. It was easy for me to choose a major in Office Administration/Office Careers at New Jersey because I liked Office Management and at the same time wanted to be involved in Public Relations.
Upon completion of my first year of studies, the management of the college offered me the opportunity to work as a part-time Personal Assistant to the Dean of the Business Department. At the same time, I was asked to fill in for an instructor on leave, teaching classes I had already passed with distinction, so I got an early taste of teaching.
What is your current role?
 Currently I am a Senior Lecturer and Program Coordinator for Office Administration at Cyprus College and European University, a position that I have held since 1987. As Program Coordinator I am responsible for the two-year Office Administration course, and in addition to teaching I am in charge of all full-time and part-time OAD instructors.
 You are currently a Senior Lecturer of Office Administration and Secretarial courses at one of the leading institutions in Cyprus. What was your career path to this role?
When I first started teaching I struggled to convince parents as well as Managers that the position of Management Assistant is important, and should be part of the management team. Back then the position of the Management Assistant was not well respected and I had to convince my students of how important their role is in the business world. Luckily, in recent years, students have shown an increased interest in the Secretarial Profession as they realize how challenging and rewarding the job has become and, at the same time, there is a big demand in the Cyprus market for Management Assistants with great potential and a promising career.
Apart from lectures, that are a must in order to pass their examinations, I often offer them the chance to visit companies. Organizing field trips for students can further stimulate their interest to work for such companies.
In addition, I organize presentations delivered by career-minded Management Assistants in Cyprus. It is worth mentioning that for the last 22 years I have coordinated a workshop and panel discussion – fully sponsored by Cyprus College – for the Office Administration students of Cyprus College, in cooperation with EUMA Cyprus. Every year I invite long-standing members of EUMA Cyprus to share their experiences and give inspiring talks on their careers to the students. I strongly believe that this is the best promotion of the Secretarial profession and the EUMA name to young students entering the profession. Students are grateful that they are given the opportunity to ask questions relevant to the profession they have chosen, and at the same time EUMA keeps the image of the Secretarial profession to the high standards we have set according to the business trends of the time.
I should mention that Cyprus College is the only institution in Cyprus that sponsors a number of Office Administration students to become members of EUMA Cyprus, under student membership.
You are the European Chairman of EUMA. What does this position encompass and how did you come to be so involved with EUMA?
EUMA Cyprus was established in 1989, and it was through a newspaper ad that I found out about EUMA – EAPS at that time. I joined EUMA Cyprus in 1990, and was a member of the Newsletter Committee until 1998, when I took on the position of Coordinator of the Newsletter Committee. From 1999 to 2003 I served as Assistant National Chairman, after which I served as National Chairman of EUMA Cyprus. In 2006, I was elected as Deputy European Chairman, and from February 2009 until the 35th AGM in Slovenia, I was Acting European Chairman.
I can assure you that it is a full-time job. As the European Chairman I am responsible for stimulating activities: for the efficient functioning of EUMA with its aims and statues; for carrying out the decisions of the Council; for putting forward resolutions to the Council and the General Meeting; and for the admission and expulsion of members.
What do associations like EUMA offer administrative professionals that they can't get from their day to day job roles?
EUMA is currently represented in 26 countries and distinguishes itself from other associations with its pan-European dimension. Members have access to a professional network encompassing a vast range of business cultures, languages and lifestyles, whilst at the same time providing a network where everyone will be on common ground in a safe learning environment.
In the EUMA terminology, cross-border networking has a double meaning. Firstly, it describes the international nature we offer to our members, and secondly, it indicates EUMA's aim to network with other Management Assistant associations.
What inspires and motivates you?
I was extremely motivated when my election as European Chairman coincided with the    20th Anniversary of EUMA Cyprus!
As mentioned earlier I have been an active and loyal member of EUMA since 1990. I always act for the benefit of our association and I know that members appreciate it. I strongly believe that hard work pays back, and members keep me 'walking' with their encouragement and participation in our events. Last but not least, I would like to add that my EC colleagues inspire me with their cooperation and support.
What are the main challenges facing the profession at the moment?
The role of the Management Assistant in today's business world is changing as organizations have downsized, middle managers are gone and reporting lines are shorter. Consequently, every company offers its own challenges.
The main challenges facing the profession at the moment are:
Handling cultural differences
Handling project management
Organizational change
Keeping up-to-date with technical skills
Task complexity
Learning opportunities and growth
Dealing with multiple bosses
Dealing with difficult people
What advice would you give someone just starting in the role?
Knowing that we are in a new age – the age of information and of global competition, the Administration Professional should possess the following skills and traits to be successful in an office:
Reliability
Flexibility
Adaptability
Commitment and loyalty
Multi-tasking skills
Project Management
Technical proficiency
Interpersonal skills
Organization skills
Business etiquette
Communication skills
Teamwork
Attention to detail
Professional image
So what's next for Maria Lazarou? Where do you want to be in 5 years' time?
This is a rather tough question nowadays. First of all, I hope to remain in good health, in my job at Cyprus College, as I love my job and there is still a lot to be done for the development of the Office Administration course.
My term of office as European Chairman of EUMA will come to an end by next year and I shall take a break for a year. I then plan to obtain my PhD in Education.
Needless to say, I will always be a EUMA member and available to support our Association from the back seat.