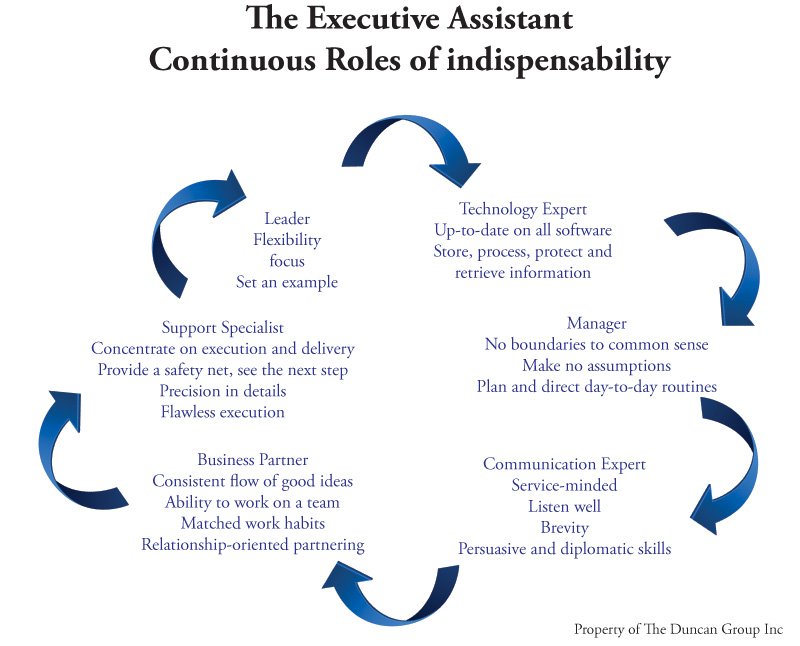 Constancy, stability, and challenging learning curves have expanded the Executive support role to its present status explains Melba Duncan
Global executives who travel 80% of the time say they are "more prepared for life." What about those who prepare them to travel, so they can be more prepared for life? This article is about you: their Business Partners, their Support System.
There are certain, dynamically interwoven aspects of the Executive/Executive Assistant Business Partnership that can be compared to two sides of the same door. The first is that Executives and their Assistants each confront the complexity of changes affecting their organizations by responding swiftly and with deliberate action. The second aspect is that successfully complementing each other on so many dissimilar yet interconnected levels requires 'smart power,' and 'common sense power.' Each role values self-knowledge, personal strength and empowerment, as much as the ability to meet head-on the ongoing transitions in global business and technology. This yields an 'influence of power' that impacts and permeates both the internal corporate structure and external enterprise.
Constancy, stability, and challenging learning curves have expanded the Executive support role to its present status. Executives rely on the Executive Assistant partner to organize and plan extensive global travel, with its complexity of multiple time zones, locations and cultures; to respond to the impact of the Internet that adds a 24/7/365 urgency; and to hold down the fort during their absence.
It is in this context that the traditional role of the Executive Assistant is being given closer scrutiny. It is no longer a matter of recovering a genuine understanding of the assisting role, and adapting these standards to a modern situation. Ours is an 'Age of Specificity,' and much more is required. The shift towards 'smart power', 'common sense power' and 'influence power' models creative leadership: the ability to respond to changes in business strategy, while operating with dexterity, strategic competence, and global interpersonal skills.
There are two ways to arrive at this progression. One is where Executive Assistants bring innovation as they cope with change; deliver structure through the management of day-to-day routines; and provide Executive support by identifying and evaluating solutions to achieve common goals.
The other is through proper recognition of this role as a collaborative business partnership, with higher levels of responsibility, including decision-making discretion. Those who serve as the liaison to Executives, and layers of the company, and who manage world-wide relationships, are essential contributors.
This expansion process has given this role the credibility it has so often lacked. Cycling between old practices and new, Executive Assistants now are faced with a crisis of competence, while work shifts from doer to manager to leader; from clerical to strategic support.
Executive Assistants' foundation skills now require global business savvy (how industries operate worldwide); interpersonal impact (to build networks and work with diverse populations); intellectual capital (to understand and meet challenges in new and different ways); and strategic decision-making (apply analyses rather than assumption; reduce complexity to simplicity). Here are just some of the currently emergent trends that introduce the new performance standard.
By now, a question may be on your mind. What is the purpose of all this? This new support role is a measurable standard by which we can establish the impact on Executive productivity. These skills are distinct from traditional skills, as this chart demonstrates, and the distinction is valid. In current experience, traditional and new skills weave themselves in and out of one another to become the whole, new job. This is the new and serious business of the effective Executive Assistant. Now, let's fast-forward to New Skills in New Times, and the Pivotal Role, which comprise the new job description.
The Professional Executive Assistant: Specialist, Manager, Leader
New Skills in New Times
Timeless Support Skills
Management
Leadership
Personal Standards
Interpersonal Standards
Ethical Standards
Influence

Creativity

Working partnership accountability

Ability to add technique to instinct

Plan, organize, schedule

Juggle, prioritize tasks, anticipate changes, meet deadlines

Communication expertise

Calendar coordination and cross-checking of facts

Mature problem-solving

Judgment and discretion

Detail/time allocation

Contingency planning

Manage day-to-day activities

Detail precision

Computer proficiency

E-mail etiquette

Influence

Refined global skills

Analyze information

Resolve logistical issues

Business knowledge

Manage financial portfolio

Background research

Design office systems and procedures

Monitor time-sensitive, confidential issues

Written communication

Follow-through skills

Manage chaos; distraction control

Decision-making discretion

Act politically and analytically

Project management skills

Serve as intercultural liaison

E-mail etiquette

Influence

Elicit trust from others

Strategic competence

Innovation

Decisiveness, credibility

Support and promote company decisions and processes

Build commitment through collaboration

Rational and effective standards

Skilled in negotiation

Results-oriented in context of the bigger picture

Generate new ideas

Respectful, even in disagreement

Knowledge of world/international business

Role model, mentor

24/7 integrated lifestyle

E-mail etiquette

Personal accountability
Personal accountability
Personal accountability
The Professional Executive Assistant: A Pivotal Role
Extraordinary Skills at the Center of a Powerful and Effective Business Relationship. What Three Outcomes Measure Success?
In order to respond to predictable and unpredictable events as they occur, these diverse sets of skills save Executives' time and enhance productivity, but only work under certain conditions: when, by serving as a catalyst, the Executive Assistant applies good judgment, with the basic instincts of leadership, and 'common sense power.' Moving from one event to another on behalf of the Executive requires full knowledge of what the Executive's job is, and the context in which it supports the needs of the organization. This specialized decision-making ability provides a time-advantage for the Executive, reduces setbacks, and helps to lessen interpersonal errors.
A client described the following scenario:
'I am in New York City; it is pouring rain, I can't get a cab (as a matter of fact, I almost got run over by one). I am running; I am breathless; I have an umbrella stuck under my arm so I can dial the phone; I am dripping wet; when I call in, I want you to be there (because you know my schedule) and I want you to be ready to knock out 15-20 emails you have sorted as imperative in that span of time. I work like that, not a lot like that, but like that. I need a great Assistant. I want everybody to be looking at my office, led by that person, thinking/saying to themselves 'Wow, that office is "squared away". I need an Assistant who will set the bar for others and to a degree, softly manage/train by example, who encourages the team to cover for each other. Pretend that your background is in live sports for TV, and whether you are prepared or not, you are going on; so you learn quickly how to back yourself up; know how to make sure you look and sound as though you know what you are doing, because the world is watching. This is the type of thinking I want.'
The following chart offers the combined, exciting view of this new role, with its performance priorities:
In this 'Continuous Role,' Executive Assistants bring the Indispensable Skills of Leadership and Management, and function as Communication Expert, Technology Expert, Business Partner, and Strategic Support Specialist.
As a Leader,
character is the Executive Assistant's number one attribute. Personal style, professional judgment, self-management and compassion actually define the Executive Assistant character. As a Leader, the Executive Assistant copes with change, tolerates chaos, inspires others with great passion to offer their best efforts on behalf of a goal to which you and the Executive are personally committed. Leadership is not about position or skill. It is about attitude. The truth is that the best leaders desire to support others, not themselves. Executive Assistants possess the confidence to skillfully provide support to others.
As the Technology Expert,
the Executive Assistant works in a world that is massively interconnected. It is said that every four years there is a doubling of information in the world. Executive Assistants process and analyze an enormous amount of data. You spontaneously reinvent systems and processes by adapting your technological skills to create and manage time-saving solutions.You are systems focused and structured; you put the pieces together to move across boundaries. Executives prize technologically adept Support Professionals, with flawless execution skills.
As Managers,
Executive Assistants are capable of generating the most complex reports by performing analysis on results, demonstrating the ability to organize and establish plans from ad hoc and specific objectives. Executive Assistants have an acute sensitivity for the vital importance of time urgency, exceptional follow through skills, laser-like intensity, admirable people skills and wonderfully engaging styles and personalities. You communicate with executives on key priorities, decisions, action items. You are able to see the big picture, yet track operational minutiae.
As Communication Experts,
Executive Assistants serve as liaisons, translate key messages, ask the right questions and listen well. I quote Rebecca Lutzer in her commentary, Setting and Maintaining Boundaries:
'Communication is the key to all relationships. With clear, honest, timely communications, misunderstandings and false expectations are eliminated; schedules are clarified; personal preferences are explained, and compromises are worked out.'
As Business Partners,
Executive Assistants are strong business allies, with a real share in the purpose and mission of the organization. You understand the Executive's role, goals and personal mission; your role in the company and in partnering with the Executive for performance; your boundaries and areas of responsibility; and your established lines of communication, formal and informal.
As a Support Specialist,
the key to indispensability is the Executive Assistant strategic support strategy. You accept that you have a constantly changing job description; you execute efficiently with relentless attention to detail; and, you maintain balance in your working partnerships. You work independently and as a team player; you take initiative and manage multiple tasks, relationships and projects where appropriate.
Executives have the hidden expectation that their Executive Assistants will be empathetic and charitable. Executive Assistants have the hidden expectation that they will be valued by the Executives they support. The conditional nature of these assumptions requires that we always question our perceptions. Each is expected to understand the other's role, personal mission, demands and pressure, blind spots, triggers, work habits, and temperament. And, each is expected to learn from the other's mistakes. Remember Sam Levenson, the famous American Humorist and author, who says, 'You must learn from the mistakes of others. You can't possibly live long enough to make them all yourself.'
Corporate Responsibility: Charting an Effective Course of Action.
I urge companies to demonstrate the ability to put into place compensation systems that align with contribution and commitment, to invest in education (the quality of the workforce matters), to hire the right people for the job, and to assure job clarity. This Executive Support role must be given great prominence.
There is a tendency among many who hire to estimate a person's aptitude for this position by his/her technical skills and recognizably good judgment. These are predictable aspects of a successful profile, but are unpredictable as to the outcome. Because someone appears to have these talents, it does not mean they have the inclination to do this work. Satisfaction in the position of Executive Support is realized by helping someone else to be successful. The importance of this role is that there is great value in being a strong right (and left) hand.
Executive Assistant Responsibility: The Way Forward.
So you don't have a Degree. Here's an idea: the future of the Executive Assistant rests upon courses of study that emphasize practical knowledge for a broader perspective. The goal should be to acquire hard and soft skills so as to be familiar with the theories of finance and economics, operations, marketing, financial analysis, management, project planning, strategic decision-making, areas of management theory, the international political and financial system, the impact of government regulation on business, and familiarity with the dynamics and differences of organization cultures.
Those who are preoccupied about the future know that navigating for enduring success in the workplace requires new learning. Work rules have changed; people are not measured by intention; rather they are assessed by their ability to adapt to changing circumstances, their enthusiasm to learn new personal behaviors and workplace skills, by their decisions that sustain successful outcomes, and by their belief in the value of contribution and commitment as a basic tenet of their professional values.
The Executive Assistant plays a central role in supporting Executives' efforts to manage the extraordinary transitions that await all of us in the coming years; so, make capabilities the main pillar of your Executive Assisting strategy. Invest in your education.
Executive Assistants excel in this career because they enjoy the self-management focus, the opportunity for collegial decision-making, new learning, and recognition for their participation in corporate achievements. The evolving role of the Executive Assistant is more integral to the realization of management goals than ever before. It is a workplace integration and evolution that will always be in demand. The Executive Support position continues to be a smart career option, with a rewarding future. The downside is that you are either in the tank, or you are swimming full speed ahead. Those who think they can leap to this level of skill without pursuing new learning deceive themselves. This is a legitimate concern. It would be similar to taking occasional joggers and put them in a marathon race.
If you only want to be an Assistant, don't. If you are inclined to do this work, and need to be a Professional Assistant, do, and be prepared to face the ever-changing and growth-demands of the position. For those who are inclined to walk the tight rope, this specialized professional role is pretty irresistible.
The process I have laid out should yield a lot of promising initiatives and a portfolio of actions with a short-term and long-term focus. I can't reassure you, or make up an answer for you. You are experts in establishing priorities; so, the choice is yours!
I admit that's a lot on your plate. Yet, you and I know that there are no 'impossible things' for Executive Assistants. Like the Queen in Alice in Wonderland, we not only believe in them before breakfast, we find a way to make them possible before dinner.