Cultivating a workplace culture of diversity, equity, inclusion and belonging is a journey, not a destination, explains Julia Schmidt
Now is the time to spread the word about diversity, equity, inclusion and belonging. These are more than trendy words; they are here to stay, to push us to look at everything with fresh eyes and to embrace the diversity each of us brings to the workplace. Fostering the feeling of belonging in our workplaces is everyone's responsibility. We can all contribute to more diversity, inclusiveness, equity, and happier workplaces.
Being diverse is about being human. Each human being is like a beautiful piece of fabric woven of the different strands that make up their lives, such as culture, gender, ethnicity, and physical or mental abilities and disabilities.
Embrace the journey
Cultivating a workplace culture of belonging is a journey, not a destination. It takes patience, commitment, endurance, self-education, and tenacity. The journey begins with you and your willingness to embrace the everyday actions you can take, no matter what your role or title.
As Brené Brown said, "People are opting out of vital conversations about diversity and inclusivity because they fear looking wrong or being wrong." It is time to abandon our comfort zone and pursue in-depth conversations about the topic. That is how we will contribute to meaningful and lasting change.
In the McKinsey article "How people – not just policies – make or break inclusive workplaces," the authors explain that company-wide policies are fundamental elements in achieving diversity, equity, and inclusion in the workplace. However, these elements alone cannot foster sufficiently high levels of inclusion. McKinsey's research has found that three key relationships shape inclusion for employees: organizational systems, leaders, and peers/teammates.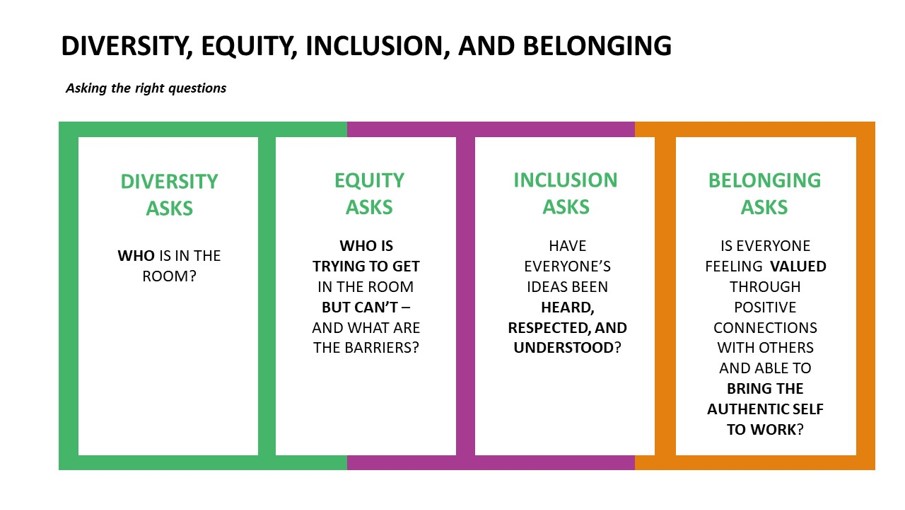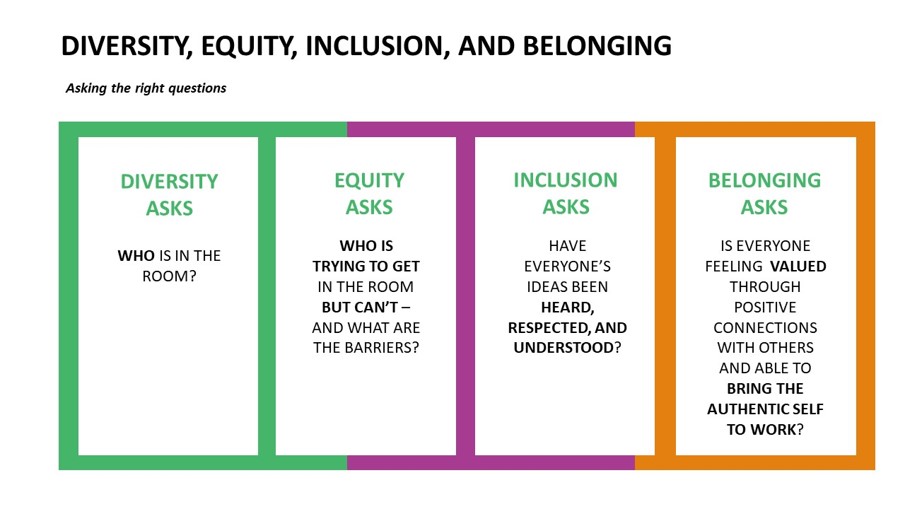 Inspired by the book Belonging at Work – Everyday Actions You Can Take to Cultivate an Inclusive Organization by Rhodes Perry, MPA, and my own experience from exploratory conversations and learning about the topic, I have gathered 20 actions to guide Executive Assistants through this journey of discovery, education, changes, and actions towards more inclusive work environments. The change must start with each one of us!
20 actions to take for a more inclusive workplace
1. Become familiar with the terms diversity, equity, inclusion and belonging
Each word carries powerful content for us to understand what we are embracing in this journey.
2. Seek out knowledge
Seek out knowledge about the different identities, cultures, races, religions, working styles, perceptions, backgrounds, and lived experiences represented in your workplace. Start with your department and teams.
3. Familiarize yourself with the challenges
Familiarize yourself with the challenges that people of color, women, people of different religious traditions, LGBTQ people, persons with disabilities, and immigrants experience in the workplace.
4. Participate in relevant conferences and continuing education opportunities
Learn more about diversity, equity, inclusion, and belonging and the administrative profession. It is an opportunity for you to check out how your peers make a difference and add value to the organization in this area.
5. Be curious about people
Join community events organized by groups from different cultural backgrounds than your own. Cultivate a diverse network of colleagues and show interest in who they are and what they have to say and bring to the table.
6. Treat people with respect
Practice the Platinum Rule – we should do unto others in the way they wish us to do unto them. What is good for you may not be nice for your colleagues and peers. So, create an environment of affirmation and respect.
7. Learn to understand your unconscious biases
Practice putting your assumptions and stereotypes aside. We all have them, but they are not helpful when it comes to making others feel comfortable. The brain uses shortcuts to navigate an incredible amount of information, leading us to make snap decisions about who we prefer to be with and who we would like to avoid. These automated preferences and preconceptions are what we call 'biases. After gaining awareness about these biases, make an action plan to adopt more inclusive attitudes and behaviors. Consider having an accountability partner.
8. Ensure that your team members are heard, understood, and can contribute to innovation and problem-solving
Make sure the introverts have the time and space they need to express their opinions. Give people credit for their ideas and work. And to all that, let us add some celebration moments. Being heard is excellent, but being celebrated is even better. Did someone come up with a great idea that benefited the company? Well, a meeting or social gathering is a perfect place to give credit to that person!
9. Commit to serving as a workplace sponsor for underrepresented talent
Share your experience through mentoring and advocate for those who need sponsorship. Ensure that their work is seen, and that they are introduced to the right people and encouraged to express their ideas.
10. Commit to building inclusive spaces within your community
Bring your commitment outside the workplace, and include your professional organization or network group. Remember the diversity of people, culture, opinions, and life experiences that exists within the workplace and beyond.
11. Help your organization excel in any diversity, equity, and inclusion project
Facilitate discussions, develop a vision, identify key decision-makers, communicate the business case, organize events, and nurture employee engagement. What about making inclusion a core value in your onboarding material?
12. Do not assume
Do not assume that your manager has the knowledge or confidence to talk about the topic or about the organization's strategic goals for increasing diversity, equity, and inclusion. Take the initiative to broaden your own education and talk with colleagues who are willing to learn more. We need everyone's effort to create a more inclusive culture. Your engagement is contagious.
13. Value the time you invest in promoting diversity, equity, inclusion, and belonging
Engagement requires a considered and dedicated amount of time. Time spent in building more inclusive workplaces is time well spent. It is also a precious opportunity for you to grow professionally and develop relevant skills.
14. Become part of the sharing and learning arenas in your workplace, including resource groups
When you return from diversity-, equity-, and inclusion-related events, share what you have learned. Encourage your colleagues to participate in future events and share relevant links to websites and webinars. From each event, pick up two to three actions to implement in your organization. There are many webinars organized by different organizations on the topic – also by associations for administrative professionals. They will give you a diverse perspective on how people are approaching the issues and finding solutions to them. The more you learn, the more you will be able to influence what is being implemented in your organization.
15. Consider chairing or volunteering with your organization's committee for diversity, inclusion, and belonging
It is your golden opportunity to learn from your colleagues and share your perspectives. This is your chance to showcase your expertise and what you are doing within the organization or outside your workplace. Think about promoting what your administrative professionals' association is doing and how you sponsor underrepresented people in your community.
16. Take a real leadership role in driving change and creating a culture of diversity, equality, and belonging
Remember that our differences add value to the workplace in different ways: culture, race, sexual orientation, socio-economic background, educational level, geographic location, work style, ideology, and lived experiences. Your diversity matters, and the diversity of others matters as well. Dare to be an ambassador for this cause!
17. Tell your diversity story and encourage others to tell their stories
Our stories empower us with the necessary confidence to help us serve as inclusive leaders. With our stories, we inspire others, humanize the workplace, and make space for others to tell their stories. Inclusion is about knowing the value each of us brings to the workplace to build sustainable work relations and work environments.
18. Inclusion relies on interpersonal relationships
So, employee experience – inclusive behaviors from leaders and teammates – is essential to make people feel included at work. As a leader, invest your time in mentoring and advocating for people, and encourage decision-making. As a teammate, invest your time in empowering and supporting your colleagues, showing genuine concern, being respectful, and embracing diverse ideas. Allyship is needed!
19. We do not know everything about diversity, inclusion, equity, and belonging, but we can stay committed to learning new things every day
We know we may fail at times, make wrong decisions, or retain some biases. However, what will keep us on track is our willingness to keep on building healthier workplaces for ourselves and the coming generations.
20. Ask yourself every day, Am I allowing people to bring their whole selves to work?
Despite our roles and titles, we all have the obligation to help people feel they belong to the workplace and build inclusive workplaces with the diversity they represent. A company's financial outperformance and profitability should not be its only criteria for success; a collective commitment to empowering workforces is equally important.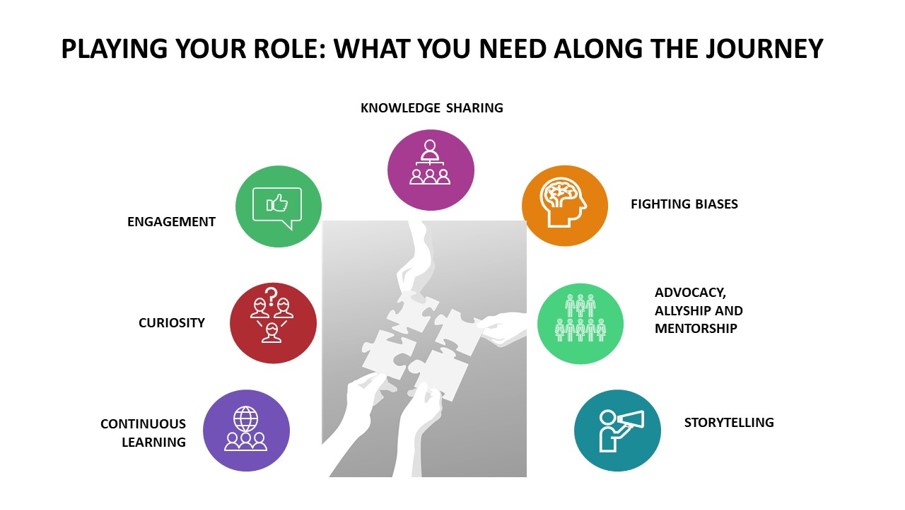 The time is now to become inclusive leaders, despite our roles or titles, who make sure people can be themselves and feel a sense of belonging every day, everywhere, anytime. The change must start with you and with each of us, at work, at home, and in our communities.
"If we want people to fully show up, to bring their whole selves including their unarmored, whole hearts – so that we can innovate, solve problems, and serve people – we have to be vigilant about creating a culture in which people feel safe, seen, heard, and respected."
Brené Brown