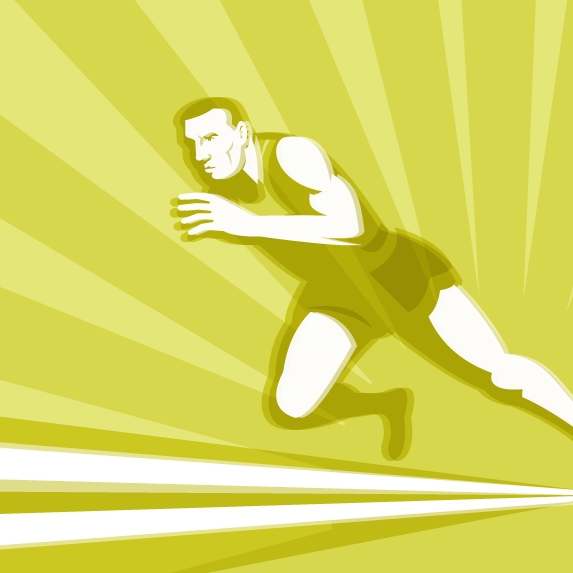 Jeremy Lazarus explains how to transfer the sporting champion mindset into the workplace
Within the business world, there is much demand for talks and seminars given by elite athletes, probably because there are many similarities between the two disciplines. Perhaps this demand has been increased due to the Olympics fast approaching and the increasing media profile of sporting superstars.
Even if you do not like sport, being able to improve or build the following skills is beneficial to most organisations:
Improve individual and team performance;
Beat the competition;
Overcome setbacks; and
Maintain focus.
This article will look at some of the key aspects of the champion mindset and discuss how organisations can tap into these aspects to get better results, faster. The points in this article are applicable to everyone, regardless of the type of organisation or the level of seniority. The ideas discussed are based on three areas of research into how athletes and sports coaches think, and on 30 years of business experience:
Research that lead to the publication of my sports psychology book;
Discussions with, and training given to, elite athletes; and
My masters degree research into mental strength for elite professional goalkeepers.
The Mindset For Success
There are several aspects of the way successful athletes and coaches think and respond to situations, which are useful to us all.
Firstly, champions recognise that there is no failure, only feedback. While they may be disappointed if they do not win or perform well, they learn from it and seek to improve next time. According to Lawrence Dallaglio, former England rugby captain, "The key is to learn from your mistakes".
Roger Black MBE, 400m champion at World and European Games, "spent much of his career thinking about what would happen if he didn't succeed. He finally worked out that there was no such thing as failure, and when he knew that, he really had the ability to perform under pressure".
Based on my experiences during 18 years of employment, plus 12 years of business coaching and training since, many organisations operate a blame culture. Mistakes are seized upon and highlighted. While it is important to learn from mistakes, treating failures and non‑success as a deeply negative event is often counter productive, and can stifle creativity.
Linked to this, in the workplace the term 'feedback' often has negative connotations. This is probably because most managers only discuss and comment on an individual's weaknesses. Research by Gallup shows that our performance improves most when we concentrate on what we do well, rather than trying to fix our weaknesses.
Secondly, champions recognise that they can learn to take charge of their mind, and therefore influence their results. Learning to deal with the pressure of cup or race finals is little different from learning to deal with the pressure of making presentations, pitching for business and going for a job or media interview. Even if someone does not know how to deal with the pressure yet, there are numerous courses and books on topics such as NLP (Neuro Linguistic Programming), which provides a series of ways to change one's thinking and techniques to feel at our best (for example, confident, calm and focused) before and during the types of sporting or business situations mentioned in this paragraph.
Thirdly, champions have the ability to be flexible. During sporting competition, there may be unexpected playing conditions or tactics used by opponents. These changes are often taken as a natural part of the competition, and welcomed by champions. In business, there are numerous political, economic, social, technological, legal and environmental factors that create change. Welcoming change, and adapting to it, are increasingly important skills, particularly since the recent recession.
Elite coaches honour and respect people's individuality. The elite goalkeeping coaches I interviewed knew that an approach that would work for one goalkeeper may not work for another. In an interview in 2010, Michael Vaughan, the former England cricket captain, who lead the team to a historic victory against Australia in 2005, said that when he was appointed captain he asked every single player what was important to them and what motivated them. He then acted on their responses.
Effective managers will take the time to understand all of their reportees and treat them individually based on the needs of the individual staff member, as well as the organisation, in order to be better able to motivate and support them. In my experience, this is an undervalued and under-utilised skill.
On some of the training courses I deliver, delegates are taught a simple 15-30 minute process, based on honouring a staff member's individuality. It always significantly increases staff motivation and engagement. It involves finding out what is really important to each staff member – i.e. what motivates them – and then doing what you can (within the organisational constraints) to help them to have more of what they want and less of what they don't want. You can download the relevant chapter of my book Successful NLP by following the link in the references.
Finally, and probably most importantly, successful athletes and coaches have a 'can do, will do' attitude. Even when the inevitable disappointments occur, it galvanises them to perform even better. This attitude is a choice – regardless of circumstances, we can all choose how we want to respond. Even if someone is unsuccessful in, for example, a sales presentation or a job interview, do they want to sulk and blame, or learn and bounce back?
Even if you are not interested in sport, there are several parallels between the mindset for success in both sport and work. This article has highlighted some of the main areas of commonality, and given some tips about how you, and your organisation, can develop by modelling excellent performance. For further information, please feel free to contact me.
References:
Grout, J. and Perrin, S. (2004). Mind Games: Inspirational Lessons from the World's Biggest Sports Stars. Chichester, Capstone Publishing Ltd.
Ibid
Rath, T. (2007). Strengthsfinder 2.0. New York, Gallup Press
Lazarus, J. (2010). Successful NLP: For The Results You Want. Richmond, Surrey, Crimson Publishing.
Further Reading:
Hemery, D. (1991). Sporting Excellence: What Makes A Champion? London, CollinsWillow.
Lazarus, J. (2006). Ahead of the Game: How to Use Your Mind to Win in Sport. Penrith, Devon, Ecademy Press.
www.thelazarus.com