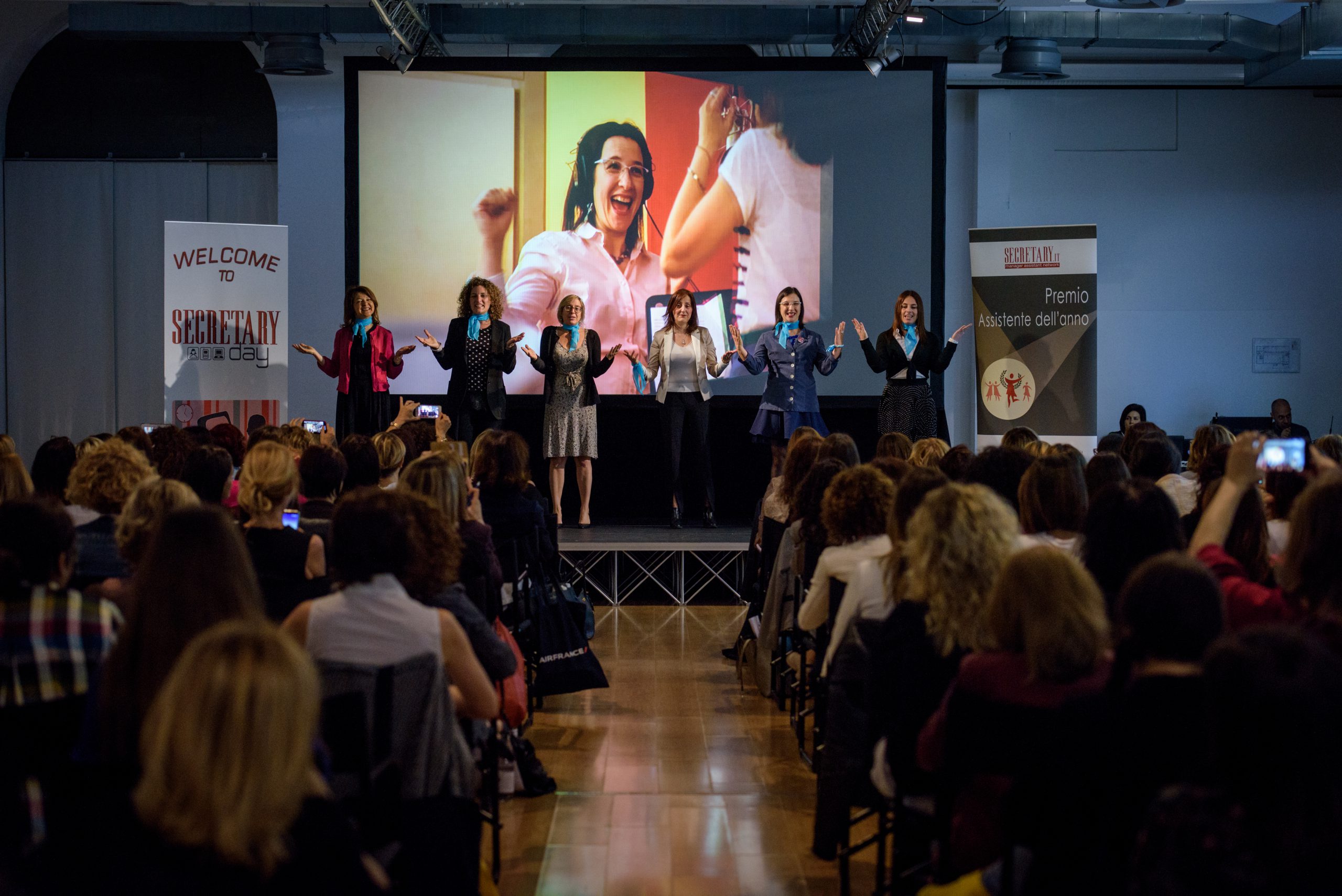 Singing in a choir is an excellent way to develop and strengthen our soft skills say Eliana Torretta and Vania Alessi
At the 9th Secretary Day annual meeting, Daniela Fasano presented a talk showcasing the benefits of being part of a choir.  The video used to accompany the talk featured Helen Rees and the Executive Secretary LIVE choir in London, UK.
Dolores Cristescu, a nominee for the Assistant of the Year title, is fond of singing and her secret desire is to found a choir.  Magic is in the air… Dolores becomes Assistant of the Year and whispers her desire to Daniela. Daniela and Dolores easily recruit assistants from the community who wish to be pioneers of the project and the Assistants' Choir in Italy begins its adventure!
Goals and Achievements
 2017-2018
The first goal of our choir was to create an official Assistants' Hymn. In a great example of collaboration, the music was written by Dolores Cristescu, and the lyrics co-written by Dolores, Sara Poggiani and Irene Cutrona. The hymn is a type of march, detailing the role and activities of assistants.  The lyrics are:
Wake up assistants, it's a new day!
Even if it's Monday we are not scared
While warming up our superpowers
We'll use our magic and resoluteness
Chorus:
We are wizards of priority
Transforming obstacles into opportunities
And getting great satisfaction indeed
Three overlapping meetings to organize
We spread lovely smiles and great care
Passion and enthusiasm are our guides
From behind the scenes success we guarantee!
(repeat chorus)
Meetings and events we are asked to plan
With a little budget what challenges to face!
The videoconference system doesn't work
We turn into IT to turn it on!
(repeat chorus)
Miracles and wonders for the entire week
Ready for the weekend when the phone rings
We'll change some flights and feel to be
Ready for a new Monday to begin!
(repeat chorus)
The hymn is launched at the Secretary Day 2018 in Milan.  The audience responds enthusiastically, and the performance receives a standing ovation from hundreds of assistants. You can see videos on our website https://www.assistantschoir.it/
2019
Inspired by the Executive Secretary LIVE choir, we decide to cover the song "Something Inside So Strong".  This performance also celebrates a huge achievement by the Italian assistant community: the sponsorship of an assistant with Isipho Admin.  We also perform another song "Insieme" written by Irene and inspired by a poem by Federica Papotti (another assistant from the community), and the real life of Shahad al-Mohaimeed, depicting the situation of women in Saudi Arabia.
Why sing in a choir?
Singing in a choir is an excellent way to develop and strengthen our soft skills:
relationship skills: sharing, giving and receiving
interaction skills: adapting your voice in relation to the others so that they mix
listening skills: listening to yourself and to others
communication skills: expressing your opinions and respecting other people's opinions
teamwork: thinking and acting together to achieve our goals, not as individual "selves".
What about wellness?
Singing in a choir releases energy and creates synergy, it enhances mental balance and wellness in general. It is like meditating, praying, walking, dancing, or any other activity which gives you the opportunity of destressing and increasing your resources.
What are you waiting for?
The recruitment campaign is open! As we say in Italy #secretarypower is in the air, let's make our voices heard, let's sing all together.
Maybe one day we will meet in a worldwide performance of assistants' choirs!