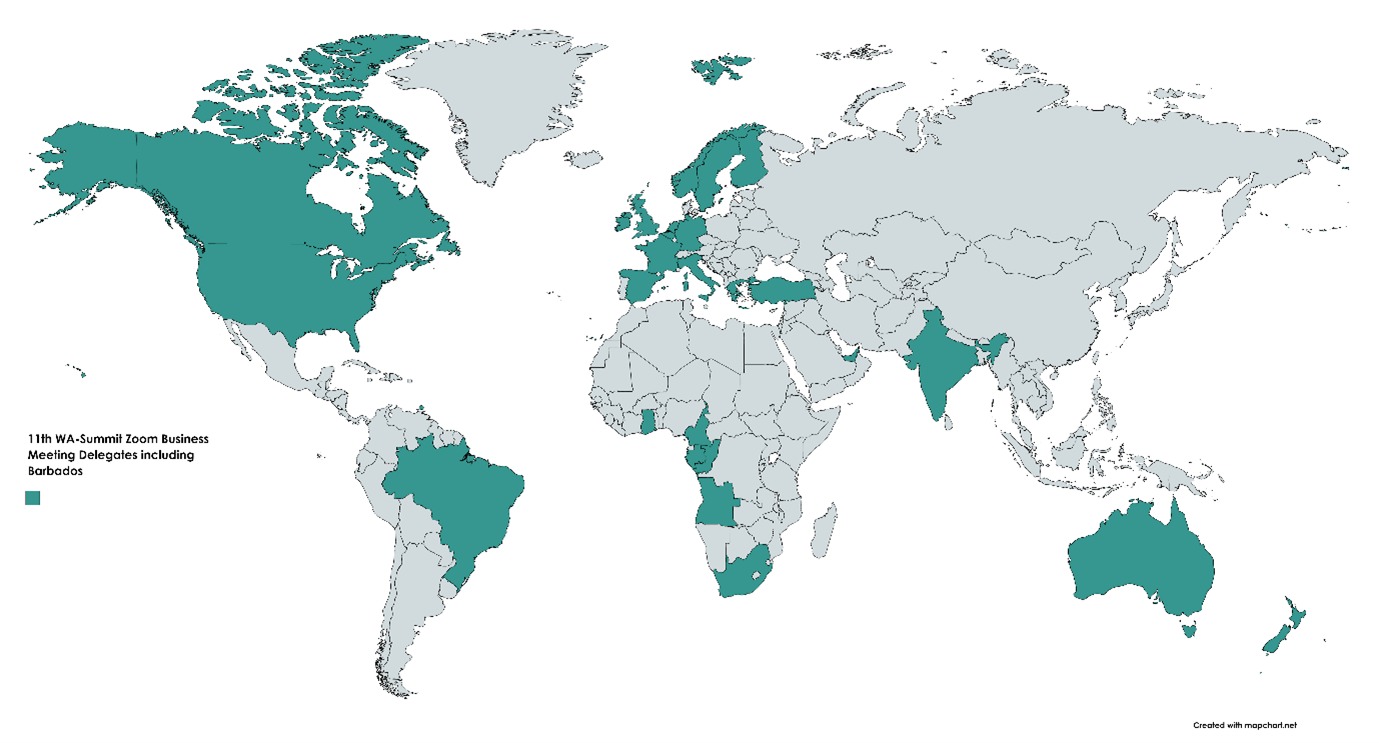 Eth Lloyd takes us through what happened at the 11th World Administrators Summit (Virtual) Business Meeting 30/31 August 2020
What a wonderful event this was!  COVID-19 meant that this meeting (part of the 11th WA-Summit) was the first ever virtual WA-Summit meeting. Fifty-five delegates from 28 countries attended, some of those had never participated before and some had not been able to participate for a while. The meeting was across almost all time zones in the world. Regrettably three countries, Uganda, Papua New Guinea, and Russia had to withdraw at the last minute. More countries had more than one delegate to represent them, and everything ran very smoothly.
Now I need to explain that I believed I would never have to chair a virtual meeting. I was standing down from the role of Chairman and felt that someone else would be responsible for taking the WA-Summit into the virtual world. COVID-19 made sure I did not get out of that task.
I felt very challenged by this new task – strange as for much of the past 20–30 years I have been the one putting my hand up and saying, "I will do that". This seemed like just one new task too many. However, I had to get over that, so I pulled my socks up and got on with it. I found that I enjoyed it and felt exhilarated about having managed it.
Acknowledgements
The WA-Summit Advisory Council at this point wishes to acknowledge two particularly important people. The first person is Rhonda Scharf of On The Right Track, delegate from Canada, who provided her Zoom license – without that access we could not have held this meeting. The second person is Sherie Pointon from AAPNZ. Sherie acted as host for the meeting and managed all the background requirements. Without Sherie's behind the scenes work my role as Chairman would not have been so straightforward.
I certainly missed the attributes of a face-to-face meeting – the hugs, the opportunity to meet those who you had only had contact with through emails, the ability to greet everyone personally, and to see them all in front of you. We had four screens of Delegates and so seeing everyone at once was just not possible. However, that aside the meeting was excellent.
The Business Agenda
We had four items on the Business Agenda. These items were all actions requested by the 2018 Delegates, and during the last two years the WA-Summit Advisory Council – Future Task Force has been consultation with them on these actions. Now the WA-Summit Advisory Council was seeking endorsement of those actions from the 2020 Delegates.
These Agenda items were:
Presentation of the new structure of the World Administrators Alliance (a non-profit trade association – where trade means a profession) to replace the WA-Summit Advisory Council – ENDORSED
WA-Alliance Interim Chairman appointment – ENDORSED
WA-Alliance Council Interim Membership – ENDORSED
Guidance on the Membership Fee for the WA-Alliance – discussion and guidance provided.
Using electronic voting was efficient and simple, with each country having only one vote, making this business meeting straightforward and satisfying.
The WA-Alliance Interim Council
The new WA-Alliance Interim Council, as endorsed by the delegates, is made up of members from the USA, Australia, New Zealand, Nigeria, Canada, Netherlands, and Germany, providing knowledge and passion for our profession and wide global coverage.

Top left to right: Barratt Shaw, Christine Stewart, Vicki Faint, Jesse Egeonu, Debra Chafe, Helen Monument, Ursula Wartha.
Helen Monument, the new Interim Chair of the WA-Alliance, is compiling a 2020 Outcomes document which will be available on our website (www.wa-summit.com) under "Resources", shortly.
Discussion Groups
The second part of the meeting involved four discussion groups focussing on two topics. These topics come from the global survey conducted at the end of 2019 to develop topics for the originally planned face-to-face 11th WA-Summit 30/31 August 2020. These topics were:
Branding of our Profession – What would work in your country to elevate the profession?
Measuring effectiveness of WA-Summit outcomes – What do you want to see from the WA-Alliance by May 2021?
Discussion of these topics was aimed at gathering the collective wisdom of the delegates to assist the Interim Council in the work they need to do over the coming months. These discussion groups were superbly facilitated by Lucy Brazier, Helen Monument, and Karen Nanninga who all worked with us in 2018 at the 10th WA-Summit in Frankfurt, and Juanita Mort who we welcomed to work with the Delegates for the first time.
The Team ready to go top left to right: Sherie Pointon, Diana Brandl (Social Media), Eth Lloyd, Helen Monument, Karen Nanninga, Lucy Brazier and Juanita Mort.
The four discussion groups have provided a wealth of material for the Interim Council to work with.
Further Topics
There are a further four topics from the 2019 Global Survey still to be discussed by Delegates. These discussions will take place at the May 2021 11th World Administrators Summit – Discussion Groups, the type of meeting and date are still being finalised – face-to-face or virtual?
This is the final article I will write about the WA-Summit. As I said in a recent presentation to the Australian Institute of Office Professionals:
"Over the last 20 years I have put my hand up and said, "Yes I will do that". I have found I was doing things I had never imagined I could do. I have had a ball and I have been terrified.

I have learned to always have my husband with me when I travel overseas to speak, as without his constancy I fall apart.

I have learned that I can do it, it only takes planning, preparation, and hard work; something we all understand and do daily."
Thank you all for sharing with me both the journey and the goal of moving the work we do every day towards being formally recognised as a profession.
I am so delighted to have got to where we are and to now leave the next part in the process to the very capable Helen Monument, her Interim Council, and all of you.