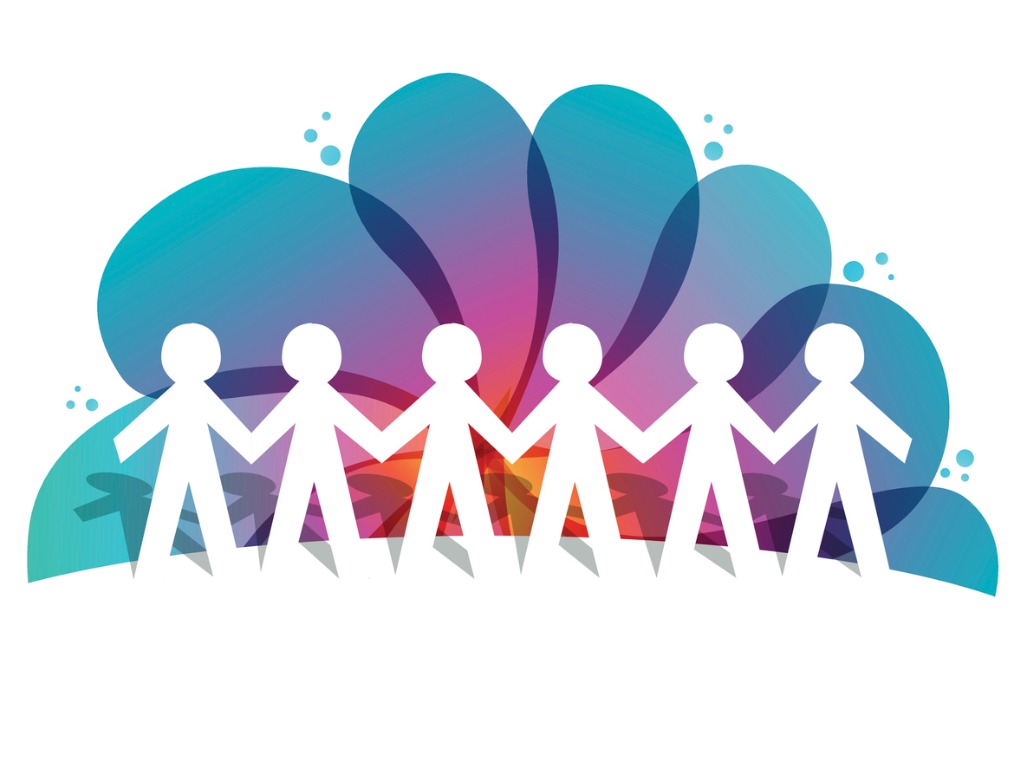 Richard Collins explores the relationship between CSR and ESG
CSR (corporate social responsibility) and ESG (environmental, social and governance) are frequently mentioned in corporate language. Both terms relate to the social responsibilities of businesses. While CSR holds organisations accountable for their social commitments, ESG provides measurement and quantifies its efforts.
Is ESG the Same as CSR?
Many organisations use the terms 'sustainability,' 'social responsibility' or 'corporate social responsibility' to refer to strategies and programmes related to environmental, social or governance (ESG) activities. These frameworks provide the structure in which you can address ESG reporting. Social responsibility is about developing a strong company culture that empowers employees to do environmental and social good.
Social responsibility is important to businesses because employees benefit from working in an inclusive environment and towards a valued social goal. This builds a strong company culture that positively impacts people and productivity. It delivers both social and financial value through staff engagement, retention, attracting talent, efficiencies, tendering and reputation.
ESG Ratings
While social responsibility/sustainability impacts internal processes and company culture, ESG is a measurable set of valuesthat external partners look at in their evaluation of a company. ESG ratings illustrate a company's assessment of its risks and opportunities and is beneficial both for external partners and investors and for company executives in making financial decisions.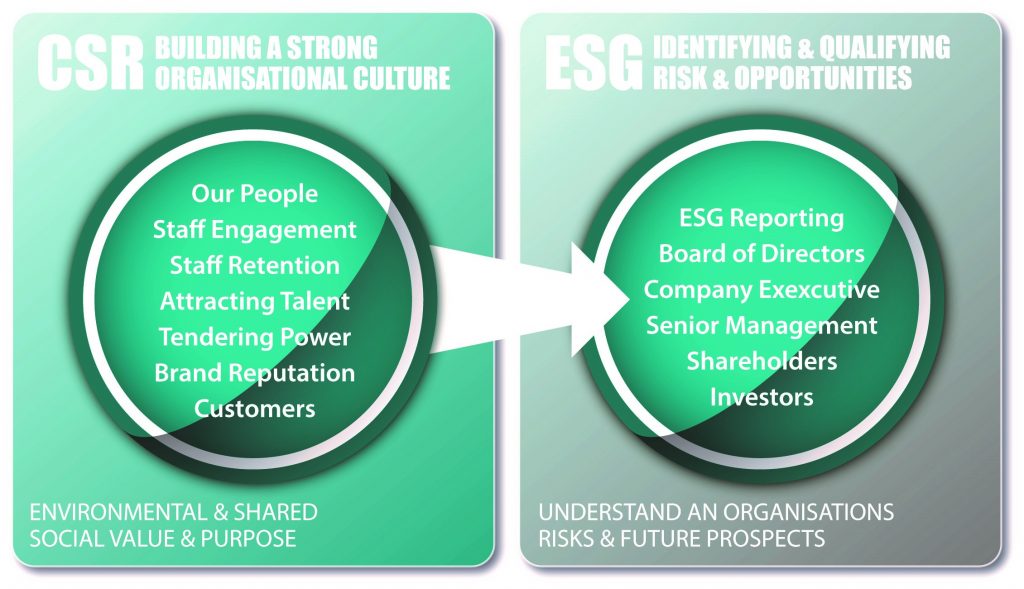 Some of the concepts we all understand and recognise as important are:
improving working conditions and human rights;
reducing resource use;
carbon foot-printing;
improving community engagement.
CSR standards help organisations drive positive outcomes in each of these areas, providing the impacts that organisations look for when trying to improve their social responsibility/sustainability.
ESG scoring is different. It encompasses all these factors and yet is focused on the material impact on a business. The aim of business managers and board members may ultimately be the same: to work more efficiently and with a reduced impact on the environment and society. But the language they employ to describe and achieve these goals can be very different. Business managers are concerned with improving and communicating sustainability and social responsibility impacts. However, a board is also interested in ESG scoring because it is a vital part of what an investor will consider.
ESG performance on subjects such as resource use, human rights, corruption and transparency is increasingly used to identify exposure to business risks and assess ability to leverage business opportunities. Therefore, it is increasingly important for organisations to communicate with investors clearly and accurately about these aspects of performance.
Making claims about social responsibility/sustainability that cannot be validated is no longer acceptable to the financial markets. Instead, senior management must find an effective way to quantify their organisation's operations against set environmental, social and governance (ESG) criteria.
Active engagement by corporate boards stems from a profound change in the way financial markets are approaching social responsibility/sustainability. Investors are no longer solely focusing on financial statements. Instead, they are taking an integrated approach to investment decision-making. This approach is gaining support from government authorities. An ESG score is now essential for anyone looking to invest in a business. Investors now routinely analyse information on ESG performance alongside other financial and strategic information in order to gain a better understanding of companies' risks and future prospects.
The adoption of ESG practices points to a growing understanding that a healthy profit doesn't have to come at the expense of people or the planet – in fact, there is a direct link between profitability and simultaneously striving to make the world a better place.
Conclusions
CSR boosts company morale by engaging staff, improves retention, enhances productivity, attracts talent and creates a positive workplace. Couple this with environment, community engagement and an improved brand image that appeals to customers, and you have a business that is well-positioned for sustained growth and development.
ESG reporting helps ensure that internal processes are socially and environmentally sustainable. Good ESG ratings provide positive insights into the identification and quantification of an organisation's risks and opportunities. This is beneficial for external partners, investors and company executives in making the correct strategic decisions.
Committing to socially and environmentally equitable practices may seem overwhelming at first, especially when returns to the business are unclear or hard to quantify. However,
when properly implemented, a CSR policy and good ESG performance can provide the guiding principles and measures that make social commitments actionable and directly beneficial to all stakeholders. Considering the business benefits and the meaningful social differences we can make with such practices, it is a win-win situation for all concerned.
CSR-A has established a new, relevant and holistic framework that delivers an up-to-date standard for social responsibility. It is supported by the CSR-A Four Pillars (environment, workplace, community and philanthropy), which can be mapped to environmental and social issues (ESG). This provides a structure that will help an organisation plan and act responsibly.
CSR-Accreditation is a new standard that states that social responsibility is for every organisation. For this to happen, the C in CSR must be more inclusive. 'Corporate' excludes a large number of stakeholders, specifically the third and public sectors, sole traders and small SMEs. We have therefore redefined the C to be more inclusive – to include companies, communities and charities.
Social responsibility allows you to enrich the quality of life for all by investing in social value as an essential part of an organisation's culture. This provides purpose and impact and will ensure a sustainable and profitable business. It will help to build a better world for future generations by improving the environment and ensuring a cohesive community to live and work in.
It is amazing that many of us don't talk about what we are already doing in this area. CSR-Accreditation provides the perfect opportunity for you to tell your positive story.