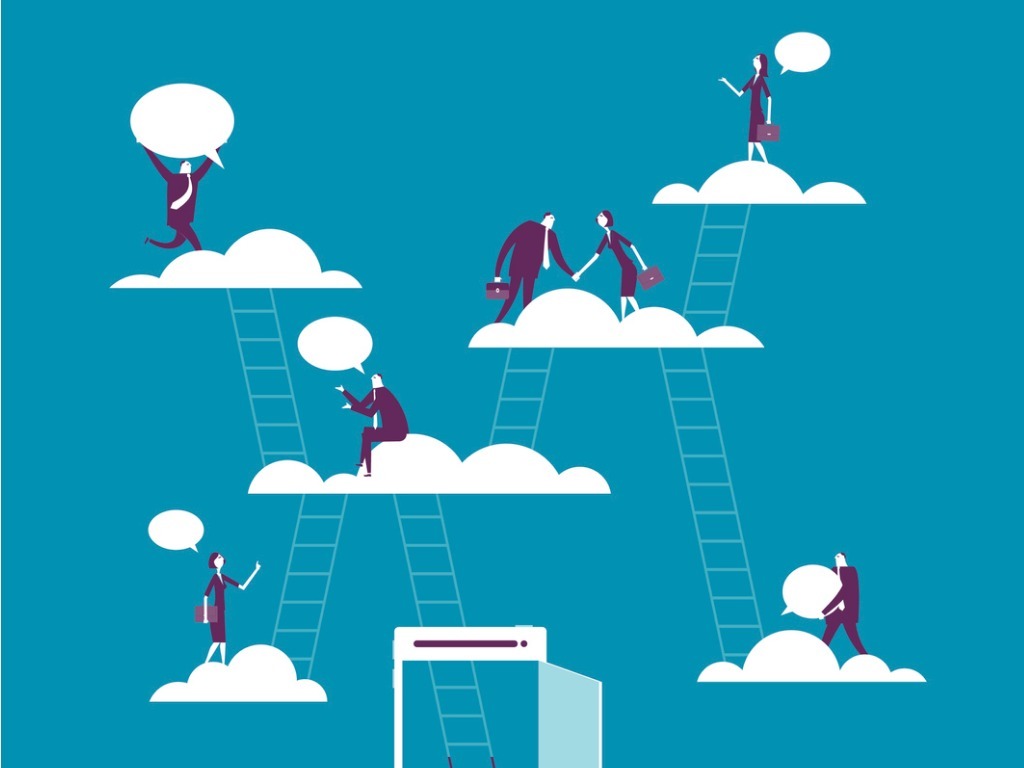 It's a great feeling of accomplishment explains Kemetia Foley
If there is one key component that stands out when speaking with leading executive assistants and PAs, it is their resource network. I state it every single time I teach. EAs/PAs are only as strong as their resource network.  Bonnie Low-Kramen, author of Be the Ultimate Assistant and keynote speaker, makes it clear in her presentations just how important our peer network can be. Come to think of it, every single speaker I've met through the Executive Secretary Live events and magazine have the most amazing skills and resources, and they're not keeping that knowledge to themselves.
Building the strongest business network means you have access or contacts in all the areas we rely upon as assistants: travel, IT, project management, meeting planning, business writing, social media, AI, HR issues, finance, and many more.
Eight Questions to Help You Evaluate Your Resource Network
Get a sense of the strength of your resource (knowledge) network as you read through these questions.
1. If your computer flashed the blue screen of death right now, would you
Know where to rent another?
Have an emergency repair contact?
Be able to have one shipped from the office to your travel location?
Know if it is under warranty?
2. Your team is hosting an international delegation at company headquarters. There are visitors that require very specific meal types and others that require special
How many specialized catering companies do you have on call?
Do you have a translation service? Can your organization provide captioning for those that require it?
Does your organization have a private room that allows for prayer?
Do you know where your organization has an Epi pen for someone suffering an extreme allergic food reaction? Would you know how to get one?
3. Do you have a peer contact in at least fifteen major cities, globally?
4. Are you aware of the requirements for accommodating those with disabilities at your company meetings? Could you locate a conference room to rent in another city? How about A/V companies?
5. What would you do if you or a member of your team was stranded in a rural area between two cities? There might not be Uber nor a rental car organization to assist.
6. Have you attended a conference for assistants within the last three years? Not a course, a conference. Was it international, meaning based outside your country or had more than twenty international delegates?
7. Do you know someone besides a family member that can introduce you to new apps related to travel or business?
8. Your boss falls ill at the office and has to be transported to the hospital. Do you have their next of kin emergency contact information? Do you have it on you? Do you have a plan in place as to who to notify and when?
These things may seem like too much. Yet, they are key insights into the types of resources you want to have at hand or by sending a quick text message. As an executive assistant or PA there's not a need to have an answer to all of these, but do you have a contact or two that can help you in these situations—usually we need answers quickly— when you need it?
I recently introduced a colleague to the superbly talented Marie Herman, MOSM, to help resolve a complicated document Style issue. Marie, along with Vickie Sokol Evans are two of the most experienced and respected presenters when it comes to Microsoft Office training. I can contact either one of them and almost always receive same-day response. But I wouldn't know either one of them had I not attended a conference at which they presented.
Which leads me to…
Eight Ways to Build That Resource Network
1. Join an affiliated peer group
There are associations world-wide for the administrative profession. Want to find the most comprehensive list?  Go to the Associations tab on www.executivesecretary.com. Invest in yourself!
2. Create an admin peer group at your organization
Start by making it casual – either via discussion group or monthly lunch and learn sessions. Create small tags with topics and have an attendee pull one topic from a bag. You'll be amazed at the discussions it starts! Contact HR and request to be listed as a go-to resource for new administrative staff coming into the organization.
3. Toastmasters
While this is not a specific group for EAs/PAs, it is fantastic group for improving your public presentations as you connect with other adults not so aware of our career field. It is a vital skill, and Toastmasters helps members learn and apply what you learn to different formats of public speaking.
4. Attend a meetings professionals' event or webinar
MeetingsNet.com is my go-to for resources related to meetings, events, convention centers and conference centers. They have fantastic webinars as well. Meeting Professionals International (www.mpiweb.org), Professional Convention Management Association (www.pcma.org), Events Industry Council (www.eventscouncil.org) are the three largest organizations dedicated to the training and professional development of meetings and events professionals. Dedicate 10 minutes per work week for a month to learn more about these organizations, their professional development opportunities and conferences.
5. Create Your Admin Emergency Contact Groups
Set up groups in your contact list based on specialty: Travel, U.S. Caterers, U.K. Caterers, Social Media etc. Add your contact to these groups so they are easy to locate when you need them OR
Utilize OneNote and create your resource list there by creating tabs and importing contacts into those pages. You can also use tags on each of those pages created!
6. Social. Social. Social.
This is by far my favorite and most valuable location to make and keep contacts inside and outside the admin world. Twitter lists are invaluable, and you can create up to twenty lists for tracking.
There are also Twitter chats like #adminchat on YouTube to keep you up-to-date on the latest skills.
Another option is to join LinkedIn groups related to your interests. Once you've connected with the group, you can add those contacts to your resource network. Be sure to review how active the members are within the group and if they have a group moderator or two. Moderators help keep the group discussion focused and appropriate the purpose of the group.
7. Attend conferences and live training
By far the strongest way to build networks is face-to-face. Attend not only the conferences related to your career-field, but those outside it! Sometimes it can result in being hassled by vendors, but mostly you will come away with at least five great contacts to add to your resource network. Caveat? You must TALK to people and interact with others at the conference for this to be successful. You just never know when one of those contacts will be able to assist you when you find yourself in a bind.
8. Network at work
Not just your co-workers, but what about the restaurant staff downstairs? Or, the patent law staff upstairs? Pledge to introduce yourself to at least one new person a month. Before you know it, you have a cadre of locals to fold into your resource network
Again, think resourceful. Think about building the 'strength' on your bench. Connecting to and creating a network will be to your benefit the next time you are on the receiving end of a new work challenge.
Keep It Going
Reciprocate
Each interaction is an opportunity to develop respect and trust within the peer community, but only if you not always on the asking end of the equation. Don't abuse the privilege of reaching out to your peers for last minute assistance. That's a reputation you do not want to garner!
Be honest
If time is of the essence for your contact and you cannot assist, tell the person right away. Or, do one better—if you have a contact that you think can step in to help—make that introduction!
Reconnect
by social network or by email. It's always nice to be remembered, right? No selling though. Absolute no-no. That's bad form, and a sure way to lose respect.
It won't take long to establish your solidly impressive network and become a connector. It's a great feeling of accomplishment, assisting peers and providing that much needed introduction or vendor resource.
Want to learn more about this topic?  Check out Kemetia's #AdminChat video: https://youtu.be/c95N365CmBc