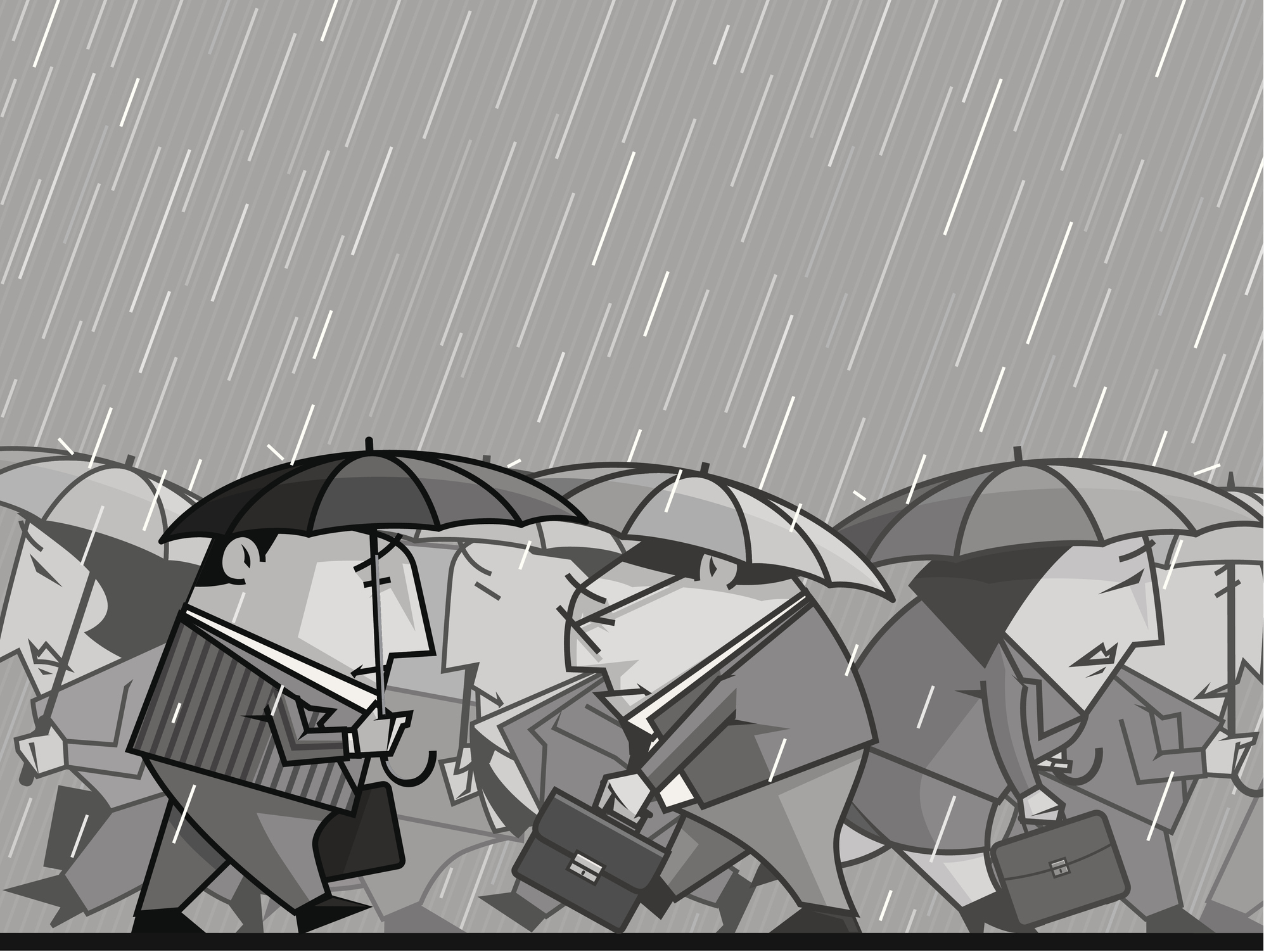 Whilst the southern hemisphere basks in sunshine, those in the north can struggle with the winter months says Kemetia Foley
Picture this.
It is late February. You are seated at your desk at work. You've not moved since 9:30am. It's cold out. It's rainy or snowy outside. The staff kitchen has platters of cookies and candy. You try to decide whether to get a snack in the kitchen or just go ahead and eat lunch now. Your lunch choice is a microwaveable chicken pot pie. The day is moving oh-so-slowly. You open YouTube. *Yawn*. You wonder if you just need more coffee or another vacation.
You. Feel. Like. Crap.
I understand. I used to be there almost every February. Through a combination of surviving the holidays, avoiding the gym in January because all the new (temporary) members are crowding the locker room, going to work when it is dark out, leaving work and it's dark out, no holidays for an extra day off – I was in a funk. It's depressing.
There is a way out of this funk, and I'm writing to share with you my methods of surviving the last months of winter. Let's face it, January has its own special post-holiday let down, but February and March are brutal. What is making us feel so blahhhh?
No Sun.
It's so dark all the darn time!
It's dark outside. All the time. The hours of daylight during the winter months in the Northern Hemisphere are oh-so-limited. Unless you live where you can enjoy the Aurora Borealis, you're not getting to see beautiful light for a very decent length of time. I don't have any proof, but I'm beginning to think that the reason so many Americans leave their Christmas lights on their homes through February is to keep something bright and shiny going. They may say that they couldn't get on their roof due to snow/ice/wind, but odds are, they are just wanting to have sparkling lights on their street for a few extra weeks.
Seasonal Affective Disorder (S.A.D.)
According to this 2017 post from the world-renowned Mayo Clinic, Seasonal Affective Disorder is a depression that is usually related to adjusting to the change in seasons.
Oct 25, 2017 – Seasonal affective disorder (SAD) is a type of depression that's related to changes in seasons — SAD begins and ends at about the same times every year. If you're like most people with SAD, your symptoms start in the fall and continue into the winter months, sapping your energy and making you feel moody.
Source: https://www.mayoclinic.org/diseases-conditions/seasonal-affectivedisorder/symptoms-causes/syc-20364651
This is a real health issue and not a made-up illness. Talk to your physician if you want to discuss this health issue in relation to how your mood changes during winter months. You can also purchase special lights that can help your body think there is daylight around. This is known as Light Therapy. Again, be sure to check with your physician as there may be other issues affecting your health and well-being.
I use a light box. I'm not saying it makes me bouncy and happy, but it does seem to help.
Lack of Movement
Let's face it. Who doesn't want to stay in bed when it is dark and cold outside? The blankets and pillow treat us like royalty, enveloping us in love. Or, you force yourself up and out of bed, and go to work where you sit. And sit. You might walk to the restroom. You may walk a different way back to your desk, but it's not more than 500 feet in one direction. That's not movement. Even if you have a desk that you can raise up and down, it's not enough movement.
You absolutely, positively have to get some exercise. Even more so in the winter when we tend to eat heavier foods, more starches, more sweets. As Julia Schmidt so aptly noted in her project to promote organizational health and well-being—
(https://executivesupportmagazine.com/making-organizational-wellbeing-your-number-one-job/)
assistants have an opportunity to take the lead in helping promote health and well-being in their organizations.
Here are two suggestions for getting moving during winter months at home, and at work.
Have you tried this?
Wii
Wii is a discontinued Nintendo console that has exercise games. You can probably get one on discounted sale. Find out if you can get permission to use a conference space for staff to use these games during their lunch break. Plus, it builds a competitive spirit. Ask around, see if any of your friends want to give or sell you theirs or you to use at home. Seriously, it has been a lifesaver when I've been snowed in with family at home.
20 minutes of walking.
You can totally do this! If you commute by train, you probably already are doing this and don't realize it. But, your body has acclimated to that walk back and forth to the train platform. You can add to it by taking the stairs when possible. Get off a stop early (if you can brave the cold) and walk the extra bit to the office.
Or, at the office. Are the stairwells open in your building? Once inside the security of your building, can you travel between floors by stairs? There you go!
When it is too cold, too nasty or I just need to boost my energy level, I can go down the hallway to the stairwell. I walk up and down three flights of stairs, three times. You'd be amazed how much of a workout that is. If the stairwell creeps you out, or you don't feel safe, do the same using a stairwell in which you feel safe. Sometimes I just go up and down the stairs at our home, so I feel like I'm making some kind of dent in my calorie intake. The benefit is the release of exercise endorphins and you can mutter under your breath about the crazy rules at your office all you like in a stairwell. People will just think you're a bit nutty, but who cares!?
Food and Beverage Choices
We all know how to eat healthier. Are you actually doing something about it? There! I've said it. I'm not talking about the January-I'm-going-on-a-diet nonsense that lasts three weeks. I'm talking about making conscious food and beverage choices specifically during winter months.
Food
What you want to eat

· Pizza

· Slice of cake

· Casseroles

A better choice

· Pita or Wrap sandwiches

· Cake bite (1!)

· Sugar-free cookie

· Pasta salad

Beverage
What you want to drink

· Wine, Beer, Schnapps (It's winter, darn it!)

· Coffee w/ brandy or Bailey's

· Soda (Coke, Sprite, Root beer)

A better choice

· Flavored seltzer water

· More water (drink 8 ounces of water for each 6 ounces of coffee.

· Herbal tea or black tea w/lemon

· If you have a desperate craving for soda, try Ginger-ale or a non-caffeinated soda.
What we tend to forget in winter is just how darn dry the air is. Alcohol and caffeine are additional culprits, robbing needed fluids in our bodies. Add drier air inside and outside, and your body truly requires more water. You might feel like eating less if you fight your food craving by filling up on water. (Yes. I do follow the rule about water after coffee, especially with all the coffee I drink!)
Schedule that day off with Your Bestie or Partner
This gives you something to look forward to.
Get out of the office.
Get out of the house.
Do something that will make you laugh
Go see a funny movie.
Go skating.
Go to one of those Zero-Gravity places that let you pay a fee to float like an astronaut.
Do something that brings you joy
Taking your best friend or your partner with you makes it more fun. Unless, of course, you just need time to yourself. But, do it!
Before you know it, March will be on the way out. Spring will be on the horizon. The daylight will be longer. You'll have fewer (hopefully) days of being snowed-in, and more opportunities to get outside your home or office to walk.
The key is to plan. If you know you dread winter and you know you always feel lethargic, you can make a plan to address it. PAs are the most amazing planners on the planet!
Here's to conquering winter together! ~ Kem