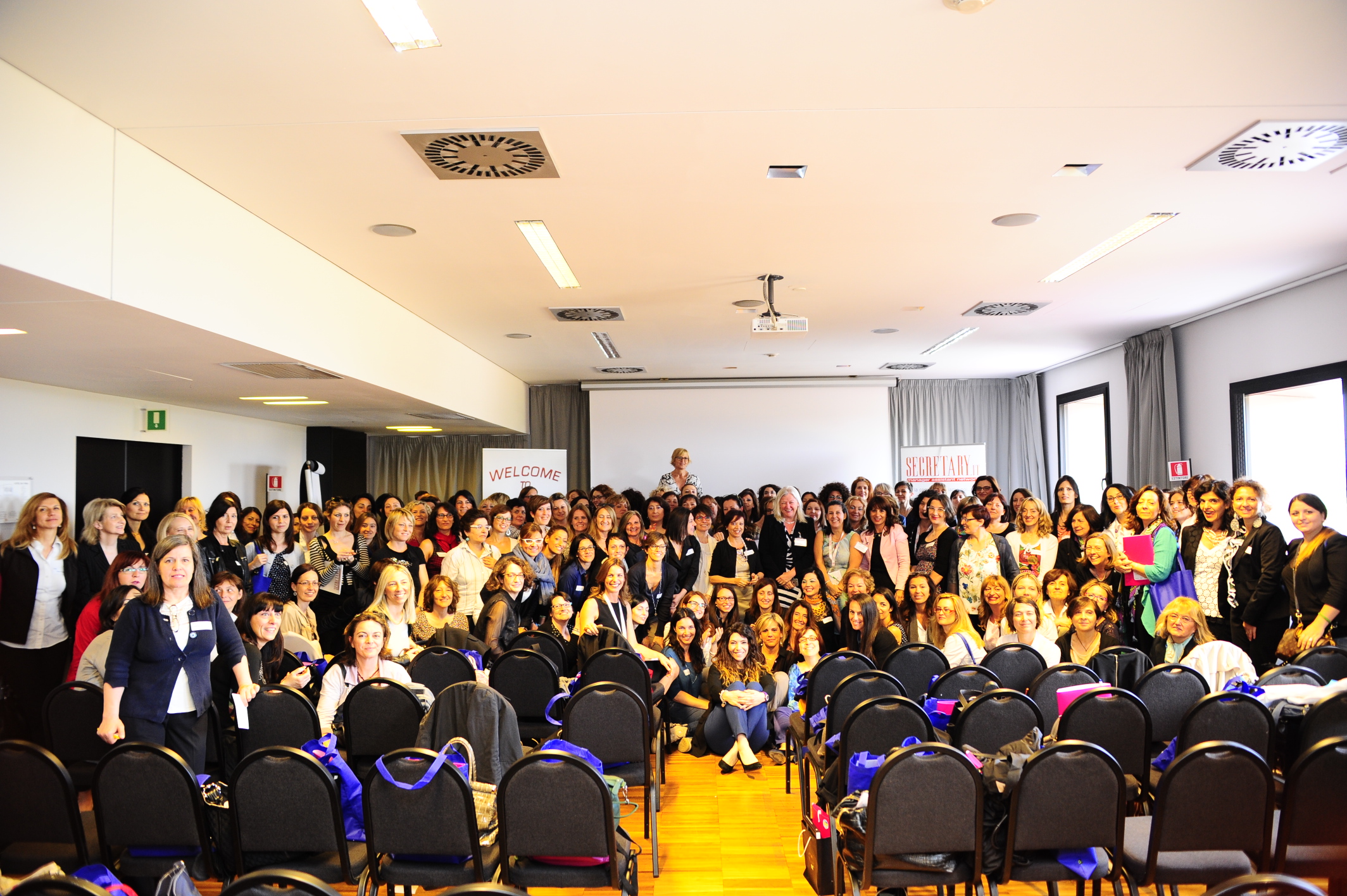 Daniela Fasano and Carla Stefanut discuss the social reputation of the Executive Assistant and the associated impact on the business
The Italian community Secretary.it organized the eighth Secretary Day event in Milan on 23 May 2016. Expert speakers and social communication professionals attended the event and introduced the state-of-the-art trends on smart working and every day tools used by EAs.
Secretary.It is the first Italian business community for Executive Assistants and a point of reference for more than 8,500 subscribers offering a solid support for training, recruitment and role enhancement. This year's focus is on social network and brand reputation and is strongly linked to last November's event, where 220 EAs gathered to discuss the current and future opportunities of the role.
Why are social networks important in the daily activities of EAs? According to a recent survey on social media and the importance of being social & digital carried out by Secretary.it, EAs and Pas currently have a much more proactive vision on social platforms. Many of us understand the value of coupling mainstream relational skills with web tools. One of the speakers from the last Secretary's Day said "When it comes to social media, you are what others say about you", therefore "if you do not communicate, you simply do not exist" and someone else will do it on your behalf.
Social digital revolution today, in a world dominated by the global economy, leaves us no choice but to exploit social networks for real time information and communication. Nevertheless, analysts claim there is still room for improvement, however we must move fast. One estimate reveals that by 2020 over 1 million companies will need a digital assistant; other news says that EAs/PAs will be able to allocate 2/3 hours of their working day to social networking. Therefore it is important to increase the use of the most powerful professional connecting platform (LinkedIn) and its ranking strategies, together with communication and worldwide projects.
The growing profile of an EA role which plays a supporting role for the decision-making process of management, is the direct consequence of becoming a brand ambassador for your employer. This has the practical advantage of improving the company "branding" perception, both internally and externally. Another benefit of interacting with the social platform is the opportunity to build a professional network and gain unprecedented visibility.
Work life has undergone major changes and social networking allows us to meet many experts and influencers to exchange ideas and plans for a better professional environment as well as the incredible value of "virtual working groups" with other EAS and PAs which was unthinkable of only a few years ago. We should take a further look at this "digital social assistant" role that will not only mean a mere brand ambassador of the company, but also progressively contribute to the self-promotion of the overall EAs/PAs placement.
During the 2016 Secretary Day, the Best "Social & Digital Assistant" prize was awarded, to encourage all EAs who are already familiar with these innovative tools and capable of adapting them for the day-to-day scope of work and personal needs.
Daniela, an award winning EA, tells us her previous experience as a participant in the competition:
"I have been an active member of the Secretary.it community for many years and I am very familiar with this contest which dates back to 2004. Every year the community sponsors the prize for "Best Assistant of the Year" based on a specific topic. All applicants are then invited to submit their work according to the guidelines provided by the organization.
Once the work is submitted, voting is open. 50% of votes are the prerogative of a "technical committee" whose members change according to the topic of the contest. Another 25% of the votes go to the members of the community, while the remaining 25% is online and open to the public. Consequently, the contestants must promote themselves through their personal network and social media.
The prize is a splendid Swarovski Crystal Star and a 2-night stay in a magnificent resort.
Actually, I have involuntarily already taken part at one of these events in the past, when some friends filled the application on my behalf without me knowing. That was back in 2010 and I won the second place. However, that was a very lucky circumstance where all contestants ranked in the first 10 positions won an educational trip to Miami.
The 2013 topic was "The assistant reputation within the Company" and that was one of the reasons which encouraged me to apply again, because I think that a prime key factor of success for Bosch is the brand reputation which has a huge impact on the whole staff commitment. While filling the reputation form of the application, I provided my interpretation and points of view on the topic. I pretended to be a BOSCH product and compared the technical specs of some other items to those required for the position. I then illustrated some of the good works carried out by my company, which help to improve its brand's reputation.
I won on 30 May 2013, throughout May 2014.
The award had a great impact on me. I really was involved and exposed, being forced to a self-promotion virtual tour. In addition, it was a unique occasion of personal growth with some fascinating perspectives. A nice side effect was a peak of visibility for me and the company I work for, which ended up in various job offers. All very interesting and prestigious, but none tempting enough to make me leave my current job with BOSCH Italy. Moreover, this is still the case today, 18 years after my career started, with 13 years spent in the same position and over 10 years with the same boss.
As a part of the application process, I had the option of involving my Company by requesting either the Boss or the HR Manager to introduce the contestant. Not without some initial hesitation, I asked both of them to give me a hand, then applied to my previous managers, others I worked with, and to my closer colleague plus a pair of the Secretary.it community members, because all I really wished for was a genuine and unbiased feedback on my reputation. They all gave me immense moral and practical support. And above all, loads of excitement and votes, which summed up to the Jury's verdict made me earn the award. My boss found all this very entertaining and funny, especially when on some occasions people approached him as "the boss of the Best Assistant of the Year".
In our community once you win, you cannot apply for another award. And this is very sad considering the great topics of last editions (creativity, diversity, etc.)."
This year EAs candidates are hi-tech and tuned to the future. Their background will have proved a clear definition of the Social & Digital Assistant role for work, combined with creativity, curiosity, information literacy and real life experience.
Best of luck to all candidates and…#BEsocial #GOglobal and #secretarypower