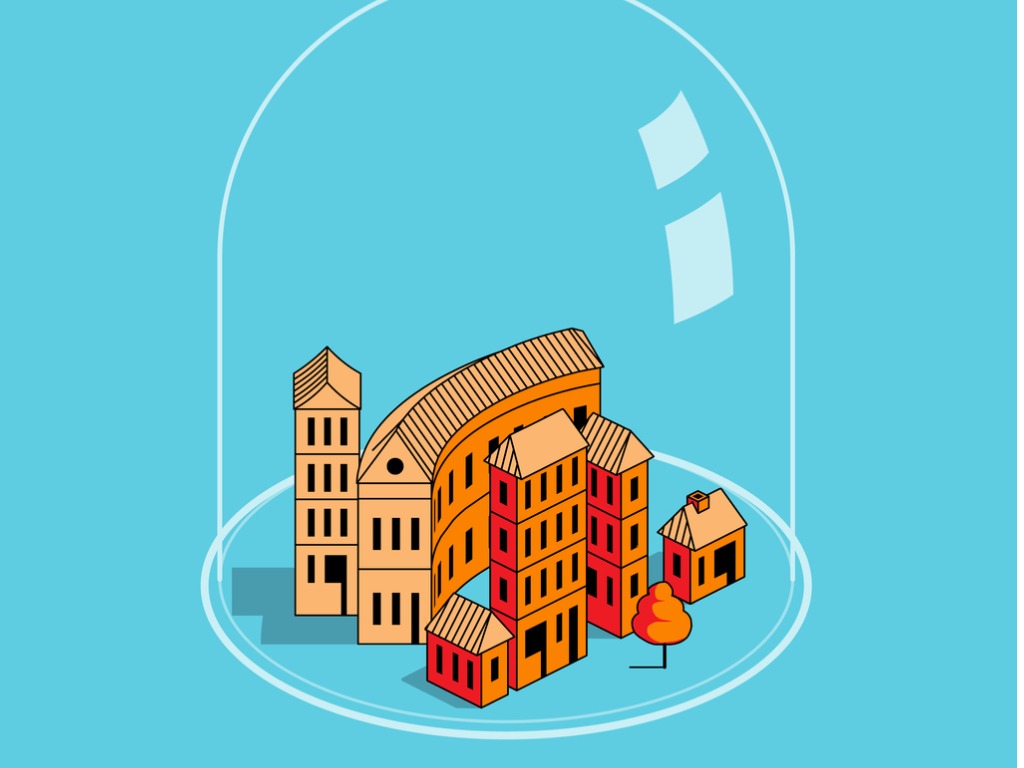 Andy McMenemy explains why anxiety and uncertainty are a natural part of reintegrating after lockdown
Midway through the last stage of our final 4-month lockdown here in the United Kingdom, I sat alone in my office at home.
The webcam was on and recording.
A red light on the mute button of my microphone blinked impatiently, eager for me to unmute it.
My slide presentation was primed at my opening slide and my butterflies were fluttering in formation in the pit of my stomach (I always welcome the butterflies; they keep me on my toes and remind me of my responsibility to deliver excellence with passion and enthusiasm), and they were about to take off as my right hand positioned my mouse over the 'record' button on my webinar.
I cleared my throat and smiled as I recognised that familiar feeling of adrenaline flowing.
Adjusting my position to sit a little straighter in my chair, I clicked the mouse button on 'record', unmuted the mic, and enthusiastically and nervously launched into my presentation for ES LIVE Global.
How I wish I had been live on stage looking out at a sea of smiling faces, and then delivering from the heart with 'butterfly fuelled' pace, energy, and enthusiasm, sharing valuable insight on the subject of 'How to Develop Persistent Resilience' and then enjoying mixing and socialising during the rest of the conference.
But that was then.
Reintegrating after lockdown
Now, a few months on, I face the prospect of being able to do exactly what I had wished for…to be back into a world where mixing and working with others and socialising with others is slowly becoming the norm again.
The butterflies are there again and fluttering – but this time it isn't in excited anticipation. This time it has more of an anxious feel to it, one of uncertainty, with a sense of caution.
It is a subject I have been exploring more and more with clients recently. How do we reintegrate back into our world after the pandemic enforced lockdown we have experienced?
Why do some people feel fearful, phobic, and unsettled about doing something they previously did without any consideration?
And why is raised anxiety a good and reasonable response?
Anxiety is a gift
As a psychotherapist, I understand that anxiety is a gift. It is a gift from nature.
In our evolutionary past, if we as a species were unable to recognise and assess risk or threat, we would not have lived very long. We would have become lunch for hungry predators, or victims of attack from other tribes, or we might have acted carelessly and been severely injured.
We have evolved by becoming more aware and by accepting our brain alerting us to be anxious. We have learned to assess risk and threat cautiously as we have evolved in all areas of our lives since then.
Most of us feel comfortable when travelling in a car, whether we are the driver and responsible for the safe conduct of the vehicle or the passenger enjoying being driven in the vehicle. Yet in 2019, the Department for Transport here in the UK (I'm sure there will be a similar report in other countries) declared that 'there was a total of 153,158 casualties of all severities in reported road traffic accidents in 2019' and that 1,752 fatalities occurred during the year from road traffic incidents.
The reason we feel comfortable when travelling in a car is because we take precautions.
We wear seatbelts. We trust that by driving safely, observing all the traffic signs and traffic lights, and maintaining a safe distance from vehicles around us, we will enjoy our journey and arrive safe and unscathed.
Now that you are aware of the road traffic accident statistics, you may feel more anxious when driving with an inexperienced driver.
The Aviation Safety Network also released their 2019 airliner industry report for accident statistics showing a total of 20 fatal airliner accidents, resulting in 283 fatalities. Yet we used to travel on airplanes and have faith and trust in the seatbelt, even though we had no control over the airline or the pilot.
So, what's my point?
How can our new heightened sense of anxiety about reintegrating serve us?
It is natural, reasonable, and acceptable to feel slightly anxious about resuming our normal activities; we just need to accept that our safety and security lie within our responsibility, and that we are in control!
We are the only ones who can maintain and enforce a safe distance or safe space around us.
When we mix on public transport and in public spaces, we can maintain our discipline of wearing protective masks, ensuring we sanitize our hands more frequently.
We can choose to be more alert than we once were. Even though the potential threat is invisible, we can still apply a strict security protocol to stack our odds of success and survival in our favour.
As vaccinations bring the world population up to herd immunity, there will still be cases of infection. Our job is to formulate a personal strategy that serves to protect us and keep us as safe as possible.
Your personal strategy
My definition of the word strategy is 'the art of planning and directing our resources at the goals and objectives that will deliver our desired outcome'.
Planning how you do what you need to do, and what resources you have available to you to help you do what you need to do, as you reintegrate and regain your freedom is within your control, and it is, and can only be, your responsibility.
You know there are reckless and careless drivers out there on the roads, but you choose to pay your insurance, maintain your vehicle to the highest safety standards, put on your seatbelt and go about your business.
You can't control 'the others' out there in the world we reintegrate with; you can only apply your own discipline in what action you take.
So, adopting a positive attitude towards your actions and your conduct by maintaining a strong discipline and a heightened level of diligence will make it easier for you to significantly reduce the risks as you go about reintegrating and hopefully regaining your freedoms.
Persistent resilience
Taking us back full circle, as I delivered my presentation on developing persistent resilience for ES LIVE Global, I shared this: to help us bounce back from adversity, psychologists tell us that:
'Resilience is the process of adapting well in the face of perceived adversity, trauma, tragedy, or threats, and/or in areas of significant stress, such as family or relationship problems, serious health threats or health problems or financial and workplace stressors'.
To simplify it further: resilience is the process of adapting well.
It is our ability to formulate a strategy for a new situation or circumstance and use a process to help us adapt well in the face of perceived risks, threats, and challenges – a process that will help us to not only survive, but to thrive.
When you control the process, you are more in control of the outcome
Having said all of that, many of us will still be hoping that everything will just be fine.
Hope is a good thing, but it is not a strategy, nor is it a process.
I'll leave the final word on hope to someone who used the power of hope as part of his strategy to create his vision of a brighter future…
Hope is not blind optimism. It is not ignoring the enormity of the task ahead, or the roadblocks that stand in our path. It is not sitting on the side-lines or shirking from a fight. Hope is that thing inside us that insists, despite all evidence to the contrary, that something better awaits us if we have the courage to reach for it, and to work for it, and to fight for it. Hope is the belief that destiny will not be written for us, but by us, by the men and women who are not content to settle for the world as it is, who have the courage to remake the world as it should be.

Barack Obama
As we face the uncertainty of reintegrating with our respective worlds in our work life, and our social life, with excited anticipation of getting our freedom back, let us welcome that little nudge from anxiety and uncertainty, alerting us to be more diligent and disciplined.
Let's formulate a strategy and plan our actions; let's conduct ourselves with a healthy level of discipline, maintain a process of safely ensuring we protect ourselves using all our resources, covering our faces with masks, maintaining safe space around us, sanitising more when we need to, and by our actions, give hope to all those that need the reassurance that we are respecting ourselves and respecting them by doing so.
And that's how we will get results and enjoy regaining our freedoms.