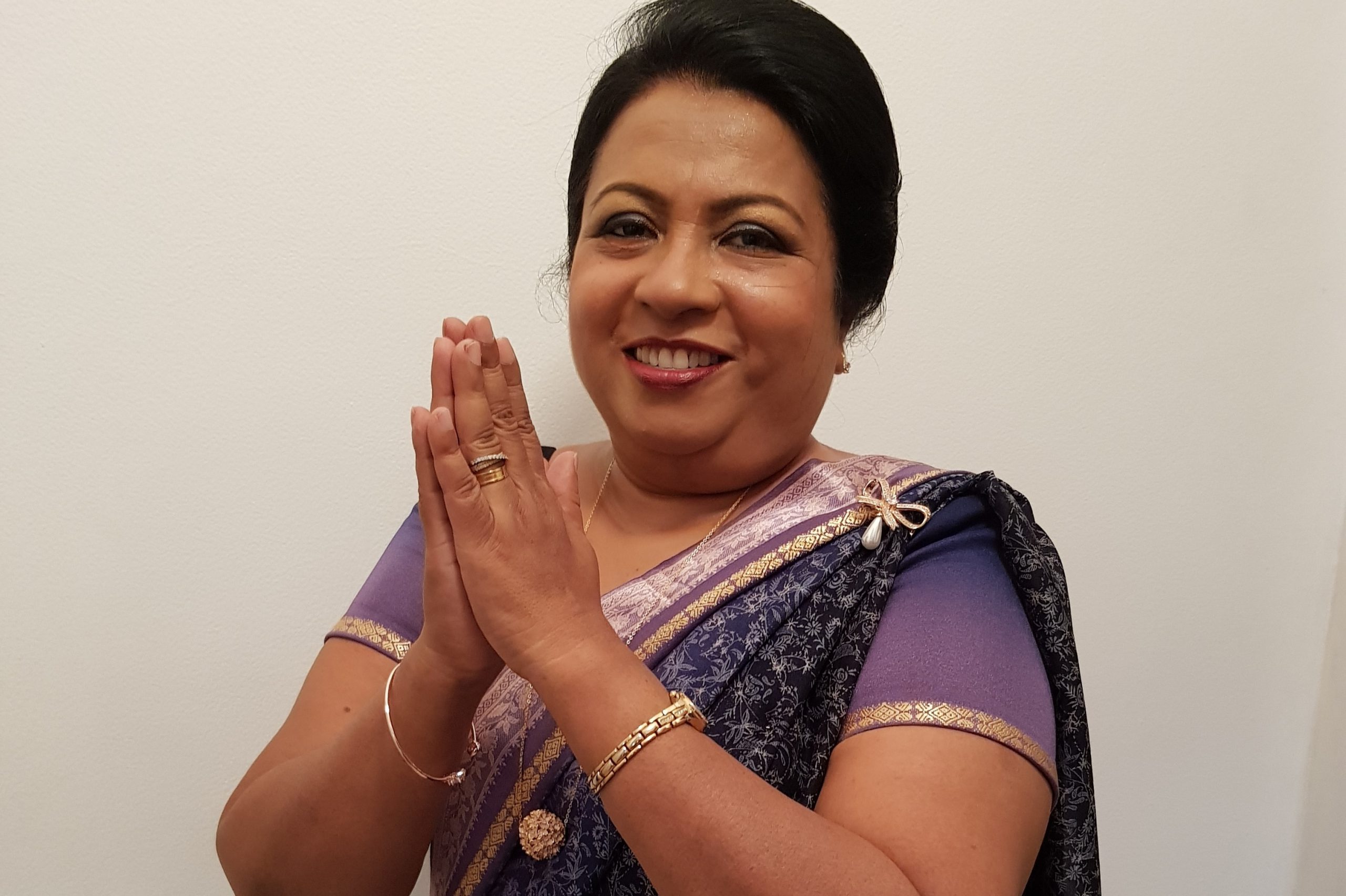 Can we start with a little background information? Where are you from and what is your current role?
I am the second of five children, in my parent's nest, beautifully woven in Sri Lanka. I live in Colombo, married to Nalin Nugawela, who hails from a very ancestral Kandiyan family, well known as Nugawela, Parana Walawwa.
I am the Chairperson and Executive Director of the Academy for Administrative Professionals and a visiting lecturer and an international trainer. I am also the Executive Secretary to the Chairperson of Sanasa Development Bank – so a dual role of an Executive and an Executive Secretary!
I spend quality time in the office, with networks, family and friends; sacrificing my personal time whilst glued with family bonds. Their love, support, and hard work, to raise, shelter, educate, push and nurture me is commendable and I am lucky to have my family and husband beside me. They deserve credit in writing my success story.
What is your background?
I am self-motivated, and drive towards goals analytically. I am a team player, independent and serve humanity through social, cultural, religious, health, women's and children's development.
I believe I am the voice of assistants. I network with government and corporate hierarchies to formulate strategies for assistants and use printed and electronic media to add value and to educate this profession.
I have a Doctorate in Business Administration and have qualified in Social Grace, Public Relations and Event Management with Claremont Hotel School in Sri Lanka. I am also a Fellow of the Institute of Administrative Management, UK; a member of the Association of Business Executives (abe) UK, and London Chamber of Commerce and Industry (UK). I am also the only Sri Lankan advisor to the Women Secretaries Association of Thailand, (WSAT) effective this year.
I am a member of the Certified Processional Managers and Sri Lanka Institute of Training and Development, and the American Society of Administrative Professionals (USA).
In 1998 I became the youngest President of the Sri Lankan Association of Administrative and Professional Secretaries (SLAAPS). I was conferred with Life Membership in 1999 and was elected President of the Association of Secretaries in Asia (ASA). Here again I have created history being the youngest and first ever Sri Lankan President of the ASA, where I was also conferred the title of Honorary Life Member. I have also been appointed an advisor to SLAAPS.
How did you become an Assistant?
To cut a long story short, I say it was an accident. I knew nothing about this job, but it was a life turning point. Whilst I was a stenography student after advanced level, I became a trainee teacher. A miracle, an unanticipated, and unbelievable entry to a noble profession was unveiled. That destiny changed with the loss of a few marks meaning I was unable to enter university. One road was closed; a new road was destined. I have no regrets whatsoever for losing the university entry then, as I acquired university qualifications later.
I was fascinated with the appearance and smartness of the senior secretaries learning shorthand. My parents reluctantly permitted me to enter this marvellous job. A year later I started as a personal assistant to the chairman in the apparel industry in the senior executive capacity. I felt the thirst of mastering skills. I embarked on a journey qualifying myself, nonstop, course after course, until I became a professional assistant.
Five years later I wanted a change. It was a difficult task to convince my boss who refused to accept my registration thrice. I was firm and became the Executive Secretary to Deputy Chairman-level of corporate management, in the largest private hospital in Sri Lanka, where I worked for two decades. My boss appointed me as the centre point of the conglomerate where hands were laid on seventeen subsidiaries. In the overseas businesses of the group I played a prominent role, in the formation of companies, administration and operations. I was exposed to international trade and was globetrotting for a considerable period of time.
Busy as ever, I interacted, networked and contributed to the profession. I used my people skills and organizing abilities and served numerous professional organizations.
My significant move was joining SLAAPS – the Sri Lanka Association of Administrative and Professional Secretaries. The association was booming with novel activities, a massive membership drive and I felt victorious. This was the time of the Tamil Elam war and tourism to Sri Lanka was banned by many countries. In 1997 I attended the Asian Secretaries Congress in Brunei. I was inspired by President Ms Alvina Chung and thought of bringing the ASA to Sri Lanka one day. Then in 1998 I had the good fortune of representing Sri Lanka in Bangkok at the Council Presidents' meeting with a 19-member delegation. Here I accepted the challenge of hosting an ASA congress in Sri Lanka and, despite an unfavourable response from my countrymen, and at a time of violence in the country, my determination never failed.
The 14th ASA congress themed "Tomorrow Through Today's Eyes" came to a reality in Colombo, in the new millennium year 2000. With a super team in force, it was a huge success.
You are the Chairperson and Executive Director of AAP Sri Lanka. Tell us about that.
In today's transparent and interdependent world, the democratization of hierarchies and the female workforce in the world of business are visible. New values, with a culture of empathy, flexibility, openness and collaboration are seen.
This encouraged me to start a school specifically for secretaries and administrative professionals in Sri Lanka; to enable them to acquire trade skills and professional qualifications alongside international qualifications. I focussed beyond the classroom – to practical experience, a hands-on approach, with team building, networking, soft skills and core values in our studies.
I embarked on a "Mission Impossible" and took the biggest risk to compete with well-established educational institutions. To my amazement, most of my fellow assistants, misconcepualized the academy to an association. I was devastated with their attitude.
Having AAP qualifications is a fast track for employment and promotions. Assistants are exploring a world of fortunes, an array of benefits and due recognition with visibility and empowerment. This academy is the base and shelter for assistants to clear a path to the future, turn jobs into careers, protect upward mobility, and have the pride of professionalism. AAP is now a leader in the trade.
What lessons have you learned in your time as the Chairperson and Executive Director?
The first and foremost is learning about people: behavioural changes. AAP sharpened my life motto "challenge the challenge" in a magnanimous way; I became the CEO of my life and promoted, demoted, and terminated people in my life.
AAP gave me the license of perseverance; the steady persistence to be exceptional. It gave me the happiness of being a "mother" with an uncountable number of sons and daughters. I became exemplary in sharing and caring, making others to realize "Together is never alone".
Family is the principle I respect and again AAP is a strong family globally, with co-ordinators, full of cross-cultural, multi-ethnic, multi-religious assistants under one umbrella with one vision and one mission.
I realized that the integral part of sustainability as a trainer and an educationist depends on continuous education, competency in skills, and advancement in technology and improvement in knowledge.
How important do you think networks are to the career of an Assistant and why?
Networking is habitual, routine and outstanding. Relationships, job searches, and career advancements through meetings, social events and volunteering are great ways to broaden your network. Fair play is the best policy to adopt to maintain your network.
Social media allows us to stay connected with like-minded professionals. Networking should be handled with care and due diligence. It is easy to lose a contact forever. Hence safeguard your network as you have chosen these people for a reason.
What are the main changes you have seen in the time you have been working with Assistants?
Today age is losing its relevance; worker longevity is increasing. A multi-generational workforce of older and more experienced employees with younger generations of workers is also another change factor. New synergies in the workplace, tech-savviness and an eye for what is next, have been thrown to employees. Employers have created spaces for generations to feel comfortable working side by side; employees take a greater responsibility of promoting a healthy way of living by enhancing wellness in the workplace.
What are the changes that you believe face assistants in the future?
It is time to move from excellent to exceptional.
Gone are the days assistants managed only with experience. Constant education is inevitable. Focus is increasingly moving from physical health towards mental health. Digital is a new luxury, but employers are also looking for space to be unplugged and disconnected so that a personalized service is at hand. It is a hard battle to keep up with most of the youngsters who are smart in technology.
Employers will analyze information about employee interaction and use this to build an orchestrated workplace that fosters creativity, innovation, collaboration and fuels employees' productivity. Workplaces will quantify employee needs to increase productivity, loyalty and staff retention. There will be a greater focus on listening skills, understanding other people's perspectives and relationship building. It will be mandatory to develop emotional intelligence and soft skills to succeed in business, as well for growth.
What inspires and motivates you?
Education and people are my life. A group of people come together because they like, believe, support something common, or want to create change. I want to help those people make a difference and encourage them to go after their dreams. I love bringing family, friends, students and community under one roof and making them feel, well, at home.
I am a bookworm and I love nothing more than getting lost in any kind of book. Writing makes me want to write and it isn't just a gift but hard work.
Love is amazing. The support, respect and magic it provides is tremendous. I like to think and believe in different things. Happiness is infectious and awesome. I believe in it firmly. I also embrace the greenery; flowers, trees, birds, animals and pets. Nature is wonderful.
Life is not easy. It knocks us down and drives us backwards. I do not let that stop me. I stand up, pick myself and realize my dreams and goals. Religion gives me faith when times are hard. Faith that right will win, that the sun will rise, and life will move on and things will be better in some way, somehow, even when it doesn't seem like it at the time.
Social media and the internet are not all rainbows and hugs – but even still, they are full of possibilities and information and amazing things; fostering friendships and massive networking. I can't help but be inspired and motivated by all these!
What advice would you give someone just starting out as an Assistant?
As an aspiring assistant be confident at the negotiation table with proper education, additional qualifications, essential knowledge and skills. Be precise. Show desire, enthusiasm and passion for what you want. Personal and professional attributes are equally important for a win-win situation. Be energetic and learn.
Keep the communication lines open. Both employers and employees need to feel heard, so you can voice opinions but remember your executive is the chain of command. Give respect and maintain discipline and decorum from day one.
Negativity can be a drainer which zaps energy and motivation. Embrace positivity. Turn inabilities to abilities, proving your capabilities. Daily grooming and hygiene are important in every surrounding. Poor personal hygiene can be alienating.
Never say I'll try; instead say I will. Never say I can't; instead say I can. Enforce a can-do attitude to achieve excellence in everything you do.
So, what's next for Sunethra Jayaratne Nugawela? Where do you want to be in five years' time?
I am a big dreamer and an achiever. In five years' time, I will convert Astonishing Past, Acceptable Present, Promising future (AAP) to a university to serve more and more people.
I will continue to be, and enjoy being, an assistant. My retirement age is long due. I will be more active and proactive globally to embed the sign of assistants.
AAP reaches the milestone of 15 years in 2020. A global summit with assistants in Sri Lanka is the plan. An event, never to be forgotten and Executive Secretary magazine will play a major role in this. I invite affiliations and co-ordinators worldwide in the mission of expansion.
AAP "Give Life" building and donating school libraries, to assist health sector as national events, so that more people could be served.
I will be completing my PhD and have now exceeded my training number of 5000 people; I intend to mark my signature brand on training.
I am now being influenced to make a political move. Who knows? Maybe I am destined to be a Member of Parliament and Minister of Women's Affairs in Sri Lanka one day.