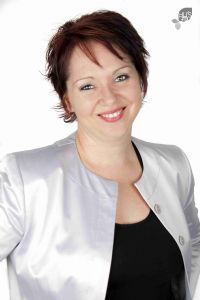 Anel Martin is an award-winning South African assistant & task team member for IYOTSA
What is your background?
I was raised in a small town called Bloemfontein in the Free State (South Africa) and attended Eunice Girls High (my formative years have greatly influenced who I am today). I relocated to Pretoria in 1998 to study Drama. The day of my graduation I had to take leave from my new job, which was putting together promotional roadshows for companies. At the time I was working for a very disorganized bachelor so my role quickly morphed into an administrative one.
I then worked for a huge construction company. I was hired as a receptionist and soon worked my way into an orders clerk position; this was really one of the best jobs I have ever had. From there I had a stint in an accounts department for an energy management company where I was responsible, among other things, for debt collecting.
Early in 2006 I was approached about an opportunity at Telkom SA and I have had many, many roles in the company and have enjoyed all the environments, management styles and diverse people that I have been exposed to. It hasn't always been easy but nothing worthwhile ever is!
You were South African PA of the Year in 2011/12. How did this come about and how has it changed your working life?
Two of my colleagues nominated me for the competition which in South Africa comprises several rounds with many different activities and testing phases. It is taken very seriously. Being PA of the Year has opened many doors for me, but the most important aspect for me personally was all the new people I met and became friends with during and after the competition. It is not just something that should look good on your CV, you should use a title like this one to add value and create visibility for the profession as a whole.
Being a past PA of the Year continues to unlock opportunities for me on a regular basis. I was invited to write for publications, present at workshops, be part of elite PA working groups in South Africa and my own team started to take me more seriously. It was an event that came along which changed the trajectory of my career as an administrative professional. I would encourage anyone who has a chance to take part in this type of competition to take up the challenge, it is life changing!
What are the main changes you have seen in the time you have been in business?
Compared to my South African peers who work on my level I am 15-20 years their junior. They, I am sure, have seen more radical advancements over the span of their careers. What I have seen however is the change in perception of the PA role in my company from assistant to business partner. Our Senior PAs are part of the management unit and function on an operational as well as a strategic level. Naturally I also have to mention the rapid and quantum advances in technology, which not only make our jobs easier but are changing the DNA of it! We have also witnessed the growth of the male representation in the PA profession which is great to see.
You are a member of the South African task team assigned to the International Year of the Secretary and Administrative Professional 2014 (30th Anniversary). Can you tell us a bit more about this?
This is a global initiative to celebrate the profession, strengthen the bonds of friendship between PA communities worldwide and to raise the profile of the profession. We have been in contact with many organisations, companies, PA forums and individuals worldwide and want more people to come on board officially.
Why now? Well we feel that the 30th Anniversary of the first Secretaries day will be a perfect time to showcase a profession whose time has come! To get more info or to get involved you can connect with the task team @IYOTSA2014 on Twitter or join the IYOTSA2014 group on LinkedIn.
What inspires and motivates you?
Passionate people thrill me! I am extremely lucky that my close circle of friends and peers are diverse, exciting and live life to the full: my husband (who is affectionately called Coach of the Year) and the incredible, strong, talented and brave women in my family, (they never allow me to give up and encourage me to succeed and persevere).
I genuinely love learning and travelling, food and history. I enjoy sharing and connecting with people and as a South African (it's a cliché but true) I adore the great outdoors. I recently became involved with 4×4 competitions on a national level and over-landing which is truly epic!
What has been the highlight of your career so far and why?
There have been so, so many but the most recent would be presenting in Malaysia at the World of Executive PA and being invited to present at Hays PA Conference in September 2013. Naturally being PA of the Year, head of the Academy of Excellence Committee in 2011/12 and part of the task team responsible for the IYOTSA 2014 are also right at the top of my list.
What are the main challenges facing you at the moment?
At this point I have less time than I would ideally like to have and many more projects, events and publications that I would like to be involved with. Work-life balance is a challenge for most PAs.
What advice would you give someone just starting out as an Assistant?
My best piece of advice would be that you find a mentor, someone who can support and advise you. Many things in our profession are unwritten, a bit like folklore and having an experienced PA in the wings to guide you will save you a lot of heartache and mistakes
Know when to quit! If I had quit certain positions early enough I would not have spent as much time as I did in unsuitable jobs.
Learn to say no early on. Saying no doesn't make you a bad, a selfish or a lazy person. It simply means that you have priorities and tasks that you are responsible for and you are aligning with what is important to you, your role, your own goals and with the job that you are actually paid for.
Learn to say yes, yes is a word with great power. When you say yes, you open doors and opportunities flood into your world. Do not let fear prevent you from taking up challenges.
Learn the art of resilience. Bend but never break!
So what's next for Anel Martin? Where do you want to be in 5 years' time?
2014 I will be focusing on the International Year of the Secretary and Administrative Assistant as well as the book that I am currently working on. The plan is to develop a workshop series where the book is unpacked and explored on a practical level.
I would love more opportunities to present internationally and be involved actively in skills development for PAs in South Africa.