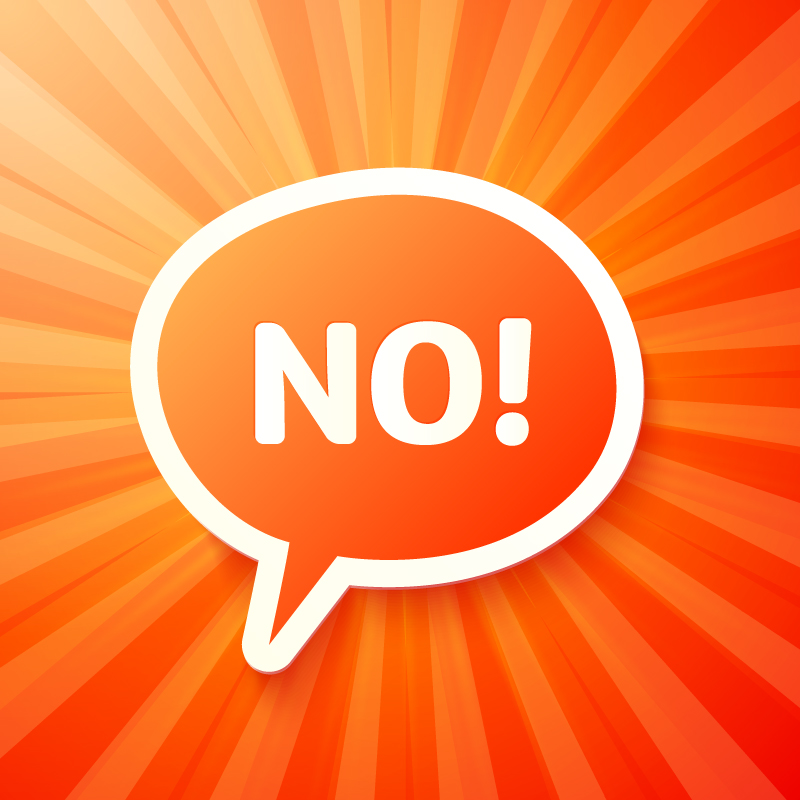 No! A simple two-letter word which can often be one of the hardest to say when it comes to our careers.
And so the story goes, instead of saying "No", the word "Yes" inadvertently escapes, and before long we've over-committed ourselves to a task which we all know we shouldn't have. Not only can this be out of our remit on some occasions, but it is also extremely time consuming and prohibiting to the tasks which were previously on the agenda and our main responsibility.
So why is it we struggle so much saying the word "No" in our careers? Is it deemed a sign of weakness? Do we lack the confidence? Do we think it makes us seem rude, abrupt or unhelpful? The fact of the matter is the word "No" is absolutely essential in the world of business, and we shouldn't feel in a position where we are unable to occasionally use it, so as long as it is just.
Think back to a time when you just couldn't bring yourself to say the word, what were the consequences as a result? Now think of a time where you did say "No", what was the outcome? It's over to you to weigh up the pros and cons, as they differ from person to person. Although I would like to consider myself always on hand to help, the fact of the matter is on average I have approximately 200 emails in my inbox each day, numerous meetings to attend and projects to plan, amongst many other primary tasks and responsibilities, and so "No" has to be in my business vocabulary. Below are four ways in which to approach the art of saying "No" at work in a positive way. Although we have been lead to believe 'No' is a negative word, upon closer scrutiny, it actually isn't, and there are positives which can come from uttering these "daunting" words.
1. Allow others to visualise your workload: Saying yes to tasks or requests that are not your primary responsibility when you simply don't have the time, has the potential to jeopardise the quality of work and tasks you carry out that essentially rely on your time and abilities. As a PA it is of paramount importance to organise and prioritise your workload, so you know what to do if you are asked for a "little help" or to do something that is not necessarily in your sphere or of direct responsibilities. Using a form of project management tool either in a shared calendar or spreadsheet format can help you and others visualise how much you have on, and if you have any time available. Be honest, if you genuinely don't have the time there really isn't anything other to say than "No, sorry, I can't be of help on this occasion" and direct your colleague to your visual plan.
Recommended training: If you are new to project management, it is worth looking in to a specialist Project Management* course which can be studied in as little as just two hours, and revolutionise your career. You will learn backstage operational project management tasks, understand project scopes and how to create projects along with how to communicate with others, identify risks to a project, the product execution process and how to produce a final report, amongst many other crucial factors. Good project management skills are essential in the world of business and ensure deadlines are met, costs are controlled and the deliverables are right first time.
2. Turn No into Not Right Now: If you feel you don't have the time to help with a request right now, "no" needn't be an end to the matter. It may be that you may be able to schedule in the request at a later date/stage, in which case, "no" turns in to "No, I can't help right now, but I do have some time next week…" This clarifies you have your own workload which requires immediate attention, but you are able to help and schedule in the necessary time to accommodate your responsibilities, and in turn still lend a helping hand. It's important to remember accurate time management is a skill which needs to be embraced before you can truly use this tactic to your best advantage.
Recommend training: A Time Management* course may be the ideal way to effectively learn how to improve your performance and productivity. By looking at work patterns, planning and scheduling you explore the techniques and skills needed for effective time management and learn how to get more done in less time.
However, "No" can often mean "No", there just isn't any time in the near future, or in time for the deadline that you are able to offer your expertise. But it may be that someone else can, and you are the person who can connect the dots.
3. Re-delegate: Okay, so we have established that by no means are you able to assist with the request, but it may be that you have the connections and insight into who can. By recommending someone in your place, it once again demonstrates that you are efficient and highly organised, a connector and a resourceful colleague in the know. It may be worth speaking to the person you are recommending first to see if they have the time and abilities, and, if so, problem solved! The task will be completed, you have identified a practical solution and someone else who has the required skills and ability now has a great opportunity to gain experience and showcase their skills; it is a great testament to the person you have identified, and you have presented a real opportunity and solution for both parties.
Recommended training: A course such as Effective Business Communication* may be the perfect way for you to enhance your business communication and really help you to use your voice for effective communication, whilst also looking at non-verbal communication, eg body language and writing. Gaining a real grasp and command of the different forms of communication will undoubtedly strengthen your working relationships and allow you to be more confident and efficient throughout all aspects of your profession, whether it is liaising via email or telephone, writing a letter or presenting information.
4.Just Say No: If all else fails, it's time to say it – "No". You will not be deemed as abrupt or rude, it is just a case of being perfectly honest and having to bow out gracefully. Be sure to clearly explain the reason as to why your answer is "No". By being honest and open you will in turn be deemed a professional who has command of their responsibilities, and respected for being truthful and realistic, and for knowing your capabilities. You will also eliminate any resentment directly with the person who has asked for your help whether that be a colleague or your superior, and also any self-resentment or regret.
Obviously if you're new to a role, it can sometimes benefit your career by being a bit of a "Yes" person. Saying "Yes" can be a great way to progress, learn new skills and enhance your career potential at the early stage. It's a case of weighing up if saying "Yes" or "No" will truly enhance your career or sabotage your responsibilities which in turn can have an adverse effect on your career progression and the way you are perceived.
Recommended training: It may be that an Assertiveness and Confidence Skills Seminar* may help you create a more assertive and positive mental attitude and help you exert the control needed to enhance and cement your career. Learning how to be assertive and deal with the demands and expectations of others is of paramount importance in the world of business, and coming to grips with situational assertiveness and the language of assertiveness will essentially create a confident mindset and a self-assurance which will enable you to say "No".
Whereas the majority of the time we are more than willing to help our colleagues or bosses, and don't mind staying late or re-organising some aspects of our own workload, sometimes the simple fact of the matter is we just can't. If we have admitted to ourselves that we can't, it's time to plant your feet firmly, hold your head high, and simply say a polite "No". "