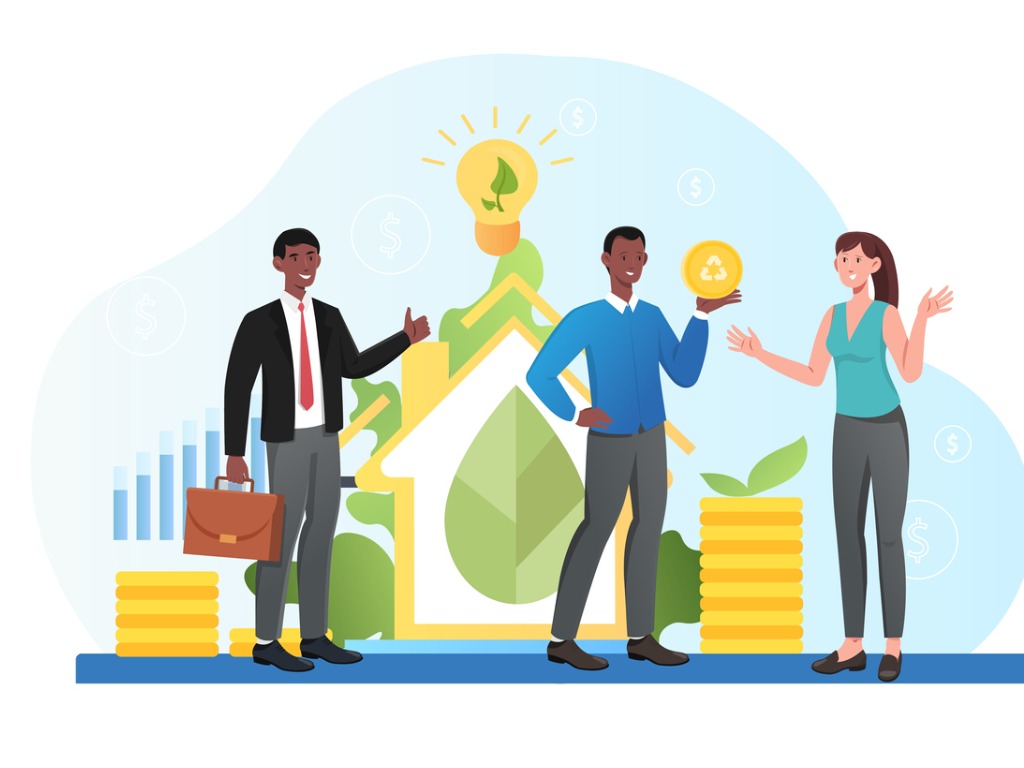 Retain and empower employees to do environmental and social good with a well-defined CSR strategy, explains Richard Collins
So much has changed in the last three years, and this has had a profound impact on us as human beings. We have seen the workplace reinvented at lightning speed, and the employee experience has dramatically changed. We have also become much more aware of both environmental and social issues such as the impact of climate change and the rising cost of living. There is a greater focus on improving diversity and inclusion and a heightened awareness around mental health and wellbeing and the importance of building meaningful and authentic community engagement.
As individuals, we care deeply about these issues, and increasingly, we want to show that we can give something back. This taps into our own sense of purpose and value. It is also impacting the way we think about our working lives and the communities in which we work.
Generations at both ends of the spectrum are rethinking their relationship with the workplace.
For employers, this presents a number of serious concerns about what the future workplace looks like. To add to their problems, the global recession and the world economy have continued to struggle for more than a decade. Global gross domestic product has dragged along at under 3% growth since 2012, well below historical norms. This can be attributed to a resistance to change. Organisations have been slow to adapt to climate change and the rapid changes produced by the spread of information technology, the globalisation of markets for products and labour, the rise of the gig economy and younger workers' unique expectations.
A Growing Problem with Engagement, Retention and Recruitment
This has led to a shocking lack of employee engagement. According to the 2022 'State of the Global Workplace' report published by Gallup, only 15% of the world's workforce are engaged in their work. In the UK this is just 11% of the workforce, with 68% not engaged and 21% actively disengaged.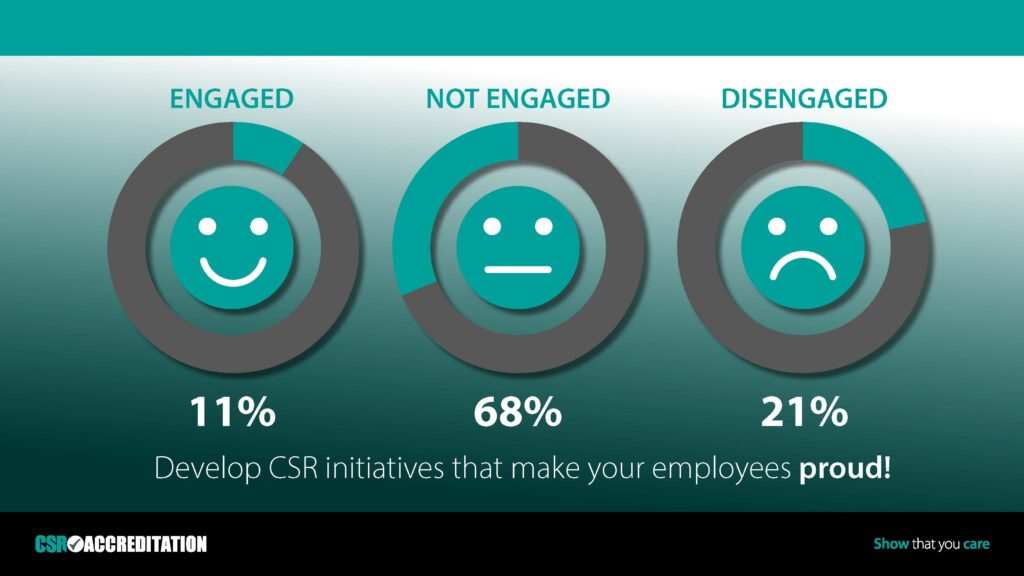 This lack of engagement is the result of a combination of factors, such as not having a vision they believe in, poor management, low to no growth opportunities, not being recognised and valued and a lack of meaningful work. It also reflects a negative workplace that feels restrictive and uncaring.
Is this because businesses understand financial value, but they fail to recognise the true value of human capital?
Employees like working for a company that has a good public image and is constantly in the media for positive reasons. Employees want to feel proud of the organisation they work for.
An employee with a positive attitude towards the company is less likely to look for a job elsewhere.
98% of employees believe companies must lead with purpose. A further 88% believe it's no longer acceptable for companies to make money at the expense of society at large. (Source: PN Purpose Tracker Survey 2020) Implement a CSR strategy to protect and engage your biggest asset – your employees.
Employee turnover can have a negative impact on an organisation's performance.
By understanding the reasons behind staff turnover, employers can devise initiatives that reduce turnover and increase employee retention.
About 1 million people in the UK have left work since the start of the pandemic in March 2020, with retirement the most popular reason given by people aged between 50 and 70, according to the Office for National Statistics (ONS).
At the same time, job vacancies are at a record high – but with fewer people seeking work, employers are under pressure to raise wages and salaries to attract and keep staff.
There appears to be a change in mindset from those seeking employment for the first time. The next generation of talent have very different ideas about the kind of businesses they want to work for. 92% of employees who work at a company with a strong sense of purpose say they would be more likely to recommend their employer to those in their network who are looking for a job.
70% of employees say they wouldn't work for a company without a strong purpose and a further 60% would take a pay cut to work at a purpose-driven company. (Source: PN Purpose Tracker Survey 2020)
It's clear employers must consider a social responsibility strategy to attract and retain skilled employees.
Being a responsible, sustainable business may make it easier to recruit new employees as well as retain existing ones.
Bucks New University indicated that over 70% of students actively look for an organisation's CSR policy before accepting a job offer or applying for a job. Furthermore, their careers platform showed, for the first time, that the 'average' student would rather explore work in the public or charitable sector than banking or law. (Source: BNU 2020) In other words, an organisation that delivers social value. This is about aligning your values with those of the next generation.
Businesses need to place new focus on the resources and strategies they use to develop and empower their workforces and therefore their customers and clients.
It is important to build an inclusive work culture that allows for a level of autonomy and nurtures a sense of belonging and community. It is about developing a strong company culture that empowers employees to do environmental and social good. Social responsibility is important to businesses because employees benefit from working in an inclusive environment and towards a valued social goal. This builds a strong company culture that positively impacts people and productivity. It delivers both social and financial value through staff engagement, retention, attracting talent, efficiencies, tendering and reputation.
What if we doubled or tripled that worldwide employee engagement of 15%? Imagine how quickly that would fix global GDP and improve productivity and human development.
The best advice for business owners is to focus on what you can control and, as always, engage with those who make your business successful, your employees!
Develop your CSR strategy. With well-defined objectives and measurable targets, your CSR policy will provide the foundation for steps towards running a more sustainable, profitable and ethical business.