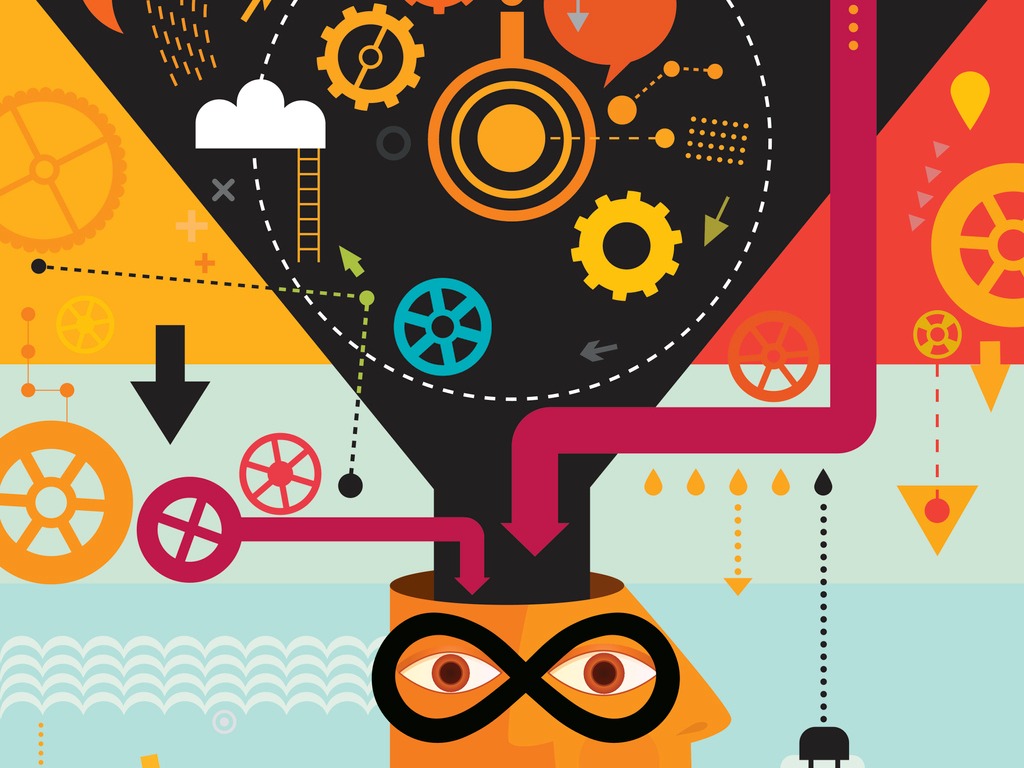 What must you do to cope with the pace of change in your workplace and the need for constant reinvention? asks Julia Schmidt
A crisis creates a rare opportunity to revisit long-standing assumptions about yourself and your way of living and working. Those who have lived through previous financial crises – or other upheavals in the marketplace – know that they will end, and that a new normal will emerge out of the chaos. So, the issue is, what is that new normal going to be like? How would you reimagine yourself if you were starting now, based on what you think the new normal will be once the crisis ends?
In moments like this, it is understandable and very human to feel overwhelmed and even to experience a sense of loss over the plans that were in place before the pandemic spread throughout the world. However, the most important weapons we have at our disposal to succeed and survive are our strengths, robust networks, agile mindset, analytical and strategic thinking, and the ability to reinvent ourselves.
Your ability to handle any crisis and thrive in chaos will be directly related to your reinvention mindset. And you do not need to wait until you are stuck in life and in your professional career to take action.
To help you craft your reinvention strategy, consider the following questions:
Are You Selling Your Uniqueness?
As Ayanna Castro, an international speaker and author, says, "When you recognize your talent, you can attain outstanding results." So, let's start with your talents and strengths.
Have you ever listed all your skills and strengths, or asked yourself if you have the skills needed to perform at a higher level? What are the skills you need now to help your organization achieve its goals? Reflecting on these questions is crucial for us to keep building our uniqueness, our professional DNA.
I recommend you look for the skills that will boost your competitive advantage, give you the necessary competence to help your organization reach its goals, and keep you employable. Your strengths, interests, and values are resources that should be aligned with your organization's strategy. Research shows that work that aligns with one's strengths, interests, and values boosts intrinsic motivation, sense of experienced meaningfulness, job performance, and commitment to the organization.
Are You Embracing Collaboration at All Levels?
Collaboration, alliances, and partnerships are important. What leads companies to merger and acquisitions processes? What drives companies to create partnerships and alliances with other companies? It is the necessity to survive – to continue existing, growing, gaining new markets and new customers, and developing new products.
People can collaborate and achieve great results. Everyone has values, and we must tap into these values to make people join forces and build great things together. When we surround ourselves with positive and diverse people, we can see things from different perspectives. We can learn faster, share knowledge, support people to attain their goals, and feel energized.
Taking other people's strengths into account when building our relationships accelerates growth, boosts enthusiasm, enhances trust and collaboration, and creates engagement. A diverse professional network will amplify our learning opportunities and consequently increase our repertoire of solutions. Seek opportunities to work with people who energize you. Keep up positive and productive relationships with people who can help you to access new opportunities. And give back whenever possible.
Are You Giving Yourself the Chance to Be Curious?
Give yourself the freedom to experiment and play, and the freedom to fail. You can do that by approaching problems in innovative ways, conceptualizing problems differently, and understanding your position concerning any situation in a way you never would have thought of before.
Slip into a new role, and don't wait for permission! Challenge yourself continuously to accelerate your growth and professional development. By adopting a new role, you can drastically change your perspective and how you think about things. Working in a new department can mean new opportunities, new colleagues, new perspectives, and increased business acumen. By learning more skills, you will feel more valuable to your business.
Create a "Curiosity Diary" and write down a list of things that arouse your curiosity, and that you would like to learn more about. Add to your list any new skills your manager would like you to master, and the skills you need to learn to fill the gaps and ensure your place in the future of work.
Curiosity is what fuels your lifelong learning skills.
Do You Understand the Power of Feedback and Feedforward?
Embrace feedback as a gift since feedback is a basis for improvement. Frame the practice of feedback as an ongoing conversation. Listen to what your customers, teammates, and career partners say about your performance, products, and services. This is crucial to boosting your learning and reinvention process.
Upgrade the way you think about feedback by transforming feedback conversations into consultative sessions. Engage people impacted by your work in dialogues by asking them questions and, more importantly, listening to what they have to say. Listening is critical to reimagining how we deliver our services.
Have these conversations as often as possible, in a structured fashion. Incorporate them into formal or informal exchanges with your stakeholders, customers, managers, and teammates. It will show that you feel comfortable evaluating your performance and are able to create plans for continuous improvement. Transform all the information you gather into a powerful learning tool to help you understand how you add value to your employer and accelerate your reinvention process.
A good feedback culture encourages proactivity and prepares us to flip the focus of the conversation from the past to the future, attaining a new level of "feeding" our need for improvement. This is what we call "feedforward", a concept originally developed by management expert Marshall Goldsmith. When we give feedforward, instead of rating and judging a person's performance in the past, we focus on the person's development in the future. Feedforward allows us to create a step-by-step improvement plan; it is more powerful than feedback. Feedforward combines feedback with coaching and expands learning opportunities.
How Agile Are You?
We need to rethink our "business models", redesign our career, job tasks, and job descriptions, and adopt an agile mindset to respond quickly to disruptive times.
We live in an age of accelerating disruption. Every company is facing up the profound changes shaped by digitization. Globalization made commerce and trade practically borderless. Today, digitization is making industry boundaries permeable and almost invisible. Data, algorithms, and artificial intelligence are changing the nature of strategic planning and execution, forecasting, decision-making, and the workplace itself.
Develop your learning capability. You were hired for a specific set of skills, but you must also develop your existing talent and put in place structures and mechanisms to enhance your capability throughout. Do not wait too long to take new certifications, change departments, learn new necessary skills, build a strategic network, and embrace mentoring. What about eagerly welcoming new ideas, new challenges, new learnings, new opportunities, and change, even when there is a risk of failure?
Being agile means taking necessary risks, being innovative and rapidly finding new solutions, being flexible, and embracing resilience. Make lifelong learning your ongoing, voluntary, and self-motivated pursuit of knowledge. The top skills required today will not necessarily be the same in three to five years.
Are You Getting Involved in Organizational Transformation Processes?
Transformation processes are part of every organization's strategy and a fixture of every leader's job description. Understanding these is a must for all Executive Assistants and Executive Support Professionals. To lead is to change, and change requires refining how your company operates today, while simultaneously disrupting yourself. Being part of the transformation process is about driving transformation along with our executives. So, let's be agents of change and ambassadors for any organizational transformation processes. Understand that traditions need to be constantly questioned. Do not accept being part of the old, but rather become part of the teams developing the transformation strategies, to ensure your commitment to building a better future for your organization.
This commitment will show that you are paying close attention to the developments in your industry and the company's strategic direction.
Transformation is not a one-time event. It is an ongoing, challenging process. It requires leaders who balance refining how the company operates today with the need for continuous disruption. Executive Assistants need a mindset that questions everything they do, to keep reinventing themselves and actively participate in the reinvention process of their companies. So, make sure you play a contributing role and look for ways to get involved in growth areas.
How Are You Shaping Your Ability to Focus?
Prioritization is an ongoing process! You can't prioritize without crystal-clear objectives to help guide you. To focus your attention, you need to understand your goals, your executive's goals, and your organization's goals. And then start saying "No" to everything that will not help you attain your goals.
After you've prioritized your tasks, give them 100% of your attention, even if your thoughts tend to wander to all the to-dos you need to tackle next.
Freeing up your time from being totally absorbed in day-to-day activities is a critical part of getting ready for the future.
The best time management strategy I have is to schedule time every Friday to analyze my goals, reflect on what I have done, and plan for the next weeks and months. I need this system because the world seems to be moving faster and faster, so I must figure out how to still drive things proactively instead of becoming completely reactive.
Are You Building a Sustainable Career?
Nowadays, careers entail a continuous need to produce new expertise while at the same time creating new development opportunities. The qualifications required for a job are becoming more complex while the "life duration" of these qualifications is becoming shorter.
To be able to make our careers sustainable and satisfy current and future needs, we must have the capability to continuously build up new expertise and derive meaning from our professional activities. A career is built based on a combination of knowledge, skills, and behaviors, and every individual's journey is different, depending on personal preferences, passions, and work environment.
Everything counts. Everything you do will affect your career. So, continue to choose the right things by taking ownership and building a journey of development and growth.
No career is sustainable without innovation, change, transformation, and continuous reinvention.
Are You Being Strategic and Getting Ready for the Future?
Being strategic means you don't only think about the here and now. You can plan, see the big picture, imagine a better future, and create actions to reach your goals. Strategic thinking will help you visualize the right solutions.
Strategists are those who identify problems and create a plan with a set of actions to solve the problems. Strategic thinking is about building a better future from now on!
We can be strategic by planning our career development, training, and education path, creating the right network of people to help us grow professionally, building partnerships, and scheduling strategic thinking time for reflection.
Are You Ready to Reinvent Yourself?
Many of us have grown to believe that our careers will remain stable and predictable with relatively low volatility. But what happens to our stability when we realize that markets can become dangerously volatile, or that a global pandemic has completely transformed how we work, do business, and interact with other people?
As Dr. Nadya Zhexembayeva states, "In a world where you are expected to change at least five careers and countless jobs per life, the one thing that will stay constant is reinvention."
To find out what, when, and how to reinvent yourself, you must ask yourself many questions. How do you cultivate change and the capacity for reinvention in your career? What works? What can be improved? How can you ensure that you have the right and crucial skills and tools at the right time in this changing environment? What do you need to work on the most?
Be Honest with Yourself!
To survive today, a company needs to reinvent itself every 3 years. The results of a 2018 survey that asked managers how often they need to reinvent their companies to survive and thrive showed that 47% of the 2,000 respondents reported 2-3 years; in 2020, this number jumped to 60%.
So, if the business you are in today cannot be the business you will be 3 years from now (because organizations will be forced to embrace reinvention more often than before), what must you do to cope with the pace of change in your workplace and the need for constant reinvention? My answer is: Reinvent yourself before it is too late!
Reinvention will allow us to succeed today while building a foundation for tomorrow. A reinvention mindset will help us navigate the chaos with open and fresh eyes, reflection, proactivity, endurance, and systematic thinking.
"An essential and required part of any real reinvention is genuine improvement. The real test of successful reinvention is whether or not you are getting better results. Reinvention is about finding new and better solutions that bring better results, making you stronger and more prepared for the next disruption."

Dr. Nadya Zhexembayeva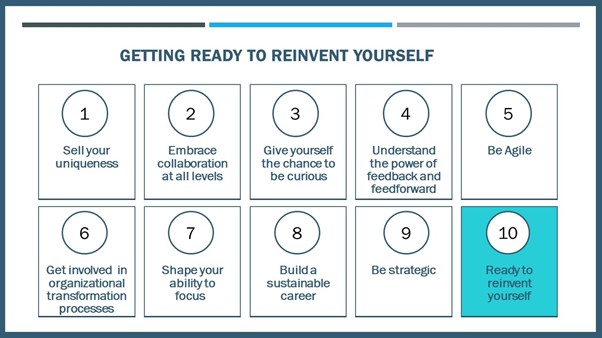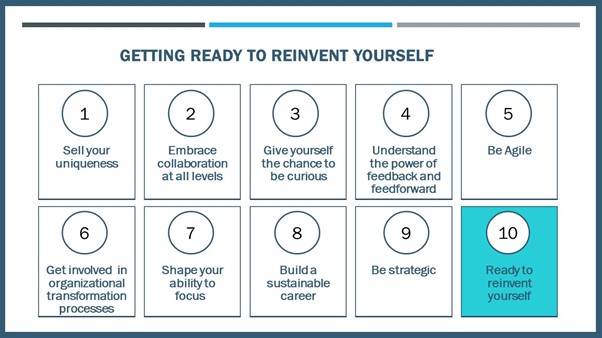 Conclusion
To survive the speed and uncertainty of change, we need to turn it into great opportunities for our own growth and development. And we cannot do it alone; we need to have the right partnerships in place and the right people around us. We also need a systematic approach to redesigning our career with agility, continuous learning, focus, and strategic thinking to overcome chaos.
Let's strengthen every reinvention muscle we have! Reinvent yourself! Transform yourself!