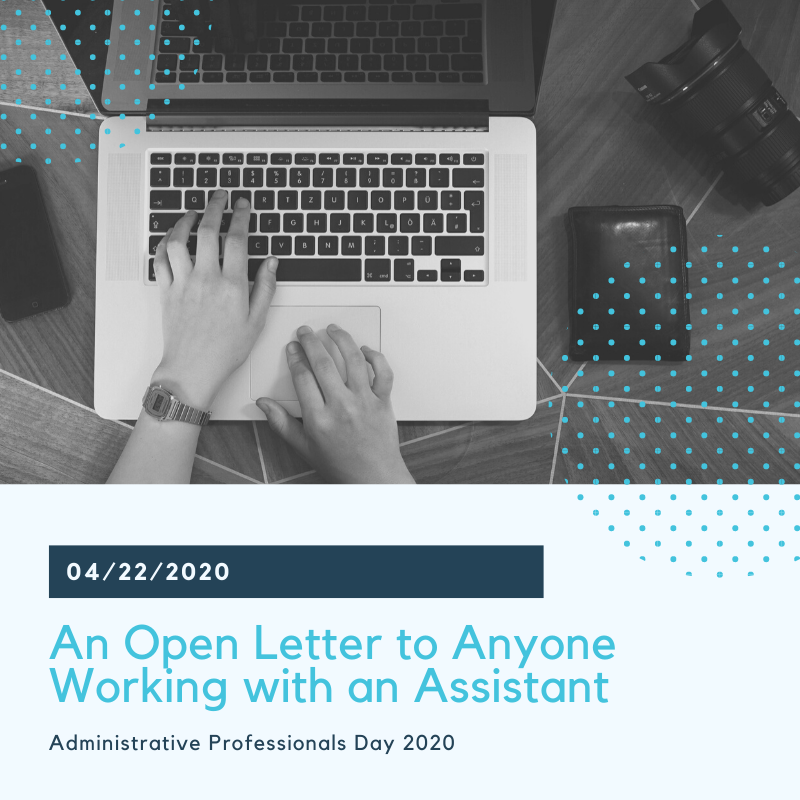 There has never been a more difficult time to be a business leader.
In these unprecedented times, most of you are in uncharted territory, trying to work it out as you go along. You're reinventing strategy on the fly and in some cases you are fighting for your business's survival. And you may be doing all of this from home. It's stressful, all encompassing, chaotic and for some the outcome will be catastrophic. There are simply not enough hours in the day.
Meanwhile, in many cases, your assistant is also sitting at home. Many are floundering, willing and able to help but unsure how to ask without seeming to be getting 'above themselves'. I have spent much of the last three weeks encouraging them to come up with a list of things they feel that they can bring to the table in this crisis, and to speak up. But they need you to listen.
Let me tell you about your assistant.
Have you ever thought about why the business employs an assistant to support you?
The days of an assistant being a status symbol, doing a little gentle calendar management, making tea for meetings and filing are long gone. These days they are more likely to be found knee-deep in project management and compiling briefing documents.
They are employed to give you back your time.
For ten years I have been teaching administrative professionals all over the world how to find their voices, to be proactive and to work with their executives in proper strategic partnerships so that their skillsets underpin what their executives are trying to achieve.
The skillsets of an executive and an assistant are totally different and the current pandemic highlights this. Crises are complex and require executives to both lead urgent change and manage effectively. You need to make immediate choices and allocate resources. The pace is fast, and decisive action is needed. Whilst an executive will be looking at the big picture stuff, driving everyone forward, making decisions and giving direction, the assistant tames chaos by doing the detail. They put procedures and processes into place to ensure that the executive's ideas have structure and can be implemented step by step. They are expert at doing data analysis, background research, and writing briefing documents, freeing up your time to do the things that you are exceptional at.
Used correctly an assistant can become a source of much-needed calm.
When an assistant and their executive work together properly in partnership, its like two sides of one coin; a perfect employee.
But most executives have no idea how to best use their assistant. The average manager does not undertake leadership training until they are 42. If you have never had an assistant before, it's easy to under-utilise their skills. Our latest readership figures show that over 58% of our readers felt that their executive didn't know how to use them to their full potential.
However, if I was to tell you that using your assistant properly could give you back between 50-80% of your working day, you would probably bite my hand off, especially at the moment.
So where do you start? Probably with a shift in mindset.
I want you to think about your assistant not as a gatekeeper to keep people out but rather as a gatekeeper of your time.
Your business employs your assistant to ensure that every hour of your time is as spent as effectively as it possibly can be. How much is an hour of your time worth? Is your business getting its money's worth? Or are you spending time on tasks that your assistant should be doing?
Let's take a couple of basics as an example.
Email Triage
The average executive spends 58% of their time doing email. If you are still not allowing your assistant to triage your email, your business is spending 58% of your salary just so you can keep up with incoming mail. The email triage system that we would be happy to share with your assistant if they contact us, ensures none of your email is deleted but that by the end of every day, you have responded to everyone that you need to. It's a very simple system but it will take the amount of time that you spend on email down to 12% of your time. Just this one small change would give you back 46% of your time. Isn't it time you handed it over?
Calendar Management
Or what about calendar management? Are you still juggling that? Handing that over to my assistant Fran has had numerous benefits, not least that I can maintain a brand of being happy to meet with everyone. My replies to requests to meet or take a call are always enthusiastic but emphatic that they should deal with Fran as she will kill me if I start messing with my calendar, because she has so much pencilled in. I copy her into my reply and under the signature, I place a number between 1-5. If it's a one, we will probably speak within the hour. If it's a five, it will be a cold day in hell before we speak. It's a joy! No more negotiating when we might talk, how important it is, what you need etc. Fran deals with all of it.
In this current situation, all emails, call requests and meetings should be going through your assistant. It will free up not only your time but your brain to deal with what's important.
The entrepreneur, Jeff Hoffman, founder of Priceline.com has a wonderful story which illustrates this perfectly. He says that he once went to dinner with a friend who was an eminent heart surgeon. When Jeff arrived, his friend was doing his calendar. Jeff asked him what he was doing and on being told 'my calendar' responded with 'But aren't you worth $500 an hour?' Jeff says that if you don't have an assistant then you are an assistant. Just think about that for a moment. Do you currently have time to be your own assistant – especially if your actual assistant is being under-utilised?
What is the next step?
Imagine you have a metaphorical pile of papers in front of you with all the things you have to do written on them. If you were to start at the top and work your way through them with your assistant, what could you hand over?
As a CEO myself, I am well aware that you have no time currently but it's worth finding it. Fran and I meet for just 10 minutes a day. It's probably my most important meeting. On Monday, we establish my priorities for the week and then touch base every day for updates. We look at what she went away to do yesterday, run through questions on emails she might not have understood, swap updates and clarify changes. Then Fran goes away and gets on with making sure that I am operating to full capacity. I often tell my delegates not to be afraid OF their executives but to be afraid FOR them. That's the job!
And when you get it right, there are proven, quantifiable results. One of our FTSE 500 clients that we worked with last year totally changed the way that they were working with their senior EAs , encouraging them to proactively look at where they could add value and take on more responsibility. They introduced a culture of getting comfortable with being uncomfortable and expanding their boundaries and authority. Every EA had training from finance, marketing, and HR, as well as one-to-one training with their executives on how the executive wanted to be communicated with, what the executive's goals and KPIs were for the year and what the business's 2, 5 & 10 year plans were. The result: a 28% average increase in productivity.
It no longer makes sense for your assistant to be reactive; waiting for direction and tasks with little authority, influence or input.
You need a proactive administrative business partner, who actively contributes to the business partnership, understands and supports the business strategy, and meets and sets expectations and deadlines.
Today is Administrative Professionals Day. In the 10 years I have been celebrating this day of recognition for the world's admins it is probably the most extraordinary that most of us will ever experience. The rules of business just changed totally and nothing is certain. Give yourself a fighting chance – spending just 10 minutes a day with your assistant, will give you back 50-80% of your time.
Now wouldn't that be worth investing in?
Lucy
lbrazier@executivesupportmedia.com
To watch the YouTube video that accompanies this article, simply click this link: https://youtu.be/T3DJvk0tNwE