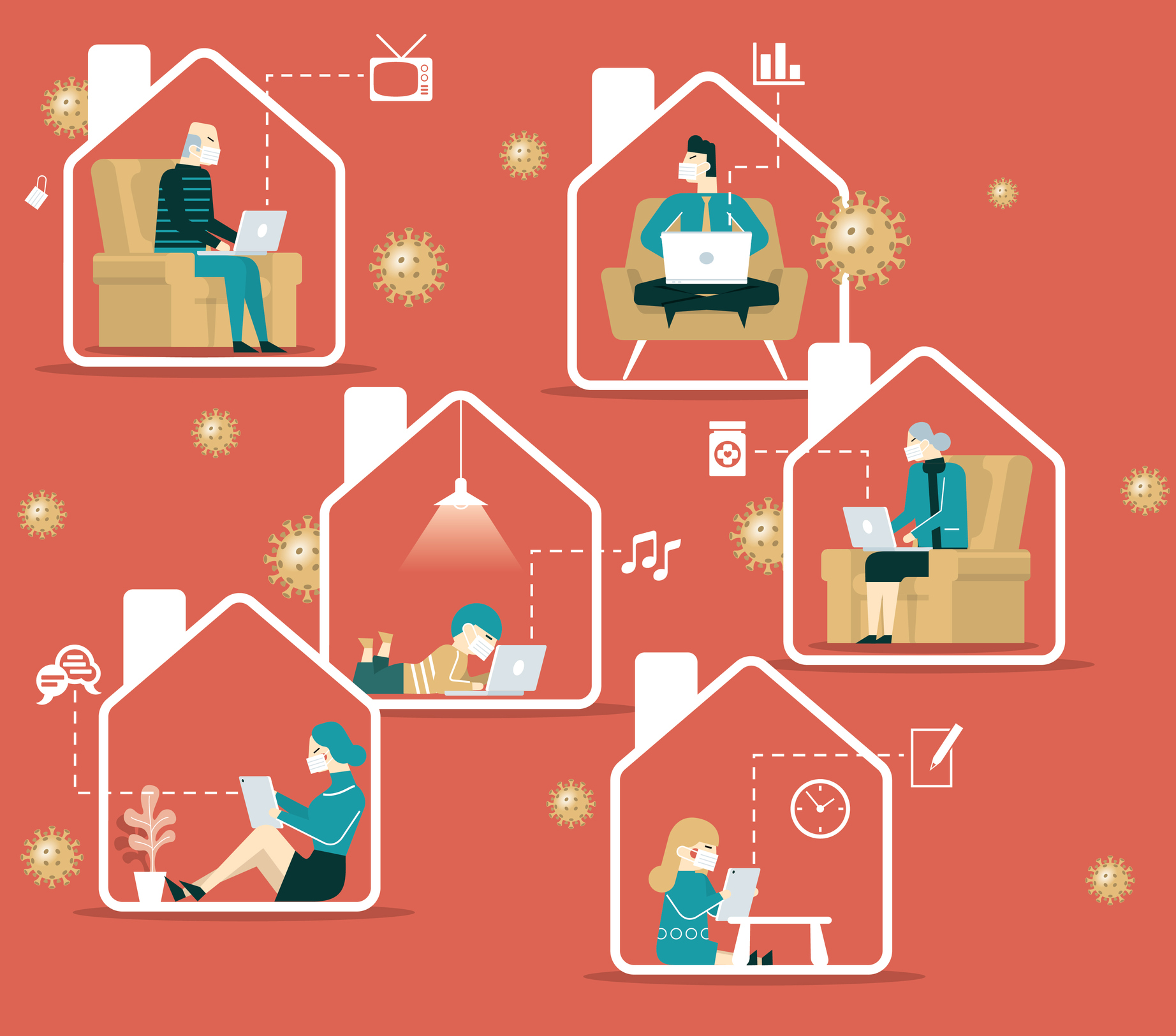 In the new era of working from home, what strategies can we use to ensure a good work and life balance? asks Olivia Coughtrie
As more and more people are working from home because of COVID-19, staying productive when you're trying to manage a home, personal life, and children, can be a huge challenge. So, how do you achieve the perfect work/life balance? Is it possible to work from home and create boundaries?
Healthy boundaries keep the balance
During lockdown in the UK, over 57% of those employed in administration or secretarial positions worked from home. With the ever changing needs of employers, it's essential to set healthy boundaries to effectively structure your time and work to meet these requirements.
Home vs Office
Both working from home and working from the office present challenges for you and your employer. Let's delve deeper into the pros and cons:
Home 
Pros
Working from home provides a flexible schedule, reduced commute time, positive environmental impact, savings on food (lunch) purchases and location independence.
Cons
Those who are participating in home working are subject to more distractions, balancing childcare and reduced sociability with potential technology issues and less productivity.
Office
Pros
Working from the office gives you regular face to face contact with your employer, more interaction with other employees, boosts your understanding of the company you work for and could enhance your productivity.
Cons
You need to add commute time and distance onto your overall working day, there's potential distraction by other tasks, a higher cost if you decide to eat out or buy coffee and increased potential for office conflicts.
How to keep productive and motivated at home
Here are 5 strategies to consider when aiming to stay productive and motivated when working from home.
Strategy 1: Environment
A dedicated workspace, free from clutter can help to boost productivity drastically, especially as it helps to limit distractions. Find an area away from other members of your household to limit disruptions. Having your own office room is ideal, however not everyone has the space to make this a reality. If you can place a desk in a room that's not your bedroom, it helps to create a boundary between work and relaxation. Putting your desk in front of a window gives you access to lots of natural light – a useful tool for aiding focus and motivation.
Strategy 2: Scheduling
A schedule which consists of allocated work time and periods for breaks can significantly improve productivity. It's important to find a schedule which works for both you and your employer. Consider the time zones you're both working in and any outside factors, such as childcare, which may interrupt specific time periods. Having a designated start and finish time for work can help to establish a clear schedule, as well as improving your work/life balance.
Strategy 3: Relationship management
Working from home means you're not interacting face-to-face with your employer. Thankfully, living in an age of great technology means you can maintain a good working relationship with them via virtual catch-ups. Try scheduling weekly online meetings to discuss any work aspects that need documenting. Using tools like Slack, Zoom and Skype are great for keeping in touch with others.
Strategy 4: Rewards
Prioritise your workload by creating challenges and rewarding yourself for ticking off tasks. Using a simple checklist, either online or with paper and a pen can improve your productivity and motivation throughout the day. The Pomodoro technique is a great way to implement a rewards strategy. Just create a task, set aside 25 minutes for the task, set a timer, and give yourself a 5 minute break when the alarm goes off. Use this 'free time' to reward yourself with a quick snack, breath of fresh air etc.
Strategy 5: Relaxation
Once the working day is over, make time to relax and unwind. It can be tempting to answer those unread emails lurking in your inbox, but relaxation is crucial for a healthy work/life balance. Remember to switch off your laptop at the end of the day, turn off your work phone, and spend time unwinding with your favourite hobbies or interests.