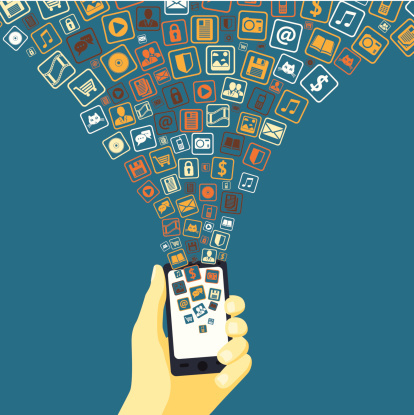 These apps can help you manage your life whilst on the move explains Rosa Mitchell
Assistants are some of the busiest people in an office. Having to participate in high level administrative tasks, IT management, note taking, arranging meetings and appointments and taking responsibility for confidential company documents is all part of a day's work. But when you are relied upon to the point where you are the backbone of your company, it's important to be as organised and efficient as possible.
Here are some of the best apps that can help you manage life on the move.
Uber – Uber is the juggernaut of the travel app world. Once you sign up, you install the app on your phone and link your credit or debit card, and you can link a company account on Uber as well. Whenever you need a ride, you can simply open your app, see how many cars are near to you, request one, and watch it pull up. You can also book in advance and check out fares.  One of my favourite features is that everything is charged to your card; no need to panic about cash when you reach your destination.
App in the Air – This app is a great way to track flights and has the best coverage of airlines and airports. Brilliant for when you're waiting for visiting clients or planning overseas transport.
Evernote – when it comes to keeping your meeting notes organized, Evernote is a godsend. The app allows you to keep everything you need (web pages, article clippings, images, personal notes) in one place. You'll never be left rushing around for information about a client or campaign before a meeting ever again. The great thing about Evernote is that you can access everything you have saved by logging to the app on mobile or desktop, wherever you are.
Slack –  Communication is key when you're an Assistant. The Slack tool lets you speak to each member of your team in a more simple and less formal way than email. If there has been a last minute meeting change or you need a piece of information fast, Slack is your friend.
Zoom – Zoom is essential if you're holding video conference meetings. It offers video conferencing and screen sharing from desktop or mobile and also boasts recording features. Zoom even offers a collaborative whiteboard and the ability to send group messages and pictures during conferences. As you can join meetings via mobile, it's brilliant for anyone working in an office where people are always on the go.
InkFlow – InkFlow markets itself as a word processor for the visual thinker. You can write or sketch your ideas down on this app, and then rearrange and reorganise them as you see fit. This app is great for fast thinkers, feels incredibly creative and is free to use.
Citymapper –  this real-time journey planner is available in a number of cities and countries, and combines all transport modes to find you the best route: walking, tube / metro, bus, train, rail, ferry, Uber / taxi and cycles. It also includes bus and train times and real-time disruptions.
Trainline – Sometimes, the simple ones are the best. The Trainline app (UK) is incredibly user-friendly, shows live train times, delays and lets you buy your tickets right there and then. It's great for making group bookings and checking out prices and times. It can help you save on rail tickets by highlighting the cheapest prices for your next booking; if you are flexible with your time of travel, the best fare finder will find cheap train tickets that other customers have found.