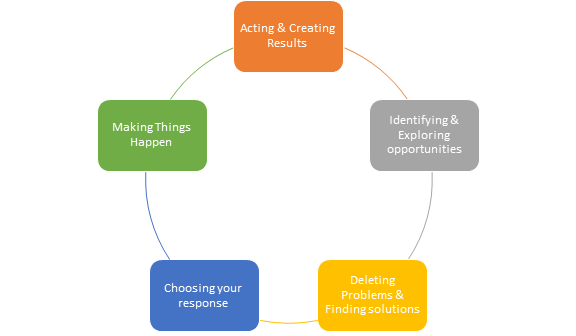 Don't wait for someone to hand you an instruction manual for your career, become a proactive assistant says Julia Schmidt
Being proactive means much more than merely taking initiative. It means that as human beings, we are responsible for our own lives. We can choose to do things differently. Our self-awareness, imagination and freedom will give us the ability to act according to our selected and internalized values.
Some years ago, when a former employer decided to streamline my department, I seized the opportunity that was within my reach. Having the possibility to stay working during six months while seeking another job, I decided to accept a proposal for a temporary job and make a comeback as Executive Assistant. I avoided being a victim and chose to channel the feelings towards new challenges.  I understood the power of my freedom to choose.
I decided that the new strategy the company chose, which included the elimination of my position, would be a way for me to search for growth.  I decided to use the difficult circumstances to show others and myself that there is no determinism in human lives. I chose to become a winner and maintain emotional and professional strength. This time was in fact an inspiring and creative time for me.  I reviewed my career accomplishments and appraisals. I formed my own personal "board of advisors". I engaged a carefully selected group of individuals in my decision making and action planning for my new career path and found out that we all have the possibility to transform losses into opportunities.  I put myself in an active mode.
Between stimulus and response there is a space. In that space is our power to choose our response. In our response lies our growth and our freedom ~ Viktor E. Frankl
Choosing your response
Our behavior is a function of our decisions, not our conditions. Each time we have the opportunity to act and respond to a stimulus, we have the freedom to choose how to respond to it. Therefore, I keep on choosing to "make a difference" whether it is raining or the sun is shining outside.
Imagine a Sunday when the weather outside is bad, stormy and raining, and you have no chances to go for a nice long walk and get the energy you need for the coming week.  By facing this challenge in a proactive way, you will have different ways to solve the issue. The idea of having a great day drives your thoughts and actions, rather than the weather. Whether it rains or the sun shines makes no difference to you.  As a proactive person you have the ability to act guided by a value-based choice or response.  The rain will push you to solutions because you are saying no to being at the mercy of the environment.
The difference between ordinary people and extraordinary people is choice. Choosing your response is about choosing the right focus. Choosing your response is about knowing who you are and what you stand for.  I choose to create a pocket of success in my own area of influence. I want to choose the right attitude. I choose to be a valuable player.
Acting and creating results
I believe that I am responsible for the kind of environment I want in my life.  I am not the way I am. I am the way I want to be.  I determine my limitations and success.  This mindset is what differentiates the Proactive Assistant.
Proactive Assistants focus their time and energy on the things they can do something about, and which create results to the organization. They focus on people's strengths and create high-level collaboration from that. They see solutions rather than problems. They do not worry about conditions; they influence the conditions and add value to the existing circumstances.
In my career, there were many situations where I had to adapt to situational realities, which were beyond my control. I had to be resilient and accept. On the other side, these situations gave me the opportunity to save energy for situations where I could be a "solution seller".
I once worked for an extremely busy director. He was seldom available for one-on-one meetings with me. I could do nothing about the fact that he was traveling a lot and attending many meetings during the day.  It was beyond my control. However, I could respond to the frustrating situation by working on myself.  I had to abandon my traditional habit of having face-to-face one-on-one meetings.
I created a kind of catch up that responded to the circumstance.  I found out, after some attempts, that making succinct summary reviews that I would read to him by phone each time he called me between meetings, would be the best way to keep up daily communication.  He did call me to ask questions and ask if I had something important to inform.  So little by little, I transformed these phone calls into short, one-on-one meetings.  I took the responsibility to find a solution. Instead of being frustrated and complaining about lack of communication, I created a successful communication method that added value to our cooperation.
Identifying and exploring opportunities
When I decided to focus on my future outside the company, regardless of the downsizing, I was choosing the see the opportunities lying out there.   I decided to use a proactive approach by changing my situation from the inside out.  I said, "I can find a better position that matches my skills." "I can learn different things and expand my network." "I can ask relevant people around me to coach me and help me see my strengths."  Losing a job was not a loss, but rather an opportunity for me to grow professionally.
Our opportunities are not in the past, in our mistakes, or in what is beyond our control. These things are keeping us reactive.  The Proactive Assistant looks towards the future, and takes responsibility for making things happen.
Deleting problems and finding solutions
The way you act and the language you use are crucial. It is so easy to blame other people for our own stagnation.  It is so easy to focus on the bad side of situations.   Have you ever had a colleague living on the "If"?  "If only I had more money to buy a better car."  "If only I had the desk near the window." "If only I had her job." If I had a better boss…" "If I had my degree…"
We are all going to run into problems. It is how we respond to them that makes a difference. The most effective way to handle a problem is to focus on finding a solution.  Proactive Assistants focus on what they can control and change.  They are "solutioneers"! They use the kind of language that helps them see alternatives rather than problems.  A proactive language is full of positive intention, responsibility, effectiveness, openness and freedom.  The Proactive Assistant will say, "Let's look at other alternatives." "I will." "I can choose a different approach." "I can do it differently."  "I will find a better solution." "I can make the report."
We find the solutions we need when we go out of our comfort zone. Proactive Assistants take risks; they have the courage to take on opportunities, new jobs, new tasks and new challenges.  By doing this they become more confident and competent.
Making Things Happen
Do you agree that you are responsible for how much positive energy you can bring to your life and workplace? I hope your answer is "yes".  It means that you are using your freedom to choose how you want to respond to the situations you experience. Being responsible for your actions and for bringing solutions to the problems, are important elements for those willing to make things happen.  The Proactive Assistant is courageous, perseverant, ready to learn more, innovative and willing to take the entrepreneur role.
The freedom to choose what is relevant and has to be prioritized is key to making things happen. The Proactive Assistant anticipates, creates, builds and makes what is necessary happen.  It is about freedom, responsibility, problem-solving, seizing the right opportunities, and creating results.
Making things happen is also about taking the initiative to develop your knowledge and skills in order to remain competitive on the world market.  Do not wait for someone to hand you an instruction manual for your career. You cannot make things happen, if you are stagnated.
It has been said that there are three types of people in the world: those who make things happen, those who watch things happen, and those who wonder what happened.  Which type of person do you want to be?
Develop Your Proactivity
Use the daily opportunities in your life to recognize and develop your own proactivity:
Listen to the language you use.
Evaluate how much focus you are put on weaknesses.
Check how often you get into a blaming mode.
Search for solutions.
Learn from your mistakes.
Focus forward.
Be a valuable player.
You are your success!