Embrace online bookings for your small meetings, says Daniela Dumitrescu
Small and simple in-person meetings are increasing in both number and importance. Even before the global pandemic, they accounted for more than half of all corporate meetings held in Europe, the Middle East and Africa. But with COVID accelerating the change to hybrid working and many businesses choosing to reduce their office spaces, a need has arisen for more offsite meetings, particularly smaller meetings for up to 50 people.
At the same time, lead times for meetings are getting shorter and demand for event space is higher than ever, increasing pressure on both organisers and venues to find new, more efficient ways of working. Simplifying venue sourcing and booking processes for smaller meetings has become an absolute necessity.
Some meeting venues are responding by offering the option to book your meeting through an automated online booking system, helping you speed up the process.
Save Time with Real-Time Availability and Instant Booking Confirmation
While small meetings often have much simpler requirements than larger, more complex conference set-ups, the booking process is often far from simple. Booking a half-day meeting with a coffee break can still involve trawling multiple websites, submitting a variety of hotel Requests for Proposal (RFPs) online to check availability and then a period of negotiation to get the best rates. This can be a painful and time-consuming process.
With 50% of online bookings happening within a seven-day lead time, a fast booking solution is vital. There is no waiting around for responses to RFPs – you know instantly if there is a meeting space available in your chosen hotel that meets your requirements and can book it there and then.
Before using an online platform, ensure you have the basic event details ready – date, time, and number of attendees. You can check real-time meeting space availability, take a 3D tour of your meeting room or view photos, and reserve a room online in just a few clicks.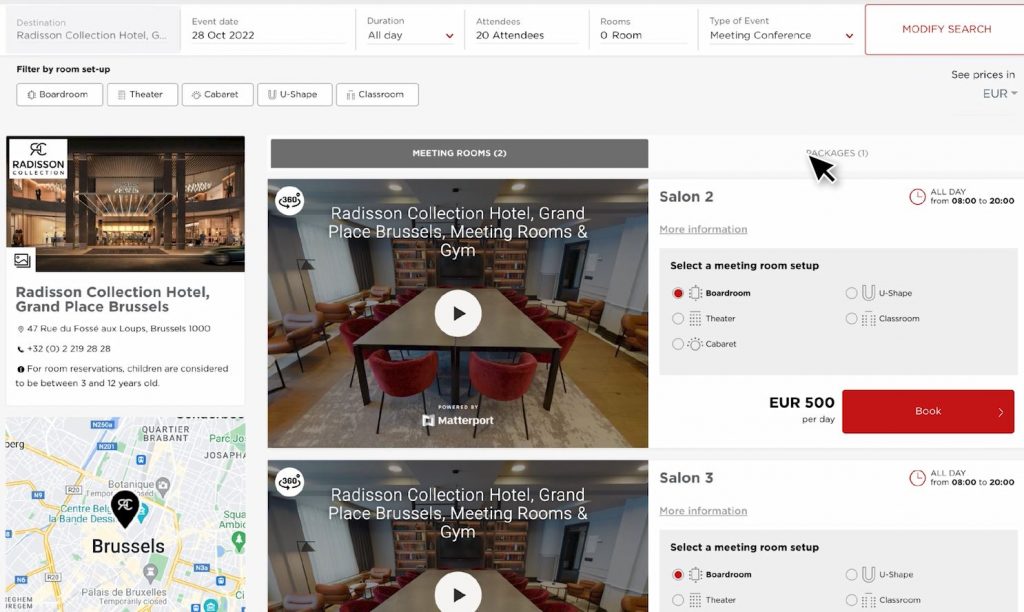 If you are tired of tedious email requests or sending out RFPs just to find out that your preferred hotel is already booked, embracing online booking for your small meetings might be just the solution that you're looking for.
Radisson Hotels are offering a complimentary coffee break including snacks, soft drinks, and a selection of tea and coffee for all meetings booked by 31 December 2022 using the BOOK IT EASY platform. For more information, please visit https://www.radissonhotels.com/en-us/meeting-conference-hotels/book-it-easy.