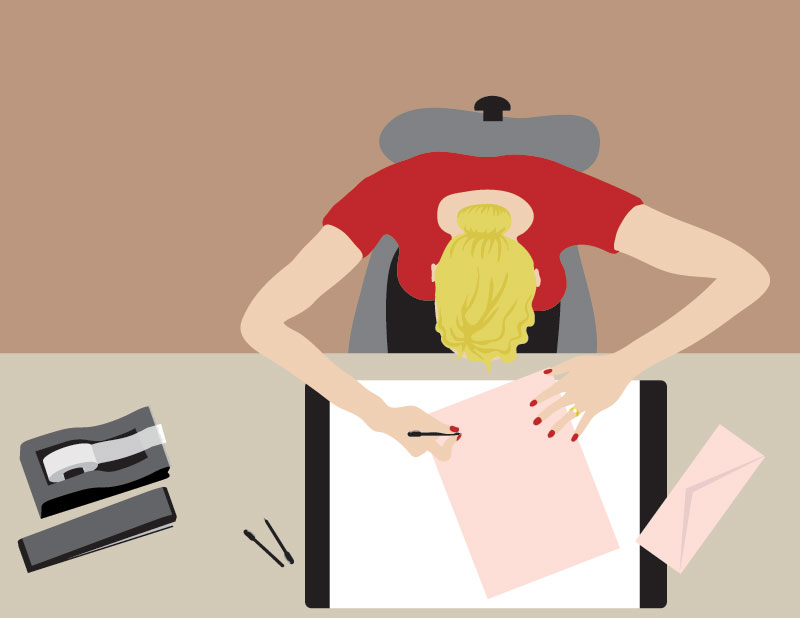 Adam Fidler champions the role of shorthand in today's professional workplace
Do people still use shorthand in the office? Do I need to learn shorthand? Do executives still "dictate" letters to their Assistants? These are questions I am often asked by secretarial students, who are debating whether to take the time to learn shorthand as part of their studies. This summary provides every good reason why one should learn shorthand, and how shorthand is used today in the modern business office.
We have to caveat this article by remembering that executives get paid to be creative, and come up with ideas; they get paid to do the talking. Assistants, by default, get paid to do the organising and recording – and the recording of information, and then transmitting it accurately from one place to another, is one of the prime responsibilities of an Assistant or secretary. Shorthand should be the first step in this process, and whilst it is true that many executives rarely "dictate" letters to their secretaries, one could argue that if they still did, their productivity would be greatly enhanced, because it would save them, the executives, hours of time sat at their computers, typing their own documentation.
So, let us consider how a modern Assistant enhances business productivity by bringing the skill of shorthand to the office.
Shorthand is used for minute-taking
Assistants and secretaries at all levels today have to be able to take minutes of meetings. Minutes can be taken in longhand or using a lap-top, but the ability of a secretary to keep up with what is being said, and take accurate notes quickly, is often best done by using shorthand. Modern devices such as audio-machines simply cannot record what is being said in a meeting, then make meaningful notes out of what is recorded, by summarising what is important and what is not important. The shorthand secretary, however, can summarise "real-time" in the meeting, and interpret what is being said – all at the same time as listening actively. Moreover, taking minutes in shorthand is effortless, whereas using a PC or longhand can be very fatiguing. Shorthand allows accurate notes to be taken effortlessly over a long period of time, and enables the minute-taking secretary to feel more confident that they are getting everything down and not missing anything in their course of taking minutes.
Shorthand is used for recording instructions and to-dos from your Executive
Executives rattle off instructions and things that need doing at enormous speed; they can often shout out several items that need attending to, incorporating instructions along the way of how those things should be done, in the space of just a few minutes. The Assistant or secretary who can take all of this down in shorthand during a face-to-face meeting with the executive, or over the telephone, saves their executive an enormous amount of time. For this method of working – where the executive shouts out what he/she wants doing whilst the Assistant takes notes – is more efficient than the executive instructing others via email. The only way that so many facts, instructions and deliverables can be carried out is not by entrusting them to memory, as things could be forgotten or misinterpreted, but by recording them in shorthand. Then, when the executive is out of the way, the Assistant can read through their notes and decide "What does the executive actually want me to do?" before executing those tasks, delegating them to someone else or saving them until the appropriate part of the working day.
Shorthand helps when taking down telephone messages.
The Assistant who can take down telephone messages accurately and efficiently is always seen as being a "good egg." There are far too many Assistants and secretaries who get information jumbled up, or don't seem to be able to relay an accurate message to the executive that has been left with them. Taking down word for word what someone else has said then passing it on to the executive saves the executive having to be "present" to receive the message, but it also helps the Assistant to know what is happening in the business.
Shorthand helps the Assistant to "know" and learn
Today's Assistants need to be as aware of the company's strategy as their executives do, and when they sit in a meeting, or with their executive, and take notes using a paper, they will be surprised at what they "know" and pick up – just by listening properly and making notes. Shorthand, therefore, is back in vogue because it helps Assistants to learn – and develop strategic thinking. By writing things down using a pen and paper, one digests and absorbs. This does not happen when using a keyboard or computer (there is now research in educational terms that proves this). If you are an Assistant who wants to learn more about your company, simply sit in a management meeting and take notes the old-fashioned way (ideally in shorthand!). Your knowledge of the business and what's going on will increase tenfold!
Shorthand combines the skills of active listening, summarising, recording and making sense out of chaos
Just think about the executive who doesn't speak clearly or slowly, or gets distracted, or goes off on a tangent (sounds familiar?!). These executives don't work well with voice-recognition software, because the software would not be able to understand them. Yet the skilled shorthand secretary knows when the executive gets their words mixed up, or calls someone the wrong name in a letter when they mean someone else. The shorthand writer not only takes down notes, but they also listen for sense and then apply logical and rational thought to what is being said. They make sense of nonsense and ensure that information is communicated appropriately, and with diplomacy. This can all start from a simple shorthand note that the secretary then regurgitates into a report or an email on behalf of their executive.
With the fast pace of the business world today, everyone would benefit from the ability to take shorthand notes. For the Assistant, however, shorthand is a must. Whether working for an accountant or a zoologist, an Assistant has to be prepared to listen to, to record and act upon an enormous amount of information daily. What office skill could make this task easier than shorthand?
If shorthand is so useful, why don't more Assistants learn it?
The simple answer is, because it's no easy task. To learn shorthand takes perseverance, dedication and time. But then the same could apply to most skills. And, if skills were easy to learn, then there would be no skill, as everyone would be doing it.
When faced with a pile of 25 CVs, all from "good" Assistants, how does an employer whittle them down? It may be that shorthand is the differentiator that makes all the difference. So few Assistants now do shorthand, if you can offer it to your employer, then you certainly stand out from the crowd. Last week, one of my former students went for a second interview as an Assistant to the FD of high-street bank. At interview, she was able to state quite confidently that she wrote shorthand at 80 words per minute. She got the job. I wonder how many other interviewees could say the same thing? The employer did not specifically ask for shorthand, but was delighted to find an Assistant who had it under their belt as the role required taking confidential minutes of many meetings. It was certainly the icing on the cake for that Assistant.
Having used my shorthand every day in the office for 20 years, it really is a huge time- saving device – for the executive and for the Assistant. So, for the time being at least, audio – including iPhones, Dragon Dictation and Siri – will never oust shorthand, even in the 21st–century office!