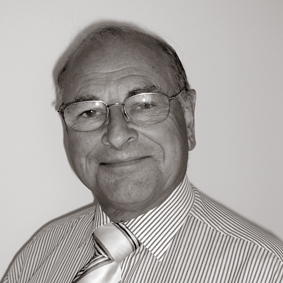 Mike Caridia is the Founder of pa-assist.com
Mike Caridia, the diminutive owner of pa-assist.com, doesn't take anything in life for granted. His website, which launched in 2000, was the first in the world to provide support, information and guidance to Administrative Professionals. And his ability to seek opportunities and grab them with both hands – and recover from setbacks along the way – hasn't stopped there.
"I've just turned 70," he tells me, when we meet for lunch at the Institute of Directors in London's Pall Mall – and I can't believe it. His energy is palpable and he bubbles with anecdotes and information about a market which he clearly loves. It's quite a performance to behold and hugely entertaining.
Mike is no stranger to the entertainment world. A student at Italia Conti from 1953, he enjoyed enormous success as a child actor; taking part in more than 200 television plays and dramas, acting in the West End and, most famously, playing the juvenile lead opposite Sir Norman Wisdom in the 1956 film 'Up in the World'.
'Television was filmed live in those days," says Mike. "There were no retakes and usually no audience so it was like acting in a play but to camera – terrifying and exhilarating."
Of Greek origin but born in Belgium, Mike moved to Germany as a mechanic when he was 21. This was courtesy of his father, one of the Heads of Volkswagen in the UK.
Mike's passion for cars has been a lifelong hobbie. He and his wife Jenny are often to be seen touring the open roads. But it's a hobby that nearly killed him. At 25, Mike's Fiat was hit at high speed. It was an accident that left him with a permanent limp and terrible burns. He spent nine months in hospital but, with typical positivity, Mike says it was the best thing that could have happened to him.
"Before the accident, I was reckless and drifting," says Mike. "It made me realise that I only had one life and I needed to do something with it. My legs had been shattered and I was in calipers, which the doctors said I would always need. They also said I would probably never work again. The accident was the best lesson of my life. I learned to use my brain and my Greek temper positively. It made me tenacious and determined never to give up."
And he hasn't. Not to be deterred by the accident, and with his calipers removed, Mike's first purchase when he left hospital was a Jaguar E50 . He was soon back on the road. Similarly, five years ago, despite the fact that his instructor wasn't sure whether it was possible, he fulfilled a lifelong dream and got his private pilot licence, although one leg is still considerably shorter than the other.
Mike was subsequently headhunted by Toyota and, as Head of Sales, took its sales from 1,300 cars in his first year to 44,000 in 1983, when he left the company.
After a brief spell at Lancia which didn't work out, and with a mortgage to pay, he combined his love affair with cars with that of his old show business career – starting a company aimed at the car industry, writing scripts for top executives to deliver at events. The company grew organically to encompass staging and set design, and Mike was soon running events in Hong Kong, Bali and the UAE.
While sitting with a major client and his assistant in 1998, talking about an event in Cyprus, the topic of the internet arose. The assistant commented that it was a shame that there were no websites for Administrators. There seemed to be sites sprouting up for most professions but there was nothing for Office Professionals.
Typically pursuing the 'terrifying and exhilarating', Mike returned to his business partners, went to the City just before the first dot.com bubble burst and raised enough money to build pa-assist. Bearing in mind that 1998 was the year that Google launched, this was an enormous leap of faith.
The website went live in 1999 and launched officially at The Times Crème Show in 2000. Eleven years later, it is still here. His fellow directors and the investor are no longer around but pa-assist boasts over 8,000 members. So, what's Mike's recipe for success?
"To hold onto 8,000 members you have to ensure that what you are doing is meaningful and current – not just for pecuniary remit. We have a large and loyal user base but that's because we work with them to provide the service that they want," he says.
The business has been challenging along the way. Mike bought out his partners a few years back and has rebuilt and restructured the business, according to his very gentlemanly beliefs in how business should be done. The backing of his wife and family has been what has driven him through challenging times and made him even more determined to make it work.
He puts great store on his reputation and behaving properly. This is reflected in the fact that his website is free to join and there is no membership fee. He doesn't pass on any of his members' data to commercial partners and he believes the site should be offering services that genuinely offer help and don't have an ulterior motive.
Before I met Mike Caridia, I spoke to numerous contacts in the market about him and he appeared to be universally liked. No one had a bad word to say about him, which is rare in the business world.
As he shakes my hand and prepares to leave to celebrate his birthday with family, including his 90-year old mother, he tells me rather emotionally that he is incredibly proud of what he has achieved with pa-assist.
He has every right to be so.