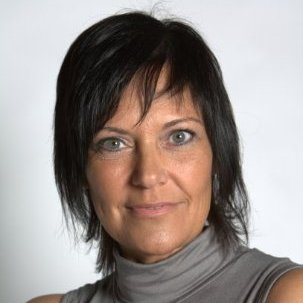 Laura Belgrado is an Executive Assistant and world-class international trainer
Can we start with a little background information? Where are you from and what is your current role? 
I am originally from a town called Wemmel, just on the outskirts of Brussels in Belgium. I am the youngest of four and have two beautiful kids myself, a girl of 17 and a boy of 10.
My current role is Executive Assistant to the President and two VPs at Mars Europe for the Multisales division and I continue as a freelance coach and trainer for Assistants and Managers as well as motivational speaker in schools and events.
What is your background? 
I studied Business administration and languages, and started my career working at the Sheraton Hotel in Brussels as an International Group Sales Coordinator. My dream was to have an opportunity to go and work in the USA and, through my job at Sheraton, that dream became true in 1989. I was offered to become the local Representative of the largest Belgian Tour operator specialised in US Travel.
I moved to Orlando, Florida in 1989 at the age of 23. My experience in Florida didn't just stay being a representative looking after tourists flying into Orlando, but I quickly started to go on organized Group Tours as a Tour guide, going to the Trade Shows for hotel contracting and negotiations.
After nine and a half years my husband and I returned back to Brussels to Europe and I continued my career working for a DMC (Destination Management Company) as a Senior Account Manager organizing large Conferences, Events and Incentives. It was in 2003 that I was then offered a job as Executive Assistant at Microsoft Corporation but working within a virtual team out of Belgium. As one of my personal growth and development goals I completed my coaching degree at the Academy of Executive Coaching in London and started to speak as a motivational speaker at several events for Assistants in Europe, and thereafter in the Middle East and Latin America.
Our vendor contracts were terminated at Microsoft in 2012 and I then decided to continue my consultancy but full-time as an independent. Recently I was working as a freelance contractor at Mars Europe and after just one month they offered me a full-time contract I could not refuse as EA. I will however continue my great passion to speak at events and give workshops and trainings for Assistants in schools and at events around the world.
How did you become an Assistant? 
After finally saying goodbye to the Events and Conference industry I listened to my oldest brother's advice who told me to find a job as an Executive Assistant for an International Company. I thought at first I would be bored but accepting the challenge and job offer at Microsoft Corporation to become the EA to a Global MD for a Virtual Global Team was definitely one of the best choices and things that have happened to me throughout my career. It has been the most challenging, exciting jobs I ever had but due to my extensive background in events, problem solving, stress management, dealing with people and my languages and international travel, the job as Assistant was definitely my best career move ever.
You operate at the absolute top level as an EA. In your opinion, what are the most important skills and character traits required to fulfil this position?
Trust is definitely to me one of the most important things to have between Manager and Assistant. Communication is key as a skill combined with a good amount of assertiveness. Assertiveness you gain from know-how and from keeping an open mind, continuing to learn and share.
Be enthusiastic and don't take things personally! Enthusiasm really is contagious, so be a carrier. It has always been my key character trait.
Get to know your organization and its culture, learn continuously. Empathy and being a team player are what will make you stand out.
You are best known as a trainer and coach to top level Assistants. Why did you decide to do this as well as your day-to-day role as a very high powered EA, and how has it changed your working life? 
It was one of my personal Goals and Objectives in my Personal development plan and my Manager Frank McCosker at the time at Microsoft was really a mentor to me and a real "Leader" encouraging me and motivating me to grow. It was my Coach at Microsoft Helen who made me discover myself that my true passion was in coaching, mentoring and training Assistants.
I started to share my experience and knowledge but I think even more so my enthusiasm and passion for the profession. I was afull-time independent coach and trainer but also working as Project Manager, Assistant and Events Manager. On May 1 I signed a full-time employee contract as EA again at Mars Europe and I realized that in order for me to continue to be a motivational speaker, a coach, trainer and mentor to many great Assistants around the world, how important it is for me to continue my own challenge and quest to be a great and proud EA myself.
What are the main changes you have seen in the time you have been an Assistant?
The main changes to me personally are ongoing changes in technology, ways of communication and the role as Assistant which has become much more powerful and more challenging.
Some major changes are that the number of Assistants might have decreased however the responsibilities, tasks and opportunities for Assistants have grown and increased. There are more opportunities for those Assistants who really want to move up or even change careers.
You speak four different languages. What are the benefits of being multilingual in business?
Speaking different languages in a business environment is definitely a big door opener, not only within your direct team and management but it is really a big advantage to networking within your company and also externally. It also helps me to work more easily with different cultures and nationalities because speaking the language and also understanding each of the cultures and backgrounds is, in my opinion, a very important strength to have.
What inspires and motivates you? 
My kids are always an inspiration and my motivation to continue to challenge myself, to make myself happy so I can make them happy.
I am inspired by great role models and by the legacy my parents left me. My motivation I find in simple things but also my passion for dancing salsa has a big positive influence on my mind, body and soul.
What advice would you give someone just starting out as an Assistant? 
Be enthusiastic, think out of the box! Be proactive but learn, listen and ask many great questions! Do not gossip and show empathy rather than sympathy to your busy Manager(s). Learn from your Manager, team and other Assistants but bring your knowledge and new and fresh ideas from your generation.
So what's next for Laura Belgrado? Where do you want to be in 5 years' time? 
I have now started working at Mars which is giving me great opportunities and, at this time, again a much needed stability in my life due to some very difficult personal things happening in my life.
The great opportunity within Mars is the Mars University where I will be able to enter as a Trainer myself and at the same time take part in training myself.
I need to be in this position for two years before having the opportunity to apply for another position. My goal and objective is to obtain my short Masters in Human Resource and go for an HR Role within Mars and grow from there. It is a natural evaluation and growth within my own personal career, using my strengths, experience and passion.