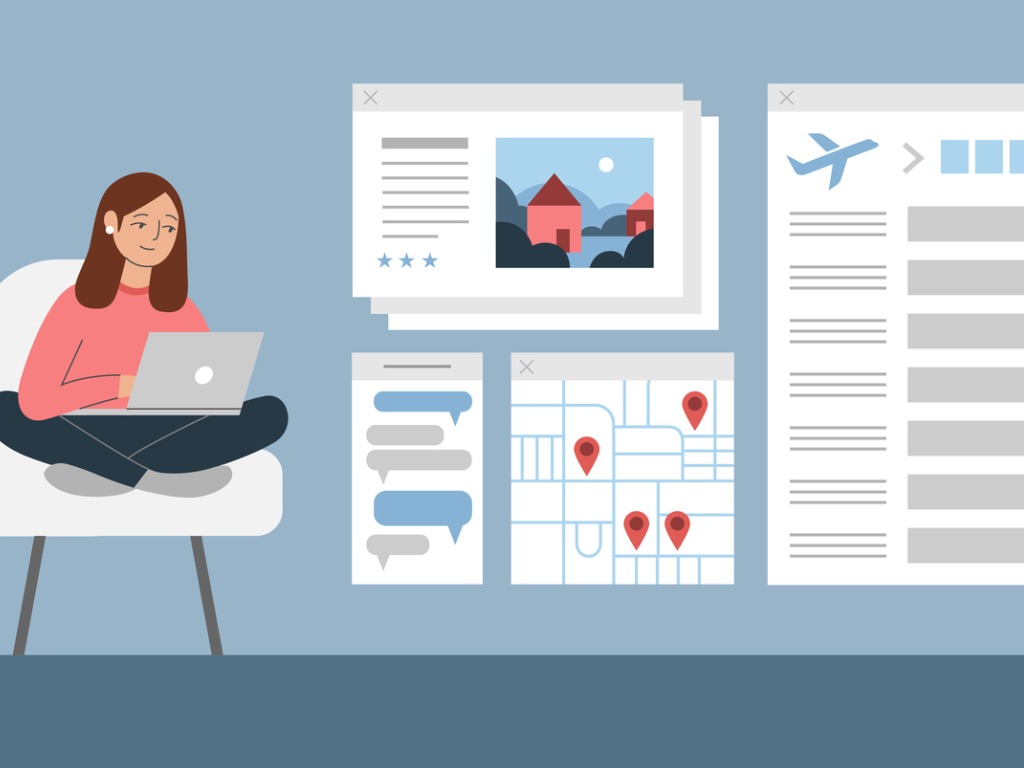 Diana Brandl looks back on the lessons learned from her first year living as a digital nomad
Austria – Slovenia – Croatia – Italy – Spain – Mexico – Thailand – Singapore – Dubai
These have been our destinations since my husband and I started our life as digital nomads. At the end of May 2022, we sold our house in Berlin and left everything behind.
"Are you nuts?"
Yes, we did get this reaction, but most people told us to chase our dreams, which we are currently doing. It is a huge privilege that we do not have to wait until we grow old to explore the world but can do so now, as we are flexible and have independence.
How Did It Begin?
For us, it was simply the right time. From our first thought of doing this during the pandemic in 2021 to the sale of our house, it only took three months. This was partly due to the high demand for real estate and partly due to the pandemic, which increased acceptance of working remotely. This was how my business was able to change.
Luckily, we were both committed to the idea 100%. This is crucial if you decide to become a digital nomad with your partner. Both of you need to be fully aware that this cannot be the dream of just one person in the relationship. Having clear conversations about goals, priorities and wellbeing is essential. You will each have different expectations when it comes to the life of a digital nomad: How often do we want to move on? Where will we stay – a van, an apartment? Luckily, we were aligned on all aspects.
How Does Our System Work?
We change locations approximately every 4 to 6 weeks. We stay in vacation rentals and have become power users of Airbnb. For us, Airbnb offers the best selection and the best filtering options. At present, I don't know of any other provider that also offers discounts on long-term rentals or where you can filter for items such as a workspace or a desk.
Germany is currently our safety net. We are registered in Germany, have our insurance, and pay taxes there. We love coming back occasionally and therefore are not ready to fully let go, as we know that the digital nomad phase will come to an end at some point. If Germany is then again an option – we will see. We may find our new home during our travels!
How we travel
Most of the time we are travelling by road across Europe. We usually travel by car towing a small trailer. We have three large and two small suitcases with us, as well as some moving boxes and many bags (I sometimes cannot believe this is actually our life inside a trailer). We have a bunch of technology in the car, from monitors to cables and various networking equipment, as you never know exactly what to expect.
Remote work checklist for your digital nomad experience
Electronics organizer
Portable charger
External hard drive
Lap desk
Cables
Spare laptop, headset, etc.
Check out Starlink, a satellite internet constellation operated by SpaceX, providing satellite internet access coverage to 47 countries. It also aims for global mobile phone service after 2023: https://www.starlink.com/
Internet speeds
We always ensure that the workspace is in a second room, and we check for fast internet speeds and a parking space for our trailer. We contact the landlord before booking to clarify these items. It may be wise to ask for a screenshot of the download and upload rates for the Wi-Fi. When we stayed in Phuket, Thailand, the IT department in the hotel was incredibly helpful and assisted in installing my own access point; otherwise, the Wi-Fi would have been too slow. These are things that you sometimes only find out when you arrive, and it can be quite a hassle to sort out. Luckily, I have not had to cancel a call or training due to a bad connection.
I still deliver live training, although I have reduced the number of sessions. However, this means that there must be an airport near our location.
Time differences
While travelling through Europe, the time difference has not been an issue. But during our stays in Mexico and Asia, I needed to stay up late or get up super early to meet my European customers. The UAE was the perfect mid-spot, and at the beginning of 2023 we spent three weeks in Dubai, where I was easily able to deliver my training to other time zones.
Countries such as the UAE support virtual working programs with remote work visas, thus widening the opportunities. Becoming a digital nomad in Dubai is quite easy, as the city is among the fastest-growing hubs for digital nomads. But sadly, it's also one of the most expensive ones.
Live Work Versus Remote Work
Traveling Lifestyle Network, LLC recently published a list of the most popular digital nomad jobs. Here are some of them:
Copywriting
Virtual Assistant
Social Media Manager
E-commerce Business
Video Production or Video Editing
Teaching Languages
Translations
Illustrating and Graphics Design
Programming
Building Websites
Customer Service Representative
Tech Support Specialist
I know many people are exploring opportunities; the Virtual Assistant business is especially attractive. Picking out the right job is not an easy decision. It should fit your strengths and expertise.
I am very thankful that my job offers a great amount of flexibility. My husband's job also offered the option of working remotely, but only in Germany; working from abroad was prohibited. But, as he had been working in the same company for many years, and had been considering a change for some time, this step was consequently implemented so that we would both have the appropriate freedom.
Thumbs Up or Thumbs Down?
So far, we haven't had any experience that makes us doubt our decision. We love it very much. We have been living this way for a year, but as we are visiting so many different places, it still feels new. Gathering experience is, after all, part of the expectations of such a decision.
Many people leave everything behind and go to places like Bali, one of the most popular places for digital nomads. After more than a year of deliberation, the Indonesian government has announced that remote workers will be allowed to work online for up to six months without paying taxes, by using the existing B211A six-month visa. However, to stay up to five years, you'll need $140,000 in the bank for Indonesia's new "Second Home" visa.
Hurdles? Of Course!
Shopping
Grocery shopping is never a problem. In Europe we can find similar brands and the products we know and love, but we prefer local brands and tasting new food. However, the convenience of ordering online is not as easy as it was in Germany. We have to look for an appropriate store or go to a large shopping center. If there is no English-speaking employee present, it can be tricky.
Ordering something from Amazon Prime with next-day delivery rarely works. The exceptions were Austria, near the German border, and Dubai. Ordering online in Dubai worked extremely well. It was not only fast but offered services similar to Amazon. Food delivery is on a totally new level in Dubai. But expensive!
Language
As far as the language is concerned, we get along more or less OK with English. However, we became power users of translation apps such as Deepl. When you go to small villages in Italy or Croatia, nobody speaks English, and we would be helpless without technology.
This brings me to a funny story that happened to me when I visited a hairdresser in Padua, Italy. I translated everything I wanted with the app, but obviously there was still a misunderstanding because, in the end, I came out as a blond-haired person with much lighter hair than I wanted. I took it with good humor. My husband liked it, but I never got used to it, and once on a stop in Germany, I changed it back. There are certainly those situations where you are grateful to be in your home country!
Final Thoughts
Are you sure that this is the right lifestyle for you?
Don't be fooled by the fancy Instagram pictures or the self-proclaimed gurus who tell you that this is the best way to live your life. Make sure you want to become a digital nomad for the right reasons. If you want to travel more, do a sabbatical. If you want to work from home, clarify if you can work out a few remote days a week with your employer. Many companies will allow you to work remotely from other countries. Have an open conversation and check out your options. Consider doing a test run for a few weeks to see if you really enjoy it. Try a workcation, an organized tour or a retreat for remote professionals.
Ten Steps to Becoming a Digital Nomad
Identify your skillsets and strengthen them.
Build a portfolio and start searching job boards.
Use your skills to make money online.
Start networking.
Start simplifying your lifestyle.
Build your savings.
Determine your budget and decide on your locations.
Get travel insurance.
Check out https://nomadlist.com/ (a global community of remote workers).
Jump! It's a huge way of getting to know yourself in a new way and worth a try.