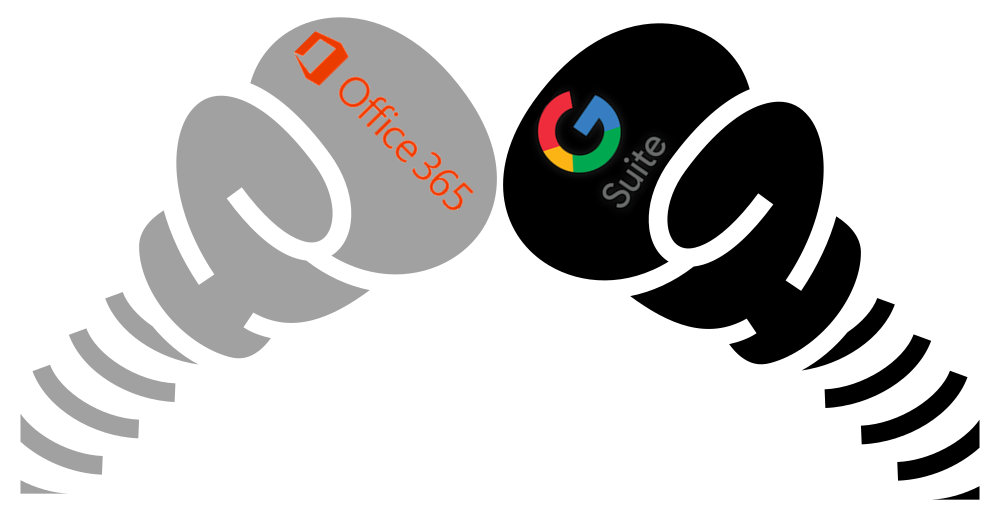 Melissa Esquibel details the pros and cons of each
This is likely not the first article you've read on the subject, nor will it be the last. And, unlike many pieces on the subject, I'm not going pick a side and go to battle. While it's true that I hold a few Microsoft certifications and work primarily in the Office 365 world, I do so strictly because it makes sense for my business (translated: It meets the needs of most of my clients). Additionally, I maintain a G Suite environment and offer services in that arena, as well. If something else claims a significant market share in office productivity platforms, I will have a serious look at that, too. For many, the discussion of platforms can resemble politics. This is not that discussion. I'm all about you getting your job done with what you've been given to use.
In a recent article by Ian Barker in Betanews (Enterprise adoption of Office 365 surges as usage of G Suite levels out), he quotes statistics from the 2018 Cloud Adoption Report (Bitglass) putting Office 365 ahead of G Suite with twice as many deployments. Clearly, cloud is here to stay. So, what is the best office productivity suite to use in this brave new cloudy world? The two contenders who do the most to earn your dollars are definitely Microsoft and Google. Though pricing models vary, for a monthly subscription fee between $5 (US) and $35 (US) you can get a selection of apps and cloud services to meet your needs.
So, if the difference isn't "cloud" or "money" what is the difference? In the administrative professional world, the question usually comes to me as something like, "Holy cow! The world is ending! We're switching to Google from Microsoft! Now, what do I do?" followed by terrified wracking sobs. Though sometimes, not nearly as often, I do hear the opposite. But, I hear it in terms of: why would anyone pay money for online apps when you can get Google apps for free? To be clear, this addresses the productivity suites for business, not the free versions of anything. Most enterprises require more functionality and greater data loss protection than free apps can offer. And, that's where we'll compare the two platforms.
Can G Suite really do anything Office 365 can do? That depends on your perspective. Most users don't use the full functionality of the office productivity tools. Many go in search of add-ins, add-ons and peripheral apps because they don't realize all that their suite can do. Let's look at the three most common applications for productivity suites: documents, spreadsheets and presentations.
Documents (Word Processing)
For basic word processing, Word (Office 365) and Docs (G Suite) are evenly matched. Where the rubber meets the road, here are compound/complex documents requiring different headers and footers by section, indexes, and tables of authority. There are workarounds involving the use of multiple documents and manual intervention. For any admin pro whose professional life includes technical writing, formal manuscripts, or policies and procedures books, Google Docs may come up a little short. If your life doesn't include these tasks, then you might not notice much difference (other than the interface which harkens back to the Office 2003 days of drop-down menus and tool bars, true of all the G Suite apps).
Spreadsheets
Yes, you can create a pivot table in Sheets (Google). Yes, you can write VLookUp formulas and use most of the keyboard shortcuts you've come to know and love in Excel (Microsoft). In the world of spreadsheets, it comes down to advanced data analysis. While Google has made strides with Sheets which can now do much of what the average user needs regarding calculations and processing tabular data, it will be wholly unsatisfactory to anyone who has become accustomed to PowerPivot, PowerQuery/Get & Transform, Slicers, Sparklines, and other clever newish features in Excel. That said, in an article by Google Sheets Developer & Data Analytics Instructor, Ben Collins (Exciting new features coming to Google Sheets), these features are just on the horizon for Sheets.
Slides
Opinion warning: Most people create terrible presentation decks. Neither tool will fix this. OK, now that I have that out of my system, both tools provide a sufficient set of tools to create a good presentation. As with most things it's the content, not the bells and whistles, that make a presentation great. PowerPoint does have a wider selection of animations, transitions and the ability to create videos and add audio. The bigger missing piece for me is the ability to work in outline view in the presentation. This method allows for the organized and efficient entry of content, first. If you're not creating videos, relying on fancy animation, or overdubbing audio, you're probably fine in either app.
A Word About Email and Calendar
This is the source of the greatest pain for administrative professionals switching from Office to Google. As with all the apps, Google is making strides with features. However, Gmail is not Outlook. Ultimately, you can send, receive, and organize email messages, and keep and share calendars. The "how" is what's different. More for this reason than any other, I strongly suggest that any organization considering the move to G Suite heavily involve the administrative team in the transition. The tide of technology deployments, once moving, is nearly impossible to stem. That said, to avoid utter disaster with scheduling and communication, rules, templates, shortcuts and categories – the essential tools upon which most advanced Outlook users depend – must be decommissioned and translated into the available tool set in Gmail: filters, stars, labels etc. Unlike the other apps, it's not a one-to-one translation of features.
Ultimately…
The choice is yours, or at least it should involve you. Also, your vote should count regarding how the transition should go.
Either way, I'm on your side!
Microsoft® and Office 365 are trademarks of the Microsoft group of companies and associated product names and logos are registered trademarks of Microsoft Corporation in the United States and other countries. Google and G Suite are trademarks of Google and associated product names and logos are registered trademarks of Google. All other trademarks are the property of their respective owners.