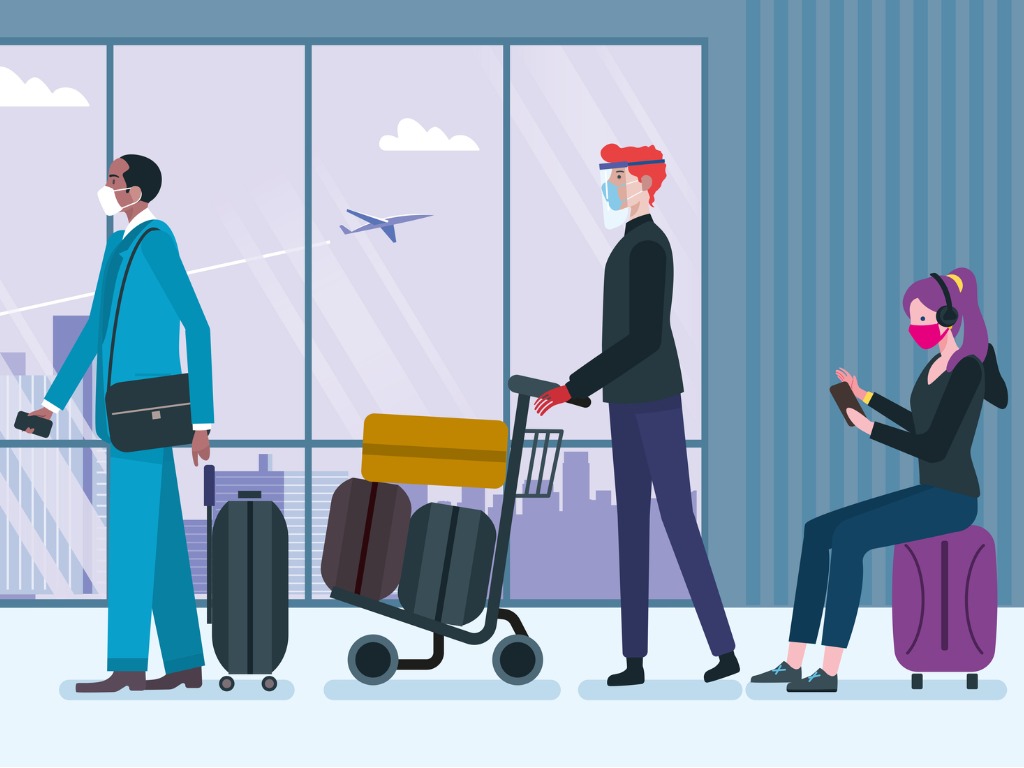 Eric Hrubant gives his top tips for managing travel safely in the time of COVID-19
Recently, I was managing corporate travel plans for a group of executives. They were scheduled and confirmed (as much as one can be confirmed right now) to fly from the United Arab Emirates (UAE) to Jordan. Less than 24 hours before the executives were to leave, the Government of Jordan announced commercial international flights were suspended through July 14.
Now what?
As a travel agent, I have industry connections to rely on in a moment's notice – a direct line to airlines and hotels to redirect and rebook whether due to a change in plans or a global health crisis. But what can you do when corporate travel planning is part of your role? How do you keep your executives safe while they're traveling when you don't have the benefit of industry connections at your fingertips?
My first recommendation is to work with an experienced corporate travel agent who has access to industry connections. Your travel advisor becomes your one call when your executives' travel plans go awry. From there, any travel issues are handled. In fact, last minute border closings aside, a great travel agent is proactive, constantly scanning for world events and weather that could interrupt travel and rebooking ahead of time to avoid potential snags, period.
Beyond that, here are tips I recommend following to make managing travel in the time of COVID-19 easier for you and safer for your executives.
1. Google local for the latest travel updates and alerts
In my experience, I've found that mainstream, global websites do not report the most up-to-the-minute travel alerts and news. Instead, google local newspapers to read the latest news on the travel destination.
It was by going hyper local that I first learned that Jordan had suspended inbound international flights, which meant I could act more quickly than had I waited for other news outlets' alerts to arrive.
Online research at the destination's local level is the best source for public safety requirements, precautions to take, how restaurants and local transportation hubs are operating, etc.
2. Download hotel and airline apps and ensure contact information is correct
Ensure executives have their hotel and airline apps on their phones and push notifications are turned on. Any news regarding accommodations and flights can be received in real time, as long as contact information is correct in the app. At minimum, make sure your travelers are signed up to receive text alerts from airline, hotel and any other important service provider they'll use on their trip.
3. Prepare for security
The Transportation Security Administration (TSA) has updated security protocols in response to the coronavirus. And while the TSA is an American organization, the updated protocols are aligned with global standards. New measures include:
Hold on to your boarding pass.
Keep carryon food separate.
A 12-ounce (340 ml) container of hand sanitizer is allowed for carryon. All other carryon liquids remain capped at 3.4 ounces (100ml).
Keep your (social) distance (the recommended six feet/two meters).
Leave yourself enough time to get through security even though less people are traveling.
These are apt to change, so check https://www.tsa.gov/ before departure. Another helpful resource is an interactive map of travel regulations from the International Air Transport Association (IATA):
https://www.iatatravelcentre.com/international-travel-document-news/1580226297.htm
4. Reserve an airport greeter
Airport greeters, especially if your executives are using unfamiliar, international airports, are extremely helpful and available for inbound and outbound flights. They meet your executives at the gate or outside of security with a clean mask and hand sanitizer. Greeters guide travelers through the airport, helping avoid crowded areas and delivering executives to a waiting, sanitized car. Greeters also can pick up checked baggage.
5. Ship luggage ahead of time
Once thought a convenience service, shipping luggage ahead of time can minimize exposure to the virus since executives can avoid touching overhead bins and picking up bags at baggage claim areas. An executive's luggage is picked up at the office or home, shipped ahead as you track along and delivered to the final destination.
6. Book private air travel
Private travel eliminates the risks and hassles of crowded airports and flights altogether. There are many options for private air travel, including helicopters, air taxis, charter flights and corporate jets. Though private travel circumvents crowds, it cannot override government mandates. For example, Jordan's airports are closed to all international flights, both private and commercial.
7. Select ground transportation
All the big rental car companies have announced updated and strict cleaning protocols. All are offering contactless or curbside pick-up for car rentals. Sticking with major brands helps ensure your executive's safety.
If reserving private ground transportation, vet the company to make sure that all vehicles are disinfected between customers and that drivers are following all safety protocols.
8. Sleep soundly 
Like rental car companies, hotels are adhering to strict cleaning protocols and changing check-in procedures to minimize contact. Some hotel brands' safety protocols are impressive, such as air purifiers in guestrooms with HEPA filters; UV lights in public spaces which kill bacteria; glass/plexi partitions at check-in, restaurant host stand and bar to provide safe space to communicate with staff; and touchless technology for paying to name a few.
Book accommodations where safety and cleaning has been taken to the next level.
9. Use Google Maps' new features
Because of COVID-19, public ground transportation around the world has changed with reduced services, resulting in station overcrowding, closed stations, etc. Recently, Google Maps rolled out a new release that shows relevant alerts and information from local transit authorities. Executives can use this information to plan accordingly and be prepared with required masks or arrive at a different (less crowded) time to maintain social distance. Public transit alerts are coming out for Argentina, Australia, Belgium, Brazil, Colombia, France, India, Mexico, Netherlands, Spain, Thailand, the United Kingdom and the USA.
Also being introduced in the app are restriction alerts from local, state and federal governments or their websites regarding international border crossings. Should a traveler enter an area affected by restrictions, such as masks or closures, an alert will pop up on the screen. For now, checkpoint and restriction alerts are available for the USA, Mexico and Canada.
Should an executive require medical care or testing, the app sends alerts regarding eligibility and the medical facility's guidelines. This can help ensure your executive isn't turned away and can receive the necessary care needed. Medical facility alerts are available in Indonesia, Israel, the Philippines, South Korea and the USA. COVID-19 testing center alerts are available in the USA.
10. Purchase travel insurance
Purchasing travel insurance has always been a smart investment, even before the current crisis. There are several providers out there, offering a variety of policy types. Be sure to read the fine print of the travel insurance policy to learn the coverage, limitations and key differences in the various insurances (Cancel for any reason, Named perils, et al).
11. Track unused plane tickets and room rates
Keep track of any flights that were previously booked and subsequently canceled to ensure no fares or fees are lost or left on the table under each airline's COVID-19 cancellation/rebooking policies. Each airline has its own policies on refunds and cancellation/rebooking fees, so you cannot assume refunds or no-change fees across the board.
Keep an eye on hotel room rates after booking. Rates can fall or spike between the time you reserve accommodations and your executive's arrival date. Should the room rate drop, you can support your company's bottom line through requesting a refund of the difference.
12. Business (and travel) go on
Corporate travel during a global pandemic is difficult given constantly changing restrictions, cancellations and closings. Unfortunately, it's our reality right now and for who knows how much longer. As the coronavirus curve flattens in many parts of the world, other parts are seeing increases and the travel industry and governments are responding accordingly. Making things even trickier is keeping on top of which nationalities are allowed to travel where. But business and travel go on.
Especially now, it's reassuring to have a well-connected corporate travel agent on your side who jumps into a proactive contingency mode rerouting and rescheduling your executive's travel as necessary. If you don't, at minimum you now have industry expert tips to keep your executives safe while traveling.