Caroline Gowing takes you through how to make the most of LinkedIn's Featured section
During 2020, LinkedIn rolled out their new section – Featured. Only available on personal profiles, it replaces the ability to attach videos and images in the About segment of your profile.
The new Featured section sits proudly at the top of your profile and allows you to showcase your most significant posts and articles. It came in quietly, but it can certainly help you to shout about yourself and your achievements.
It is different to your profile's Activity section, which highlights what you have been up to over the previous 45 days. With Featured, you get to curate the content that others see.
We all want people to come away with a great impression of us when they find our LinkedIn profile, and being clever about the use of this section gives you control over that first impact.
How does it work?
To set up your featured section, first go to your profile and click 'Add profile section', then choose Featured.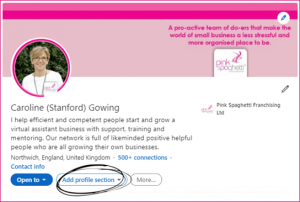 If you already have something in the Featured section that is out of date, deal with this first.
Click on the pencil icon and then the bin to delete what you no longer want to include.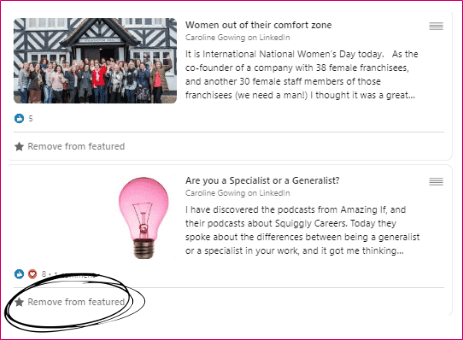 Once you have removed everything you don't want, you are ready to start building the Featured section that you do want. Click Done when you are ready.
What can you include?
You can only include something in your Featured section if you have already authored it on or previously published it to LinkedIn.
1. Posts
Link to the posts you want people to see right away. This is like a pinned post feature on some other platforms.
From the Featured section, click on + and choose Posts.
LinkedIn will show you all your posts, with the latest first. To include one of them in your Featured section, simply click on Feature.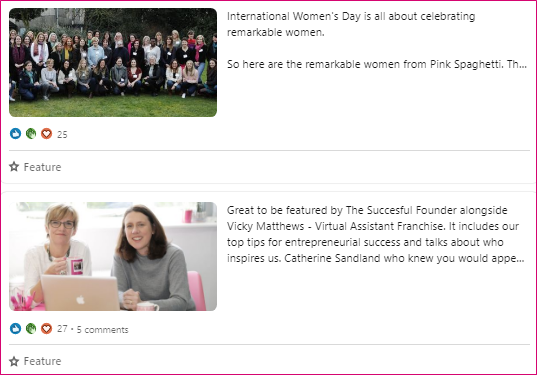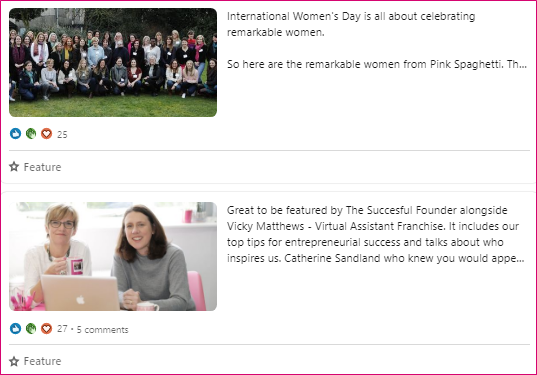 2. Articles
If you have posted an article to LinkedIn that you are proud of, or one that is relevant for an opportunity you are after, add it here.
From the Featured section, click on + and choose Articles.
LinkedIn will display all the articles you have written on LinkedIn. To include one of them in your Featured section, just click on Feature.
3. Links
Link to web content, online media you have appeared in or another piece of content you want to showcase.
From the Featured section, click on + and choose Links.
Simply type in the URL of your website, blog, a video or other item you wish to include.
Click Add.
Make sure the title and description that LinkedIn pulls in from the URL are correct. If they are not, it is simple to change them by typing in the text boxes.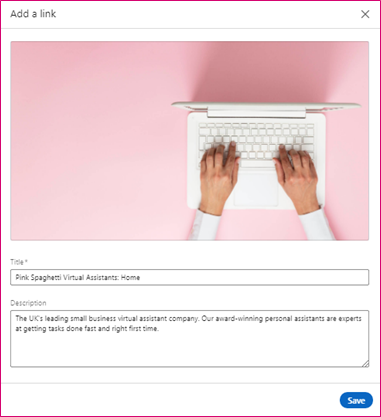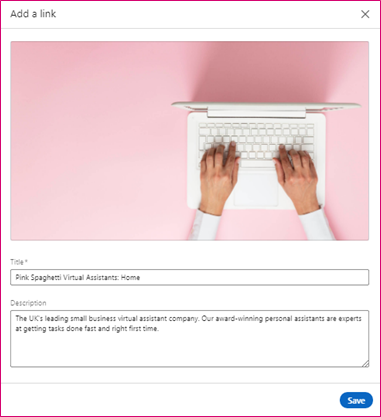 Click Save.
4. Media
Here you can add photos or presentations.
From the Featured section, click on + and choose Media.
Search for the image or document you want to include and click Open. You have the option to then add in a title and description by typing in the text boxes.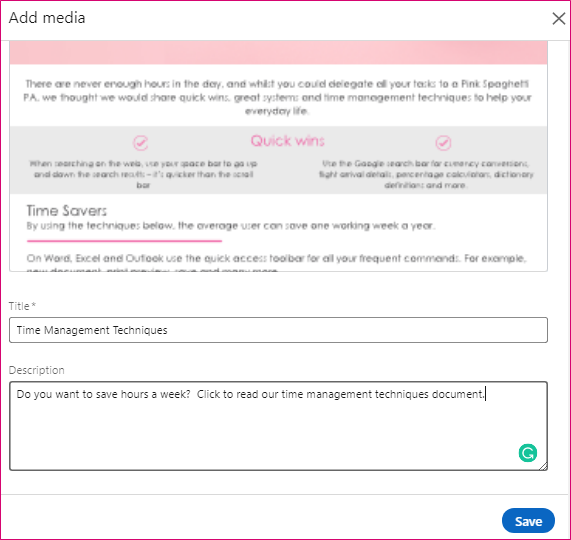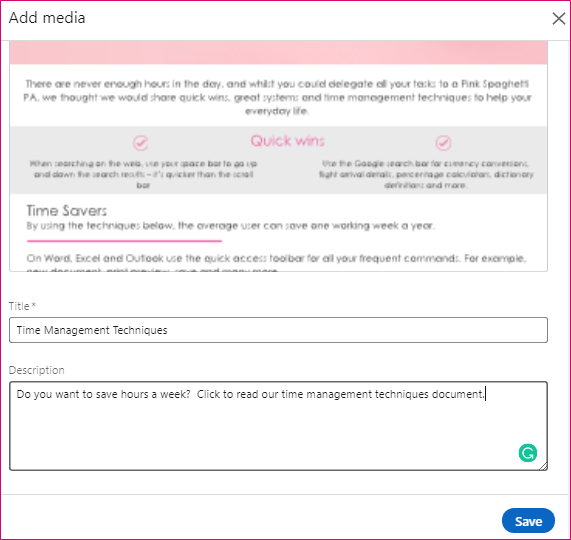 Click Save.
Change the order of the Featured section
Once you have inserted all the posts, articles and other media, you can change the order in which they appear if, for example, you want Other Media to display above Posts.
Simply click on the pen symbol and then use the symbol on the right-hand side of each post to drag the posts into the order that you want.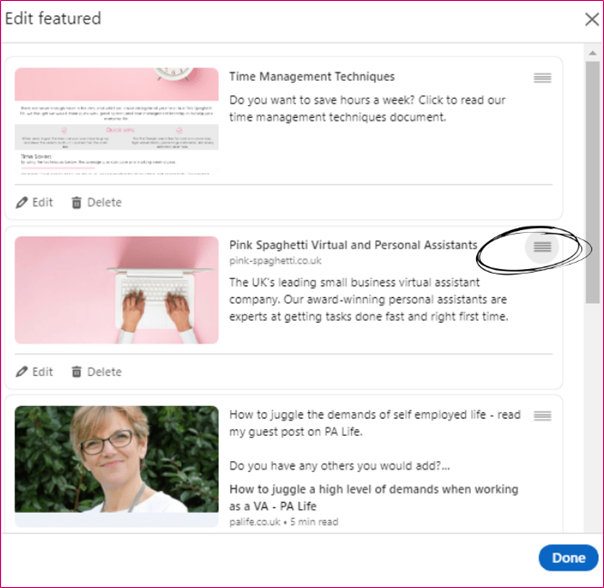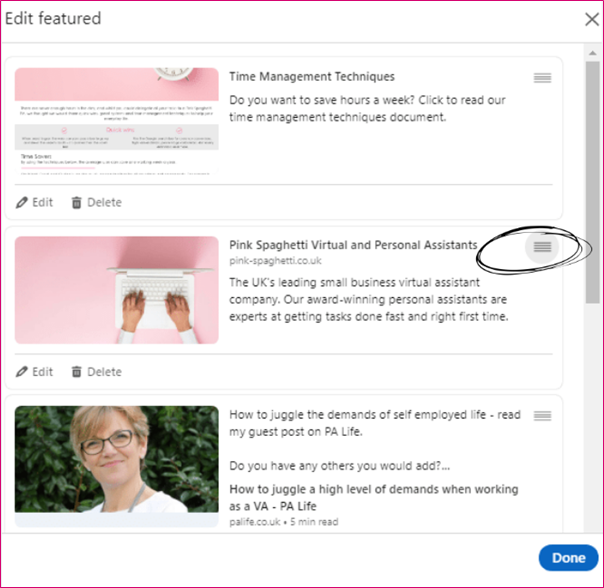 How do you make your Featured area outstanding?
Update it and keep it updated regularly. Don't see working on your Featured section as a one-off task. Diarise to renew it at least every couple of months; otherwise before you know it, it will be showcasing content that is two years old.
Think about external sites that will add value to your profile.
Think about your personal or business brand, your professional identity – we all have one. Make sure the links, posts and use of imagery are all in line with your brand.
Don't just think about your own posts and articles. If you have been featured by other people, make sure you link to these too.
Use video. A short introductory video on your YouTube channel can be featured – what better way to allow people to get to know who you are and what you can do for them in under a minute?
Instead of a photo, create artwork. Use Canva to add in words as well as images; it all helps to get your message across.
Show off your expertise. Could you include an explainer video or blog post that would be useful to other people?
Remember
You must have already written an article or post for it to be featured.
If you choose a post that has a high number of likes and comments, reshare and you will give those posts new life.
LinkedIn for you
LinkedIn allows you to paint a complete picture of yourself through your experience, skills, recommendations and articles. The Featured section is a snapshot – if you could highlight five things to help people to understand what you are about, what would they be?
Valuable as it is, don't stop there. Make sure your experience is accurate and fully populated – is it right for the opportunities you are looking for, relevant for the connections you are making?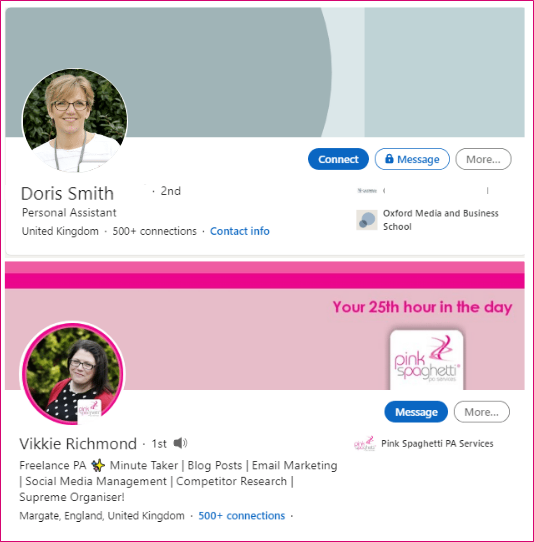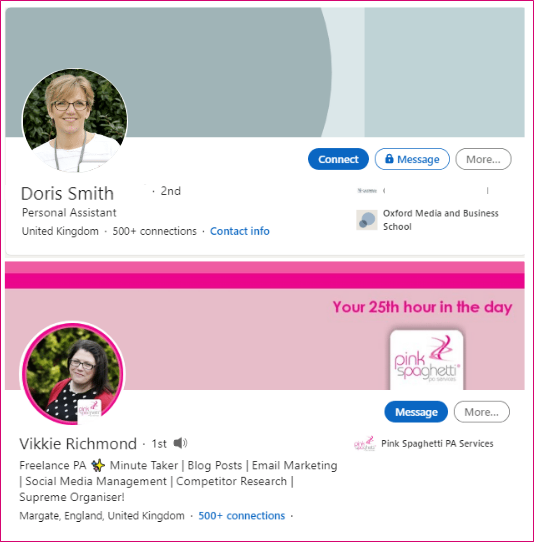 Compare these two profiles and look at the information people are seeing. Your headline should be clear and accurate and quickly describe what you do. Simply calling yourself a Personal Assistant is not very helpful.
Your photo and header give you even more opportunities to show off your professionalism and personal brand. Location is also important, as it is picked up in searches.
What about reviews? When was the last time you asked for a review? Diarise to ask for a new one each month, as they all add to the picture you are painting of yourself.
Think about your About section. Is it talking to your ideal contact, employer or customer? Would they recognise that you can help them? If not, update it.
Finally post, comment and like, help people, share and show off your expertise.