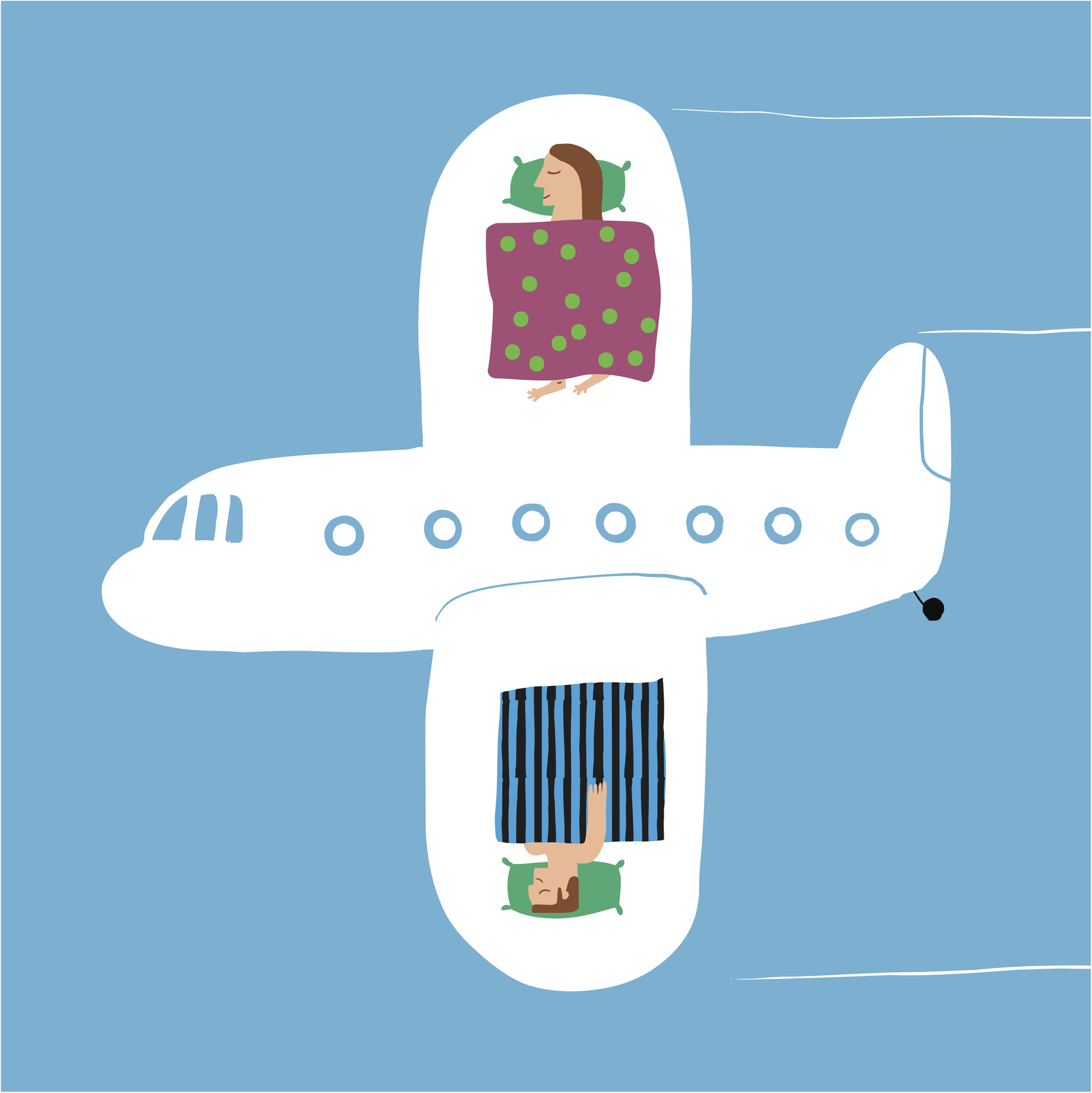 Katy Donaldson explains her sleep system for making the most of economy class
Imagine relaxing with your Kindle under a blanket and then gently nodding off to sleep. Except you're not at home in your bed. You're on an airplane. In economy class. Impossible, you say? Not so!
I am not a nice person if I don't get enough sleep. And in fact, I will use this forum to openly apologize to my family for every sleep-deprived morning of my teen years when I was cranky and crabby. In addition to being a sleep curmudgeon, I'm an avid traveler and have spent years designing my own sleep system to make the most of the uncomfortable situation we know as economy class. Who wants to ruin a business opportunity, vacation (or worse, a friendship) because we couldn't get enough rest on the plane?
Here are the essential accessories I have in my bag:
Earplugs

This is my #1 travel item that I bring on every single trip. If this is the only tip you take away from this article, then I feel like my work is done! Earplugs are not only great for the plane (whether for sleeping or avoiding crying babies or too-chatty seatmates) but also help once you arrive at your destination. Your lodging could have thin walls, nearby construction, noisy neighbors or a myriad of other noise disturbances. I have small ears so I find that foam ear plugs will begin to hurt after a while and the pain interrupts my sleep. I prefer to use silicone earplugs like Mack's, which you can buy at any drugstore for a few dollars. If you're really serious about your sleep, you could invest in custom-molded earplugs or noise-canceling headphones, however, both of these options are quite a bit more expensive.
Pillow
I have tried every travel pillow on the market and have found only one that meets my needs of quality plane sleeping: the Travelrest inflatable travel pillow. Its unique shape helps prevent the flopping head effect and since you can attach it to your seat or your body, it can be effectively used in any seat on the plane as well as the car, train or bus. With this pillow, I was able to get good sleep in the middle seat of a 15-hour flight from Chicago to Beijing – it's truly a miracle product! I recommend investing in the pillow's accompanying cover for a softer feel against your face; it's an additional charge but worth it.
Travel Blanket, Sweater & Socks
It can be cold at 35,000 feet so I always dress in loose layers including a sweater or hooded zip-up sweatshirt and I bring extra socks. Airplane blankets are not quite big enough to wrap up in so I bring my Cocoon CoolMax travel blanket that rolls up into a convenient stuff sack when you're not using it. It's about the size and weight of a twin bedsheet, but somehow it both breathes and keeps me really warm.
Eye Mask
An eye mask is great, especially when you are changing many time zones. I haven't found an eye mask yet that I absolutely love, but I don't find a lot of difference among these – most will do the trick.
Footrest & Lumbar Pillow
Sitting in a chair for hours is a serious challenge so I like to make a couple of postural modifications to help support my back as much as possible. Since I bring my own head pillow, the airline's pillow makes a perfect lower back pillow. I also like to keep my carry-on bag under the seat in front of me to use as a footrest which helps take the pressure off the lower back.
Water, Face Cream, Hand Cream, Lip Balm & Eye Drops
Planes can be extremely dry and I've often been awakened by chapped lips or a tickle in my throat. Before takeoff, I fill up on water and apply face cream, hand cream, lip balm and eye drops to help keep everything hydrated and moisturized during my sleep.
In addition to having the proper accessories, get your ZZZs by booking a window seat, avoiding alcohol, planning your meal times (so you can instruct the flight attendants to wake you/not wake you as needed), and completing your at-home bedtime routine (brushing teeth, reading, etc.) as best you can.
Now imagine waking up in a tropical locale, well rested and ready to start an amazing vacation. Except you're not in bed at the resort. You're on an airplane. In economy class.