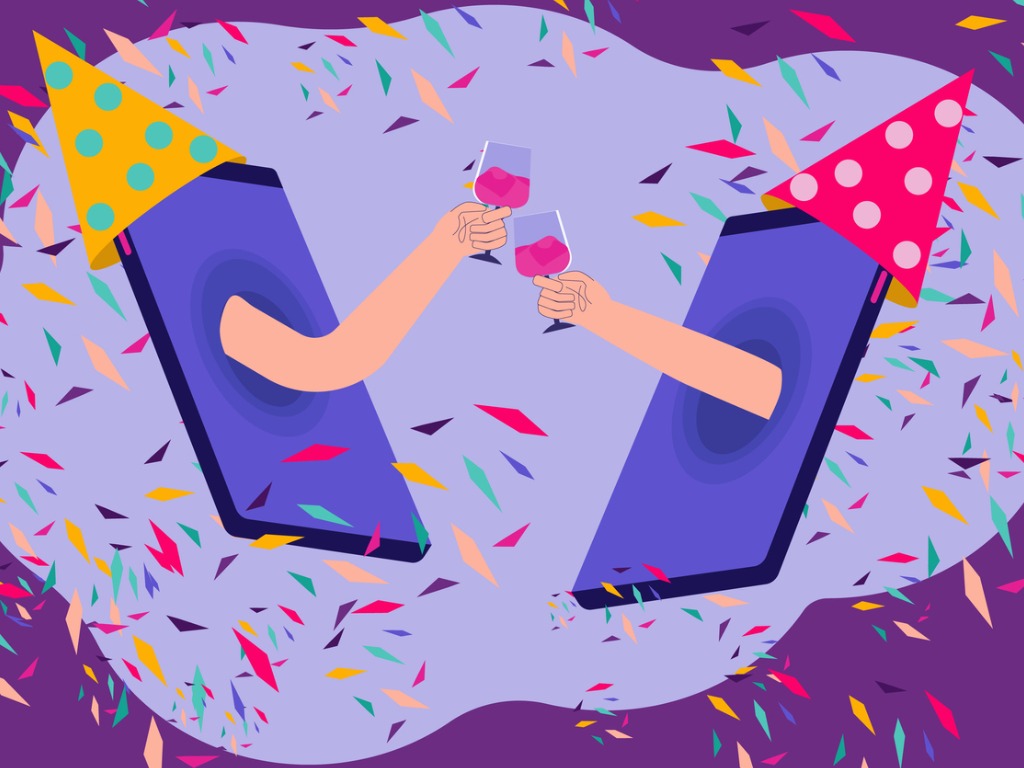 Corinne Hoisington and Bre Pauley share their experiences of virtual team events
Creating a virtual culture is more than a Teams or Zoom Happy Hour or your cat crashing your last three meetings in a row. It is creating a space where each employee feels connected, safe, respected and treated like a valued member of the team; it's where they feel like they belong.
As you plan these events, the virtual team building experiences cannot, I repeat cannot, under any circumstances be lame. Right? Bre, my daughter and a senior Administrative Assistant, and myself, a professor and trainer, have both experienced the virtual events we recommend in this article.
The future of virtual events post-COVID
COVID-19 has elevated the importance of virtual connections with our fellow employees. Remote work and virtual meetings will continue, albeit less intensely than at the pandemic's peak. Most companies have realized that we don't have to be in the office physically for our 40+ hours per week. According to McKinsey research, remote work can be done without a loss of productivity. They found that about 20 to 25 percent of the workforce in advanced economies could work effectively from home between three and five days a week. This represents four to five times more remote work than before the pandemic and could prompt a large change in the geography of work, as individuals and companies shift out of large cities into suburbs and small cities worldwide. A survey of 278 executives by McKinsey in 2021 found that, on average, they planned to reduce office building space by 30 percent. And with corporate offices located in cities all over the world, virtual team building events are indeed the new normal.
Some of us are heading back into our offices because we prefer the physical environment and the personal rapport, but others will make the decision (and hopefully have that option) to permanently work from wherever home may be. When the majority of employees imagine the office of the future, they now picture a flexible workspace that can be located anywhere. And with the right technology, combined with lessons learned over the past year, a remote workforce can share in team virtual experiences and be even more connected than before.
(Note: the next five headings are links)
Finding engaging and fun virtual team building experiences can be a challenge. Without prior experience, how do you know the activity you're booking will be a hit? Consider Airbnb virtual experiences. Airbnb has made this simple by creating a catalog of a variety of experiences with professional, experienced hosts from around the world who have been vetted by Airbnb and reviewed by past customers.
A personal favorite is learning to cook pasta or tiramisu from scratch alongside Luca and Lorenzo. Your Italian hosts walk your virtual and geographically dispersed team through a step-by-step process of preparing recipes that have been passed down from their Nonnas. Your team then creates the same recipe. The chefs can even check your pasta dough using your webcam!
Does your smartwatch or phone constantly chime reminders that you haven't been active recently? Get your team moving and the endorphins pumping with a cardio boxing class with a world champion, customized to suit all abilities.
We all have been in those all-day meetings and felt drained a couple hours in. Recharge and get in the right headspace by building in a 15-minute guided meditation break featuring a concert pianist from Paris.
Upgrade your Virtual Happy Hour by inviting Pepe, a Spanish chef, to teach your team to make tapas and sangria. Just send out gift cards a month before the event with a short list of ingredients for your team to purchase. Pepe offers a selection of the most popular and affordable tapas which you can prepare with just a few ingredients, matched with homemade sangria. Be certain to provide an alcohol-free mocktail recipe as well.
These experiences typically range from a few pounds/euros/dollars per person to a reasonable flat rate for the experience. With over a thousand virtual experiences ranging across almost everyone's budget, you won't run out of brilliant ideas. Be sure to take full credit when everyone raves about the experience!
Get creative
Studies show that connecting over creativity offers amazing benefits, like increased productivity, fresh ideas, improved problem-solving skills, and team bonding, as well as encouraging wellness and preventing burnout.
Dragonfly Designs offers fun solutions to express your team's creative side through weaving, embroidery, stamp making, and much more. Why not turn your next virtual happy hour into a virtual "paint and sip" party? Dragonfly Designs will provide painting kits with all supplies needed mailed directly to all your attendees and a professional artist to join your team to guide you through creating your own masterpiece. Or, if you want to stay on trend, they offer tie-dye lessons with kits to create beautiful Shibori (batik) designs.
Coffee (or tea) breaks
Working in the coffee industry, my (Bre's) favorite way to regularly connect with my colleagues is over a cup of coffee. Chatting over a cup of coffee takes me back to a time when we could catch up in the break room as we brewed our next cup. Consider building in a coffee break at your next meeting. A coffee break can be as informal as chatting about the last show you binge-watched on Netflix, or it could be a coffee tasting – send everyone two different bags of coffee to taste together and then compare the flavors and what you like about each. Any way you approach a coffee break, your team is bound to feel energized, even if it's just thanks to the caffeine.
Tea lovers can create a similar experience by sending out a variety of interesting teas, each with a fascinating story from a different part of the world. Consider sending along an hourglass-inspired tea timer with two-, three-, and five-minute miniature hourglasses filled with sand to assist in steeping the perfect cup (or "cuppa") every time. Build a stronger team culture over a nice toasty beverage this winter or an iced coffee this summer! While you're sipping, share a moment in time that you would like to relive.
Add a competitive element
Change things up during your virtual events with some team building competition, such as online scavenger hunts or virtual escape rooms. Virtual scavenger hunts are remote games where players scramble to find items or fulfill challenges before time runs out. You could create a free scavenger hunt that requires your team to collect items such as their favorite mug, a pet selfie, a TikTok dance, the view from the window, their leftovers, and something they can't live without.
Kick it up a level with Greenhat People with a 45-minute virtual escape room during an onboarding event with new employees who are learning your core values, using the latest technology, micro-learning and gamification mechanisms to connect to one another. My (Bre) company experienced this with an escape room right before the holidays and we wore holiday colors with virtual backgrounds to match – it was a total hit. Kudos to Greenhat!
Give back while having fun
Consider awarding prizes for the winners – of course, everyone loves a gift card – and remember to spread the love; don't make anyone feel like a loser. You may want to send out some gift boxes such as those from snackmagic.com, who ship internationally. Sometimes, honor, glory, and bragging rights are good enough.
One amazing gift is to give back to your local organizations. Nestlé recently allowed the winner of one event to select a charity to receive a cash gift. The website impact4good.com can help identify the best cause or beneficiary to support, manage the donation logistics and bring the spirit of community service to your group. From your initial request through the day of your event, Impact 4 Good handles all the details.
My personal favorite charity is Isipho Admin in South Africa, which raises funds for the education of aspiring Assistants.
Remember, a team is not a group of people who work together. It is a group of people who trust each other! Plan one of these events today!