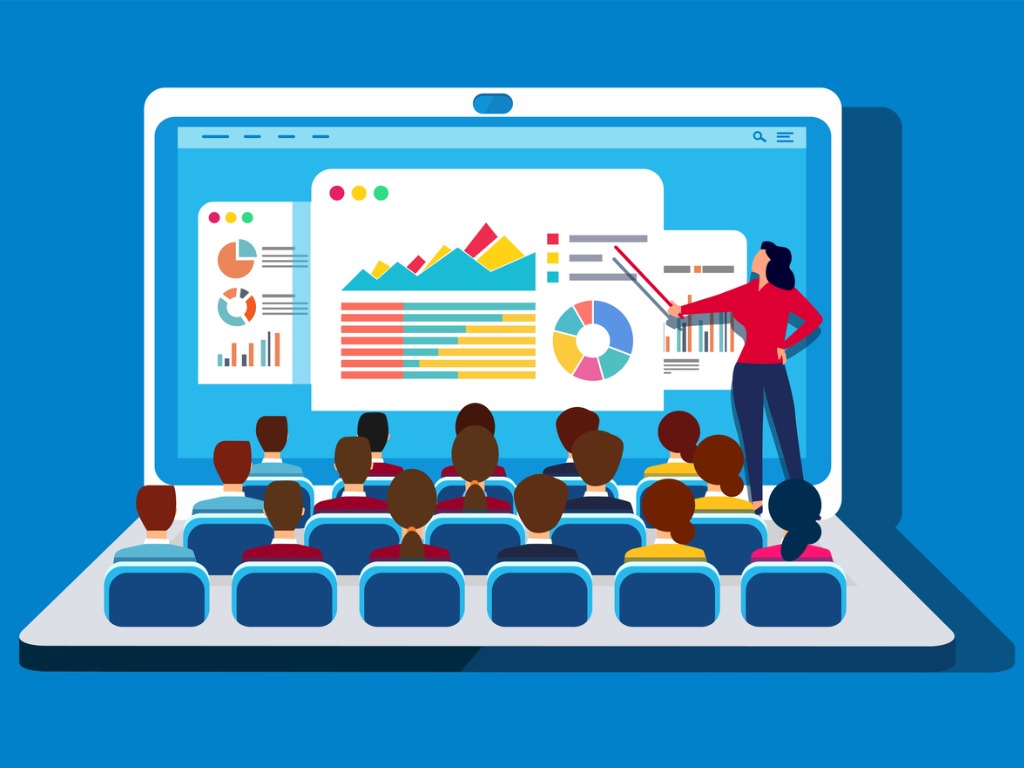 Emma Reynolds gives us her top tips for developing online confidence in virtual meetings and conferences
A large part of my training and work in online speaker coaching has been in teaching a whole set of new, sometimes difficult to grasp, behaviours. Initially, translating our old live meeting behaviours to online meetings seemed simple, but we now recognise there are real differences between face to face (F2F) meetings and virtual meetings.
In F2F we unconsciously process information such as body language, facial expressions, gestures and posture. Our opinions and responses are often subliminally based on these non-verbal signals. In online meetings we need to work harder to process non-verbal cues, and paying attention to these cues consumes a lot more energy. Essentially, we have lost many of the social cues we unconsciously rely on. This is why virtual can sometimes feel intuitively challenging, or somehow less satisfying as a way of connecting with another human.
I often joke that virtual meetings utilise just four tools – your camera lens, your microphone, your brain and the content that's within your PC. Get the basics right, by ensuring you are using the best tools and using them correctly! Then use your brain to develop your virtual persona; the icing on the cake is brilliant content. And by that, I mean content that really maximises the screen.
Setting Up
1. Get the perspective of your computer right. You must be able to look directly into your camera lens or look slightly up to it.
2. Go for a news reader composition within your screen: this means having your head and shoulders comfortably positioned within the centre of the screen.
3. Ideally sit about 2 feet from your camera lens.
4. Know where your microphone is and don't cover it!
(For more in-depth information on lighting and sound, and making sure your tech stands up to the job, take a look at my website www.virtuologi.com).
Practice Makes Perfect
The key to developing online confidence and charisma is practice. For some confidence is innate, but for most of us it's learned and developed. In the virtual space I liken the experience to that of being filmed. It's hard to remember to look back at the lens, and we're aware that mistakes and stumbles and imperfections are even more evident on camera and on-screen.
There is no way around the fact that you've just got to get used to this space by being ultra-prepared, but it is a space that suits all personality types. The great thing about virtual is that it's a level playing field.
My top tips for feeling comfortable and effective in this virtual space are:
Structure your use of time.
Structure, practise and hone your presentation.
If it's a significant presentation – practice, practice, practice.
Be mindful of using confident body language and speaking more slowly and clearly than you would in a live meeting.
Create prompts and notes that are hidden from view but that you can fall back on if needed (in TV we call these cue cards).
Remember to breathe deeply and not get into shallow breathing.
Have water nearby (but of course, remember not to eat or drink on screen).
Coaching
If your executive or team struggle with online confidence, coaching can really make a difference. After all, in other environments where you are being filmed and transmitted onto screen you'd have the support of a producer and the production team.
In preparing your executive for significant online presentations or meetings it's worth remembering that for some usually highly confident people, this new territory has taken them out of their comfort zone. There is new language, a lack of many physical cues, and a lot of new technology to comprehend, but the payoff is good as remote meetings are here to stay.
Natural charisma and energy, empathy, and professional credibility do show up as much, if not more, than in a live event. There is more work that goes into the delivery of a virtual presentation, but confidence, charm and kindness are as tangible and impactful virtually as in real life.