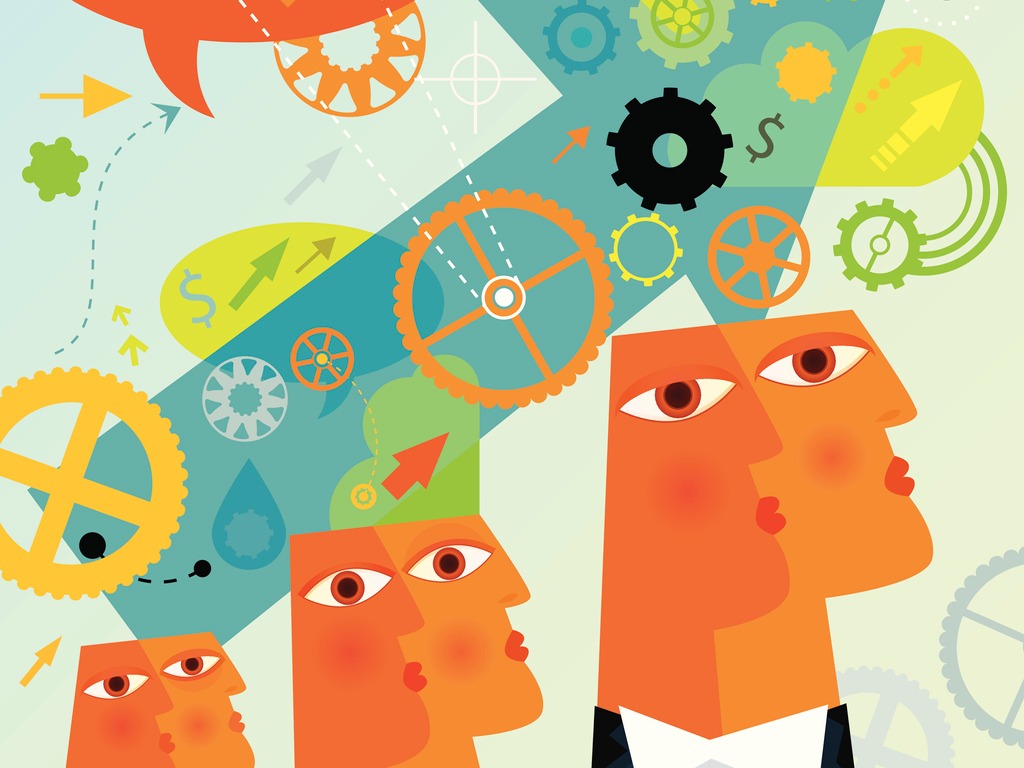 Julia Schmidt's 6 fundamentals will change the way you approach career success and goal alignment
Coming together is a beginning. Keeping together is progress. Working together is success.

Henry Ford
We spend most of our day at work. We dedicate the majority of our time each day to supporting our executives and teams. Therefore, the best way for us to get our career strategy up and running is to have our goals aligned with our manager's goals. The better we work together, the greater the benefits from our hours spent together. Building a successful relationship with our executive is key to our career success and the execution of the strategy.
Alignment gives us balance, harmony, and enables collaboration. The word alignment is also defined as "an agreement between a group of countries, political parties, or people who want to work together because of shared interests or aims." (Cambridge Dictionary)
1. Understanding Your Executive's Goals
As business partners, executives and Assistants must be extremely conscious of their impact when their activities are linked. Knowing the executive's goals is crucial to all Assistants. It allows optimized performance and maximum output. Understanding the objectives your executive must accomplish will help ensure consistency among tasks and initiatives.
Do you know what your executive's goals are for the year?
Have you asked your executive how you can help him/her to deliver?
Do you and your executive brief each other on major ongoing projects?
Do you maintain a one-page talking points sheet for your major projects?
Do you consistently cover your executive's blind spots?
Some years ago, one of my strategic career goals was improving my communication skills and becoming a public speaker. This goal was aligned with one of the organizational goals: improve internal communication. To support my CEO in getting the desired results in this area, I added to my PDP (Personal Development Plan) two important strategic activities: have a minimum of two public speaking engagements associated with my role as National Chairman of IMA Norway and write articles to our company Intranet. To succeed in these activities, I defined some day-to-day operational tasks.
Interviewing colleagues from different departments to know more about our business, products, and services
Reading books about leadership and writing more articles for administrative professionals on the topic
Attending sessions with a communication coach
My employer supported all these activities, because they were clearly aligned with my executive's and organization's goals. A perfect win-win situation all around. Also, the feeling of developing myself according to my own career aspirations kept me engaged and productive. I felt passionate about my job, committed to the organization, and dedicated to putting discretionary effort into my work every day.
2. Knowing Your Organization's Business Strategy
A business is best aligned when all stakeholders in the business are aligned with strategic objectives.
Can you give an overview of your company's business?
Have you read your company's strategic plan?
Are you actively attending strategy meetings?
Does your job description reflect overall company strategy and your executive's business objectives?
Mastering the behaviors above will enhance your relationship with your executive and help you to become a true business partner to him/her. Being able to align your career strategy with your company's business strategy will extend your business partnership with your executive to the highest levels of a successful alliance.
A successful career strategy needs to be linked to continuous learning, creative thinking, and audaciousness. These elements help you feel comfortable "stepping into new worlds", which is one of the most effective ways to change your perspective and discover new insights. Building and maintaining a successful career takes time, effort, and patience. It includes everything we do, our choices, our attitudes, and our behaviors; both in our professional and personal lives.
Here are some specific activities to help you boost your business partnership:
Discover a new hobby that broadens your strengths.
Meet new and different people who enrich your life views.
Gather and explore knowledge about topics that interest you.
Research a complementary or competing industry.
Study and learn a new language.
Take a class to develop or expand a skill or competency.
I embraced writing as a new hobby some years ago. Today I write articles for Executive Secretary Magazine, as well as online blogs. I also write articles for my company's Intranet and create employee newsletters. I have stepped into a new world and developed a previously untapped strength, which I now utilize in both my professional and personal lives.
Additionally, I began pursuing business administration as part of my career strategy. I wanted to deliver at a higher and more strategic level, and now I do! Further, my executive offered sincere praise, including organizational funding, for my most recent certification in Finance Management.
What are you doing to bring your talents and skills to the next level?
3. Embracing Your Organization's Business Strategy
Use your one-to-one meetings to ask questions and learn more about the organization's business strategy and its activities. Everyone understands a well-communicated strategy at some level. Be the person who helps leadership communicate and filter that strategy throughout the organization.
Once, as a team leader for a group of management assistants, I invited my VP to present and explain the organization's strategy to all our assistants. The VP helped us to understand the strategy in terms of our own day-to-day work. It is important to remember that sometimes there can be communication breakdown if the information is presented in too complex terms; so ask yourself:
Is everyone "getting it?"
How can I help the executive team to communicate our strategic plan more effectively?
How often am I meeting with leadership to understand organizational priorities and challenges?
Are you curious enough to ask these types of questions?
Strategic planning and execution are not solo games. Collaboration is key. Further, good communication will improve collaboration. When we know the "Why" and "What", it becomes easy to align objectives and define the "How". Executive Assistants who understand their company's business strategy can prioritize more effectively and make exceptional contributions to their organization's success. And as a bonus, their leaders consider them "big picture" thinkers.
What about Sustainability?
Sustainability is a critical issue facing society. This is emphasized by the increasing focus on sustainability issues by governments, media, academia, and industry. Therefore, many organizations have added this component to their strategic plan, seeking to integrate sustainability across their value chain to ensure long-term value creation.
If you want to have a significant role in your organization's sustainability journey, you need to understand the impact of current global economic, social, and environmental pressures – and how you can add value. It is all about embracing continuous learning and nurturing your set of competencies, to align your company's goals with your individual development goals.
Here are some ideas for you to help your company attain sustainable strategic goals:
Join your organization's Sustainability Team and look for a role that will allow you to bring your talents and knowledge to the table.
Volunteer to do research and gather information for Sustainability Team members.
Attend all company sustainability events. Be ambitious and make a difference!
Enroll in online sustainability courses. Many free online university programs are available.
Consider pursuing a master's degree, if you are looking to extend your contribution(s) to the highest level within renewable energy, environmental protection, and sustainable development. Aspire to become THE sustainability expert within your organization!
Be a learning catalyst by establishing a Study Group for sharing and learning about sustainability. This will inspire you to remain committed to your learning goals.
Become an avid reader of sustainability books and articles. Take notes. Deep dive into sustainability topics that are relevant for your organization.
Meet with experts on sustainability within your current network. Seek out other Executive Assistants who are currently working on sustainability projects or teams.
Suggest sustainability training topics to your professional organizations. For example: IMA (International Management Assistants) will focus its training schedule in 2020 and 2021 on a Sustainability theme.
Some of the best questions I have had in my performance reviews are: What do you want to learn? What are your learning ambitions? What do you need to reach the next level of your career with us?
If you engage in some of the suggestions above, you will be more than prepared to give your manager the right answer, in alignment with your organization's strategy, professional goals, and the value that you add.
4. Strengthening Advocacy and Partnerships
Partnerships are a two-way street. You must ensure that your learning goals are aligned with your executive's and organization's goals; and that you support each other in goal attainment. This goal alignment is crucial for career and organizational success.
The advantages of goal alignment are:
The ability to offer suggestions for strategic actions
The opportunity to assist in prioritizing and executing projects
The enhancement of your leadership presence
Advancing your organizational role to a higher level
Ensuring your employabily and value add, including upskilling your talents
Marketability as a key player within the organization
Development of strategic business partnerships
Strengthening your communications with leadership
So, take the initiative and schedule a goal alignment meeting with your executive today!
5. Taking Ownership
Career progression is critical to ensuring employees remain productive and engaged in the workplace. In fact, salary research by Hays reveals that, "along with salary and benefits packages, 27 percent of professionals say the main reason for wanting to leave their role is a lack of future opportunities."
Are you willing to go above and beyond and proactively solve problems and identify new solutions in the workplace?
Do you have specific industry experience and knowledge that you are not fully utilizing within your organization?
Do you have untapped functional experience and expertise, such as HR, Finance, Communications, Marketing or Social Media?
When you take ownership, practicing your leadership skills every day, you become a strategic enabler. Having a dynamic career must reflect the current pace of change, which is constantly accelerating. "Talent" does not mean what it did a decade ago; the roles, skills, and job titles of tomorrow are still yet to be defined.
So, start taking ownership now! Own the automation debate and learn what it means for your organization and industry. Automation and Artificial Intelligence (AI) affects every level of business. This means it affects you, the way you work, the tools you use, the tasks assigned, the way you communicate with your colleagues, the way you adapt to change, the way you nurture agility, and your adaptability and re-skilling.
In 2015, I began working as the Executive Assistant to a CEO. The first task I implemented was reading the organization's business strategy. I read it with intent, took notes, formulated questions, checked the meaning of technical terminologies and definitions, and drafted an action plan template to help my executive follow up on strategic actions. In completing this project, I applied knowledge from a previous position, where I actively participated in strategic planning as a member of the management team. Exercising this type of initiative showed my executive the level of contribution I was able to contribute to the organization's success.
6. Commitment to Learning
One way to align your goals to your executive's is to create a learning strategy that develops necessary skills to promote an executive and Executive Assistant synergy.
How can you practice your commitment to learning?
Boost curiosity! This will focus your interest on deep reflection and continuous inquiry and learning. Learning occurs at all stages of development, not just in educational or professional settings, but also in homes, study groups, online courses, conferences, workshops, libraries, community centers, and other settings.
Curiosity, reflection, tolerance of failure and vulnerability, feedback, and systems thinking are important to the culture of learning.
Curiosity self-assessment:
Are you reflecting on ideas that energize and make you wonder?
What are you curious about?
What do you want or need to know more about?
What would your executive like you to know more about?
What do you need to know more about to grow professionally?
Making learning a life-long habit is key to your professional development strategy. You must be committed to learning, and it must be part of your career development plan. Learn, implement, repeat.
Focus on emerging skills when assessing your short- and long-term areas for improvement. Refine yourself for your current position, and your future positions. Ask yourself how successful you want to be. List your goals and make a plan to attain them through learning and development by aligning your training plan to the goals of your executive and organization.
Conclusion
Goals provide direction. Deliberate goals are a powerful tool for organizational and individual career success. As part of your career journey, ensure alignment, so that your work – at whatever level – positively impacts your business.
This article is adapted from Julia's book The Executive Secretary Guide to Building a Successful Career Strategy, available on Amazon.