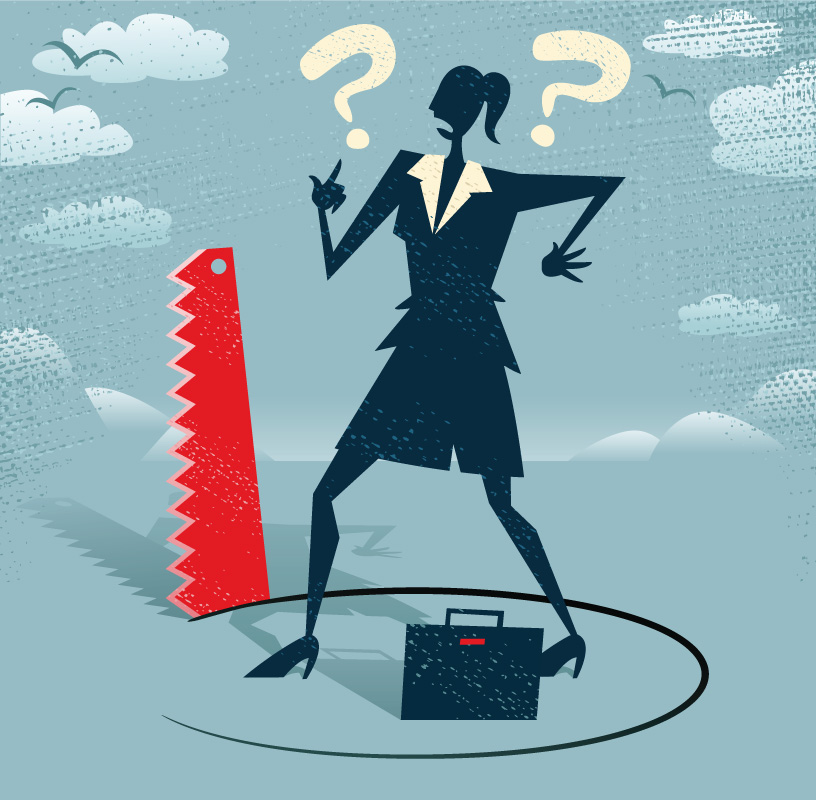 Like most hardworking professionals, you're committed to your job and want to be recognised and rewarded for your efforts. But even if you're highly effective in your role, you might be undermining your chances for advancement. These subtle career management mistakes could have been holding back raises and promotions for years without you even knowing it. Here are seven obstacles to look for in your own professional life, and tips on how to overcome them.
 1 Falling victim to perfectionism
An eye for detail is a key professional asset, but being pedantic can lead to paralysis. Excessive perfectionism will stifle your productivity and generate unwelcome delays for colleagues and customers. Yes, you should be thorough and meticulous in your work, but don't become obsessive. Having a reputation for dragging out tasks, missing deadlines and being indecisive is the last thing you need at performance review time. Knowing when to stop is as crucial as knowing when to start. Remember that you're part of a team and that others rely on your contributions to complete their own work.
 2 Overworking yourself
Working hard is commendable; toiling away until you're burned out is not. Constantly overworking is not only a possible sign of poor time management, but it also lowers your overall performance, reliability and accuracy. These are all negatives that diminish your chances of getting ahead and wreak havoc on your work-life balance. There is much truth to the maxim "work smarter, not harder." The most successful professionals are often those who know which tasks to focus on and which to let go of or delegate.
It's not abnormal for workers to put in the odd evening or weekend to meet a deadline, but if all-nighters are regular occurrences, you need to take a step back and evaluate the matter. If the problem lies with you, work on managing your time better. Ask your boss for feedback. Maybe you need additional software training to learn how to streamline your work, or a primer on how to use the latest tech tools in order to work smarter. But if the problem is inadequate staffing — perhaps you've absorbed some or all of another position's work — ask your supervisor whether the company could bring in part-time or temporary help to help ease your workload.
3 Ignoring stress signs
Most modern jobs include a certain degree of pressure. In occasional spurts, stress hormones can help you focus and stay alert. But too much of it — and for too long — can destroy your physical and mental health, and lead to career implosion.
Successful career management involves recognising the signs of stress and taking steps to remedy it. Some indications you may be overly stressed:
Chronic forgetfulness
Inability to concentrate
Feeling anxious most or all of the time
Having a short fuse
Overeating or undereating
Insomnia or excessive sleepiness
Physical problems such as chest pains, rapid heartbeat, nausea, upset stomach and frequent colds
Suffering too much stress? Don't wait until the symptoms get out of hand. Make sure you're taking regular breaks at work to eat lunch, step away from your desk and stretch out. You could also benefit from taking a holiday to recharge and rejuvenate. If something in your personal life is the source of anxiety, talk to a trained counselor for expert advice.
4 Neglecting professional growth
It's easy to lose sight of career care when you're entrenched in the details of daily work. A part of being a valued professional is staying up-to-date on — or even one step ahead of — administrative skills and workplace trends.
To enhance your job satisfaction, promotability and future employability, take charge of your own professional development. Set aside time regularly to focus on career management and goals. See if you can identify a mentor to help guide your career path and build your skills on the job. Look into in-person or online training, and enquire whether your employer offers courses or tuition reimbursement. Pursuing ongoing education, such as getting a Microsoft Office Specialist (MOS) certification or becoming a Certified Administrative Professional (CAP), could be a great career booster.
5 Not knowing when to go, or how to get there
Wrong place, wrong pace, wrong time? If your gut says your job isn't right for you, listen to it. Knowing when to gracefully move on could save you from unwittingly sabotaging your career — and earning a mediocre reference — because your heart isn't in what you do.
When determining if you should stay at your current job or look for a new one, consider the following questions:
Why do you want a new opportunity? Are you looking for a greater challenge or more money? A shorter commute or more flexible hours? A better relationship with your manager? Be sure to keep the job factors that are most important to you at the forefront of your decision and pursue a new opportunity only if it helps address those issues.
Have you looked within? Don't assume you need to leave your company to find the job you want. There may be other jobs with your current employer that are a better fit.
Where is the greatest long-term potential and stability? Is your best chance to build your skills and advance your career with your existing firm or another one? Which business is on the most solid footing? You don't want to make a move only to learn your career progression is stalled, or your new company is struggling.
Keep in mind that while job-hopping can be a resume red flag, moving on after putting in a reasonable number of years with one employer can help boost your career prospects and your salary.
If you've decided to look for another position at another company, consider partnering with a staffing firm specialising in administrative positions during your search. You could take on temporary work assignments to fill any employment gaps and, at the same time, get a better idea of the many types of jobs and employers out there.
6 Loose lips (and careless keyboards) sink ships
Blurring the boundaries between the professional and personal almost always creates negative consequences. One of the biggest blunders in terms of career management is badmouthing your employer within real or virtual earshot. We've all heard stories of employees who landed in hot water after posting something negative about their boss on Facebook, or mistakenly sending an inappropriate email that wound up in a supervisor's inbox.
Letting off steam is natural, but know when, where and to whom you should voice your grievances. Don't earn a reputation for gossip or slander, and don't leave any incriminating evidence on your desk, computer or social networks. Think twice before becoming Facebook friends with colleagues or anyone in upper management, or use lists to create privacy filters to control who can see what information.
 7 Taking things personally
It's natural to feel discouraged when you get negative feedback from a supervisor in a performance review. Accepting criticism, especially if you've worked hard, can be difficult, but don't let it affect your performance and motivation. Instead, ask your boss for feedback on what went wrong and how you can do better in the future.
There's much to be said for getting yourself back up and moving on after a dressing down or an unrealised promotion or raise. Taking feedback in stride and aiming for a better outcome is central to positive career management.
Charting the path ahead
If any of these subtle career saboteurs sound familiar, take heart. There is time to stop the bad habits, recover and improve your chances for a promotion. Simply taking a long, honest look at where you are, compared to where you want to be, is an enlightening exercise. Once you've identified the parameters and distance between them, brainstorm how to get from point A to point B: career success.