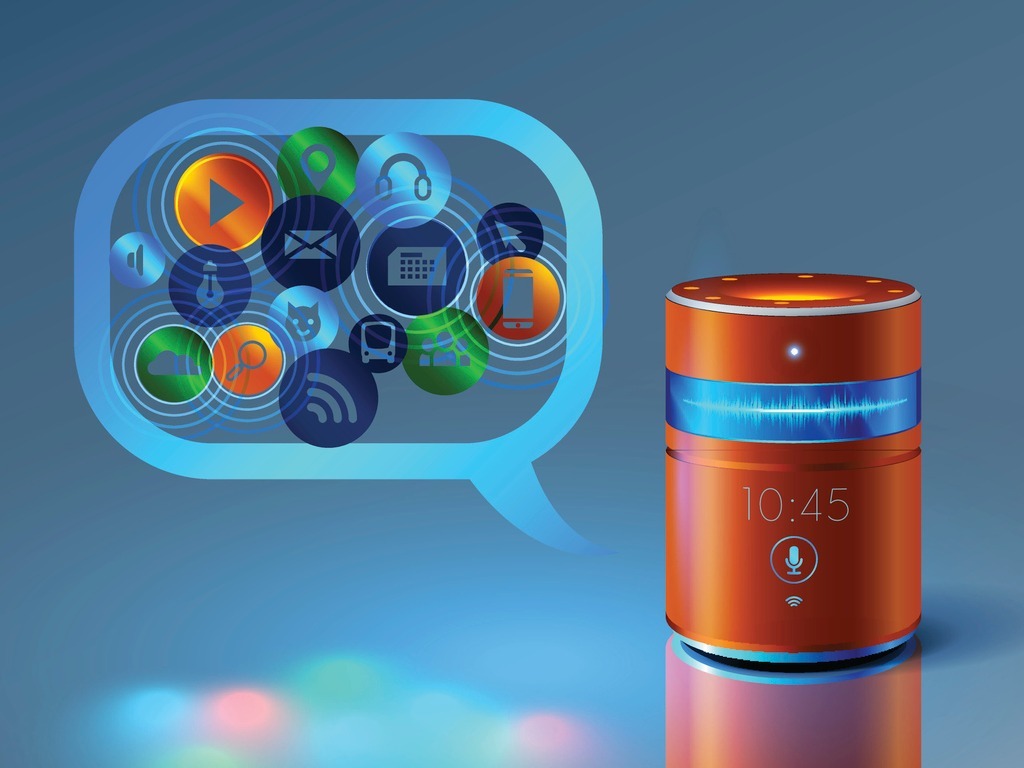 Diana Brandl takes a look at the world of digital assistants
Do you know Alexa?
Alexa is Amazon's digital assistant, one of the new breeds of smart speaker – a voice-controlled, internet-based, intelligent personal assistant. Amazon recently reported that over 100 million Alexa devices have been sold since first released. Alexa's capabilities mimic those of other intelligent assistants such as Apple's Siri, Microsoft's Cortana, Google's Assistant and Samsung's Bixby. And the newest addition to the Google family: Duplex.
How does a smart speaker work?
A smart speaker is designed to first process a voice internally in standby mode and wait for a signal word. Using the signal word or pressing the action button on top of the device initiates voice control. The device then digitally transmits the words spoken in the room to the manufacturer via the internet, where an attempt is made to implement the commands. Locally, the device is connected to the internet via a WiFi network or Bluetooth.
For example, Alexa can be activated by first saying the signal word (either "Alexa" by default or "Echo," "Amazon" or "Computer," based on your preferences), followed by your query or request. Beyond its built-in capabilities, Alexa offers more than 3,000 "skills" from Amazon and third-party developers that users can add to extend Alexa's functionality.
So, instead of pretending that you will remember to prepare your coffee maker the night before, you can just tell Alexa to place your favourite Starbucks order as you head out the door in the morning – because Starbucks offers a skill for Alexa which allows you to do just that.
And I confess that I am more than excited about the other things that this gadget can do: – research, weather forecasts, placing orders, playing music, reading stories and recipes, preparing shopping lists and much more. Alexa can also function as smart home hub – a device that that can control the Internet of Things – connected devices like smart lights, thermostats, speakers, smart wall clocks – and even a microwave oven!
But how does this relate to the office environment, the territory of the management assistant?
Alexa for Business
I would like to introduce you to Alexa for Business. Admittedly, this kind of Alexa is much more widespread in the USA than it is in Europe, because Europe has been struggling with a new data protection law since the end of May 2018 which makes it harder to work with such devices. However, I have met assistants in my seminars in Germany who already work successfully with Alexa in their "smart office" environment. So, let's take a look.
How does Alexa for Business work?
Companies can provide shared Alexa devices for anyone to use in common areas – such as meeting rooms – as well as personal Alexa devices for employees to use at their desk. Tools are provided to manage multiple Alexa devices, enrol users, and assign skills.
You can also build smart custom skills and make them available as private skills for your organization. For example, finding open meeting rooms, ordering new supplies, reporting building problems, or notifying IT of equipment issues. Or you can build skills that enable you to manage calendars, make calls, track to-do lists, and find information such as the latest sales data or inventory levels.
Personal Alexa Devices
If an employee already has an Alexa at home, their personal Amazon account can be enrolled along with their Alexa for Business account. This means any Alexa skills on the personal account can be used alongside the skills enabled on the Alexa for Business account – on any of the devices, at work or at home.
Shared Alexa Devices
In meeting rooms, skills can be used to start meetings and control equipment settings. Alexa can perform specific tasks such as dimming the lights or lowering the blinds – all accessed by using your voice.
Embracing Technology and Artificial Intelligence in the Workplace
There are a lot of tasks that are currently in the job description of assistants that can be handled using Alexa. But let's be honest with ourselves. Ordering office supplies? Reporting IT issues? These sound like tasks that most assistants would like to delegate.
Let's welcome technology to our workplace and have it take over our standard and routine tasks, giving more room for development and growth towards the role modern management assistants are striving for – to become a true business partner.